Iran has many beautiful and deceptive places. One of the fantastic natural examples of Iran is badab-e surt springs, which today we want to mention in this Iran Travel Guide Centre article.
Badab-e surt is a stepped natural spring in only a few parts of the world. In this opportunity, we want to deal with this natural phenomenon and examine it in the Iran tourism magazine.
Familiarity with the Badab-e Surt Spring
Badab-e Surt is the name of a stepped spring at an altitude of 1841 meters above sea level, a unique monument in Iran and is very rare in the world.
There are many floors to Badab-e Surt springs, each with its smell or colour. This masterpiece was formed over many years by cooperating with natural elements like wind and water.
This phenomenon is limited to forest heights with conifers from the north and overlooks the lower valleys from the south. To the east of badab-e surt, there are heights covered with shrubs and shrubs, and to the west, there is the village of Arvest.
A historical and large town, the name of one of its old neighbourhoods is Surat. In the distant past, this neighbourhood was a Zoroastrian area called Surat Lengeh.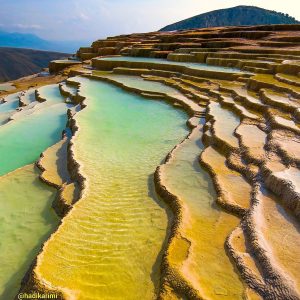 The Zoroastrians worshipped God with special rituals above the springs of badab-e surt and later believed in Islam. That is why the villagers consider the spring as their own and try to preserve it.
Badab-e Surt spring water is salty, has a moderate temperature, and has several healing properties due to salts and iron oxide. There is no doubt that this attraction is among the most beautiful springs globally, and it has even been referred to as the second-largest saltwater spring on the earth after the Pamukkale spring in Turkey.
However, Pamukkale spring is in the form of white calcareous sediments, which in the local language is called White Castle or White Palace, and has less area and healing properties than the springs of Arvest village.
Sights of Badab-e Surt Spring
Rainbow Stairs
At the beginning of the visit to Badab-e Surt spring, you will encounter a colourful staircase that amazes everyone. But how is this staircase formed?
Simply put, mineral water travels a long way and opens its way to the earth from the depths of hard rocks. The wind starts to move, and the water moves back and forth. Meanwhile, the hot sun evaporates the water, leaving minerals like traces of water. The minerals remain as sediment on the ground and are stacked on top of one another. In Badab-e Surt, these actions created a spectacular staircase.
Colours: where do they come from?
In addition, the minerals move along the stairs, and depending on what they contain; they leave behind beautiful colours such as gold, orange, red, and cream to complete the masterpiece of creation. In addition to bacteria in the water, sunlight and air temperature also affect the colour of the water.
Lime and salt are white; iron deposits are red; copper deposits are green; sulfur deposits are yellow. Badab Surat's lower basins are more transparent since the salts settle in the basins upstream.
Sunset is the best time to see these spring floors at the foot of the mountain and the surrounding landscape. It takes 200 to 300 years for a centimetre of Badab Surat basins to form.
Springs with Various Flavors
What makes badab-e surt famous is not only its stepped appearance. In this natural phenomenon, you will see springs with completely different waters in terms of colour, smell, taste, and volume of water:
Orest salt spring and Bermuda: In the different and waterier parts of the pond, there is a 15-meter-wide and relatively deep pond with very high salinity and black sediment around the edges.
The water of this spring is effective for treating back and leg pains, skin diseases, rheumatism, and migraines; for this reason, many people immerse themselves in it so as not to lose its properties. Moreover, this lake does not freeze in winter due to its rich salts, minerals, and salts; no living thing can live in it.
There is a deep hole in the bottom of this lake known as Bermuda Orest, and for this reason, some people call this spring Bermuda Orest. This hole, or well, is called Ben Nedar, which means endless in the local language. Ninety-eight meters is the depth of the well.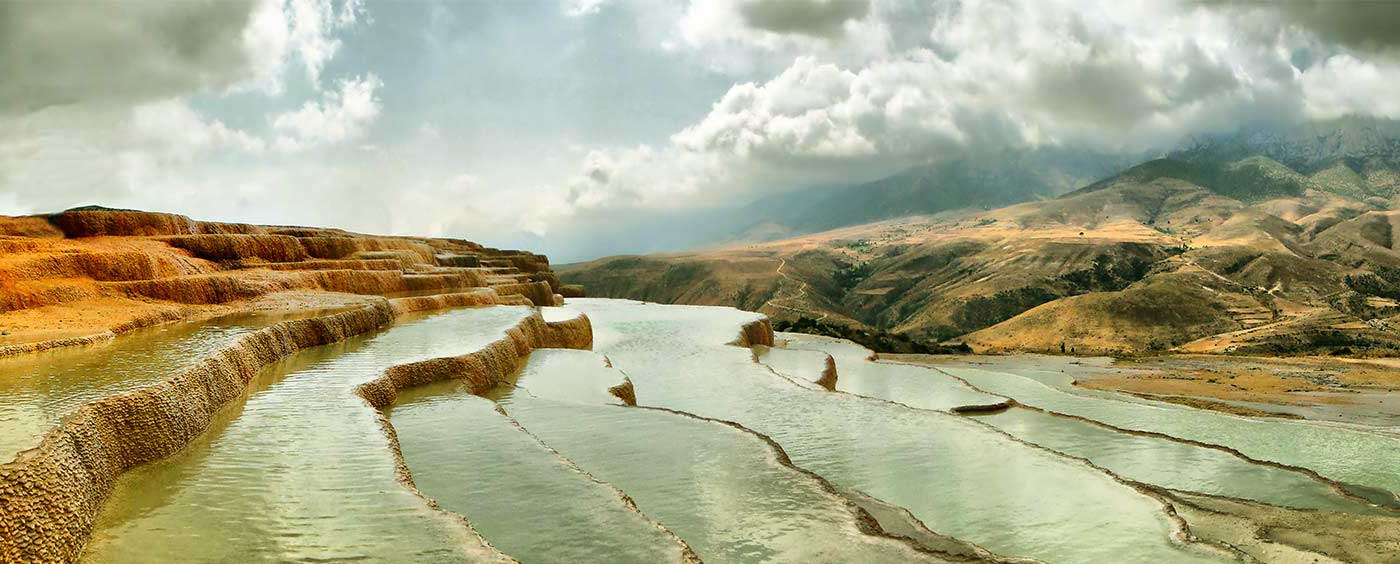 Elixir of Life: In northwestern Bermuda, Orest badab-e surt, there are springs known as the Elixir of Life, which taste orange and sour blue. Some have announced the number of these springs to 11, But the locals know their number is six. The water of these springs is like carbonated drinks and boils from the depths of the earth.
Sour spring or sour wind: Above the coloured stairs is a spring with acidic, red, and orange-coloured water, around which there is a little iron deposit.
Black oil: In some parts of badab-e surt springs, you can see black matter next to the water. This part has been used for sludge treatment, and the locals know it as black oil meaning black mud.
Time Pit | A dried spring
A significant part of Badab-e Surt has dried up, and there is no water flowing in it, But this issue has also created a unique beauty in some of these springs.
If you walk a few hundred meters to the north and the heights from the springs of badab-e surt, you will reach the old Badab Surat, which resembles a pond with stone walls. Water has not flowed in this area for hundreds of years, so it is the pit of time. The well in the middle of this pool emits gas. The gas harms living creatures, as evidenced by birds, snakes, etc.
How to Go to Badab-e Surt Springs?
To access Badab-e Surt springs, you have to go to Orost village. If you plan to travel from Tehran, use the roads of Semnan and Mazandaran provinces in the following order.
However, the roads in Semnan province are shorter and safer than those in Mazandaran. However, the streets of Mazandaran province are more attractive.
Route 1: Tehran, Semnan, Mahdishahr, Shahmirzad, Foolad Mahalleh, Telmadreh intersection, Orost village, Badab Surat
Route 2: Tehran, Sari, Kiasar, Telmadreh three ways, Orost village, Badab Surat
Semnan and Sari's road route to Orost village is asphalt, and the dirt road starts from this village and continues to Badab Surat springs, located in the east of the town.