Bushehr is a port city along the coast of the Persian Gulf and the capital of Bushehr province. This city is thousands of years old, and it dates back to the Sassanid era.
Beautiful beaches, lush groves, and historic buildings make Bushehr city an attractive tourist destination. In addition to the sights and beautiful nature of the city, the culture and delicious and spicy food are also part of Bushehr Tourist attractions. If you are planning to travel to Bushehr, join Iran tourism in this Bushehr Travel guide to get more familiar with this city.
Some of the Bushehr Tourist Attractions
The Malek mansion; The house of the richest man in Bushehr city
It is one of the Bushehr Tourist attractions and a historical monument in this city built during the Qajar period and dated back to 100 years. The owner of this mansion was one of the Bushehr's famous and wealthy merchants and traders named "Mohammad Mehdi Malek Al-Tojaar."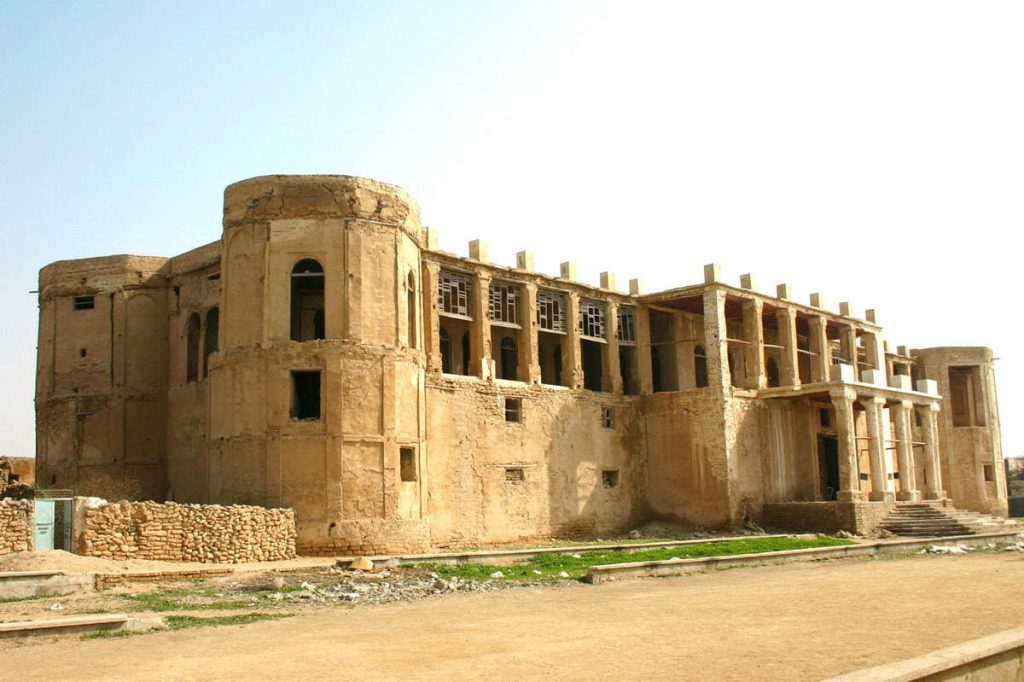 French architects built this house with local materials. Mehdi Malek Al-Tojaar, in one of his business trips to Paris, while meeting a Frenchman, liked her house. So, by hiring the architect of that building and adding his desires, built this magnificent building in Bushehr port.
The Malek mansion's Information:
Address: Mahini street, Bushehr
Visiting hours: 24 hours
Visit fee: Free
Golshan Mansion; A house with Panjdari
Another beautiful Bushehr tourist attraction is Golshan Mansion. Golshan Mansion is one of the historical monuments of the Qajar period, which is located in one of the old neighborhoods called Behbahani neighborhood.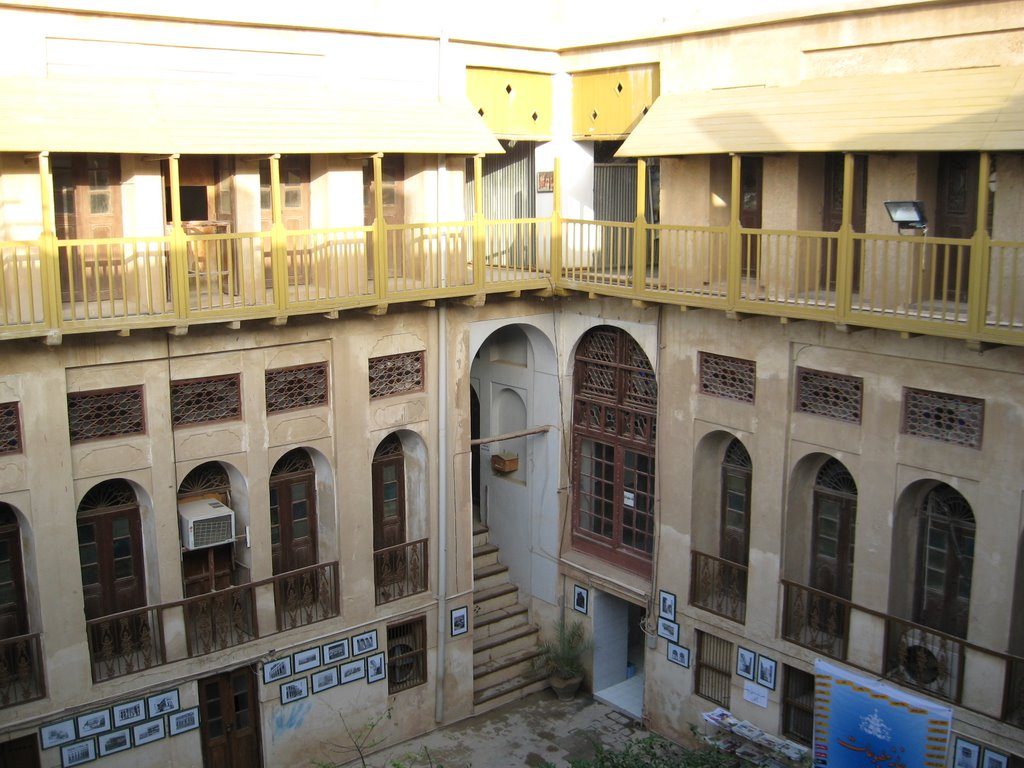 Golshan mansion has three floors; the first floor included the kitchen, water storage, crew accommodation, bathroom and toilet, and the second and third floors were used for living, entertaining guests, and doing business and commercial affairs.
This building, built about 170 years ago in the style of "Beit Milani" architecture and is one of Bushehr tourist attractions, which is unique. Iran travel guide center suggests you visit it during your trip to Bushehr port.
The Golshan mansion's Information:
Address:  Persian Gulf Street, Bushehr
Visiting hours: 24 hours
Visit fee: Free
Raees Ali Delvari Museum
Raees Ali Delvari 's house is located in the southeast of Delvar city in Bushehr port. This house, is one of the works of the late Qajar period, was donated to the Cultural Heritage Organization by the survivors of Raees Ali Delvari and is now visited as a museum. Raees Ali Delvari was a constitutionalist libertarian and leader of the southern uprising in Tangestan and Bushehr city against British forces during World War I.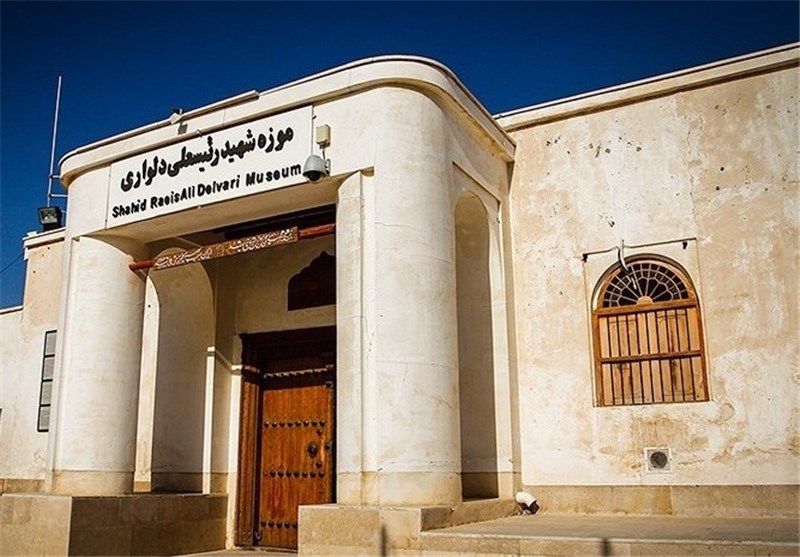 The Raees Ali Delvari Museum's Information:
Address: Tangestan city, Delvar section, Bushehr
Visiting hours: The first six months: 8-12 in the morning and 16-19 in the afternoon
                           the second half: 8-12 in the morning, 15-18 in the afternoon
Visit fee: 300.000 rial
Bushehr Bazaar
Bushehr Old Bazaar, like other cities in Iran, is the main center of trade, providing necessities of life and prosperity of the town.
The bazaar was established during the Qajar period with the beautiful and spectacular architecture of that time. Its architecture is such that proper light enters the market, but when it snows and rains, water does not penetrate the market. If you are planning to buy souvenirs, one of the most suitable places is Bushehr's Bazaar.
Bushehr's Bazaar's Information:
Address:  Shohada Street, Bushehr
Jashak salt mountain is one of the most special Bushehr Tourist attractions!
one of the exciting places in this travel guide is Salt Mountain. Salt Mountain or Jashk Salt Dome is 144 km away from Bushehr port and between Dashti and Dir cities. It is one of the most beautiful and, at the same time, the most active salt mountains in Iran and the Middle East.
The white color of the salts of this mountain creates a stunning view like a snow mountain. In this mountain, there are unique phenomena that make it one of the most attractive Bushehr tourist attractions.
Jashak salt mountain's Information:
Address:  64 km south of Khormuj city, Bushehr
Visit fee: Free
Bardestan Grand Mosque
Bushehr Bardestan Mosque is one of the first mosques built in this city. It is interesting to know that according to research, the Bardestan Grand Mosque, which is one of the most famous Bushehr Tourist attractions, dates back to the early centuries of Islam. This mosque has Iranian-Islamic architecture and has very beautiful plastering.
Bardestan Grand Mosque's Information:
Address:  Bardestan Neighborhood, Sadat Mahalla Road, Bushehr
Visiting hours: Simultaneously with prayer hours
Visit fee: Free
Qavam Ab Anbar
Ab Anbar is a traditional reservoir or cistern of drinking water in Iranian antiquity. Ab Anbar was one of the essential parts of life in the hot and desert regions of Iran. In tropical parts of Iran, such as Bushehr city, the construction of Ab Anbar required exceptional engineering to prevent water from evaporating. For this reason, Ab Anbar built in the heart of the earth and soil to keep the water as cool as possible.
Qavam Ab Anbar is no exception to this rule. This Ab Anbar dates back to the Qajar period and is one of the sights of Bushehr port. Of course, you should know that only a part of this Ab Anbar is on the ground and is visible. The main part is under the ground, and today it has become a traditional restaurant and has been completely renovated.
Qavam Ab Anbar 's Information:
Address:  Persian Gulf Street, Bushehr
Visiting hours: 11-23
Visit fee: Free
Palm Grove
Palm groves are like a jewel on the ring of Bushehr port. Dashtestan city and Abpakhsh have the most significant number of palms in the province. The presence of water-filled canals on both sides of the city's entrance has given a distinctive "freshness" to this area. In addition to their unique beauty, these palm groves have a wide variety of dates. Plus dates, citrus fruits, lemons, pomegranates also grow in these areas.
Beautiful Beaches
One of the most beautiful Bushehr Tourist attractions in this Bushehr Travel guide is its unique beach. This province has the most coastline in Iran and is known as the coastal pole of the country. Some local people say that years ago, a British politician described Bushehr as the most maritime city in the world, which means that when you look at it from a distance on a ship, it seems like it is half in the water and does not recognize a shore be.
Delicious Foods
The last Chabahar tourist attractions you familiar with this Bushehr Travel guide is Bushehr Delicious Foods. This coastal city, located next to the Persian Gulf, is the center of fish and shrimp in Iran and has a wide variety of seafood. GHALIEH MAHI (Fish Stew) is the most famous food in Bushehr city, which prepares with Indian stamps and various spices. The region's delicious dessert is Ranginak, which makes with dates, walnuts, and flour.