One of the most exciting things about traveling to Iran is a traditional food.
Most tourists who come to Iran, usually the first thing they see in the restaurant menu is kebabs and chicken. But what catches everyone's eye is that Iran has unique sweets and desserts that tourists usually like.
Persian ice cream and sweets such as zoolbia bamieh or sholeh zard are among the best Iranian desserts.
The use of pistachios and saffron in the preparation of traditional ice cream is so common that it is often called pistachio ice cream or saffron ice cream.
The type of bread that is sandwiched between two thin wafers is the most popular. Follow Iran Travel Guide Center to learn more about one of the best Iranian desserts.
What is Persian ice cream?
Traditional saffron ice cream is one of the masterpieces of Iranian desserts art. It is a delicious and old Iranian dessert. Ice cream is a frozen and tasty dessert that should have at least 10% milkfat. Ice cream often contains 14% milkfat, which can vary in size from 10 to 16%.
Iranian saffron ice cream contains various dairy products, such as cream, prepared with saffron, sweeteners, and flavorings.
The refreshing and joyful combination of saffron, rose water, cream, and pistachio has turned traditional Persian ice cream into an anti-depressant.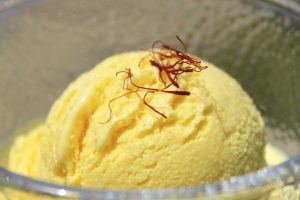 History of Persian ice cream in Iran
The Iranians initially made ice cream traditionally and manually under the name of "saffron ice cream". This ice cream was made in a double-walled container (barrel); In this way, milk, cream, sugar, salep, and saffron poured into the inner wall, and ice and salt were poured into the outer wall; The barrel was then shaken regularly to make ice cream.
But today, this industry has developed a lot and is produced and consumed industrially in almost all Iran cities.
Ingredients of Traditional Iranian ice cream
The recipe for traditional Iranian ice cream is different from other ice creams and is specific to Iran. In addition to milk, sugar, and salep, flour is also used in their composition. Ingredients of Traditional Persian ice cream are:
milk
sugar
salep
Saffron
High-quality rosewater
cardamom powder
Breakfast cream
Pistachio
Where is the best ice cream shop in Iran?
The first Iranian ice cream shop is Akbar Mashti Ice Cream, which was established in 1318 AH near the Railway neighborhood of Tehran, which became very famous even in the following years in Paris and Los Angeles.
Akbar Mashti, whose real name was Akbar Mashhadi Malayeri, was originally the first Iranian to pursue an ice cream career.
After the extinction of the Qajar dynasty, Akbar Mashdi turned to the ice cream business and gained a great reputation in this profession due to his delicious and unique ice creams.
Akbar Mashti's legacy still stands in Tehran and is now a small shop in Tajrish Square. You can order traditional saffron ice creams with quality or ice cream puree with rosewater in this shop.
Mansour is one of the best Persian ice cream shops in Tehran, and its fame is such that it either has a branch or a shop with the same name in many cities of Iran.
This is also the right choice for tasting traditional Iranian ice cream and Shirazi faloodeh. Of course, during rush hour, you may have to stand in a long line.
If you want, you can buy ice cream by the kilo and take it home.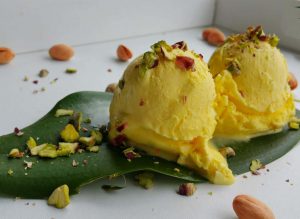 Finally, do not forget that if you travel to Iran, do not end your trip without tasting the joy of Iranian ice cream.
Iranian ice cream is one of the most popular desserts among foreign tourists that you will not forget its good taste for years!