Corona is at the forefront of the news and, in many cases, rumors these days, but what is certain is that we can prevent the spread of the disease by following good health and taking advice seriously. In this article, we as the Iran Travel Guide Center intend to review the Iran policy against Covid 19 in public transport.
Coronavirus is a virus that causes infection of the soft tissues and airways deep in the lungs. Common symptoms include fever, fatigue, and respiratory problems (dry cough). Corona was first seen in the Chinese city of Wuhan and is of animal origin. It is not known exactly from which animal the disease originated!
Corona is not fatal in many cases and can pass like the flu over sometimes, but this is not easy for sensitive groups. To prevent the spread of the virus, protocol and instructions must be followed carefully, which generally include proper ventilation, space separation or observing a distance of at least one meter from sick or suspicious people, disinfection of surfaces and objects.
Health Protocols and Iran Policy Against COVID-19 in Public Transport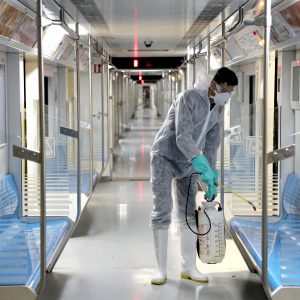 The National Corona Disease Management Agency in Iran has published a comprehensive environmental control guide for the COVID-19. Part of this guide and health protocols relates to intercity and suburban vehicles and taxis. Below is some Iran policy against Covid 19 in public transport:
Bus, metro, and taxi drivers, whether internet, regular, or telephone taxi in the city (like Snapp), must wear masks and gloves.
From the beginning of this virus's outbreak, buses and subways in Tehran and cities are continuously disinfected.
For drivers who have direct contact with the passenger, the use of a shield is recommended to protect the face fully.
Drivers should also avoid over-riding.
Distribution of free packages including masks, disposable gloves, and a training leaflet among internet taxi drivers.
Identify and disable drivers whose corona test was positive. Continuous monitoring of drivers' health remains a priority, which leads to the health of both groups of driver and passenger users.
Added the option of "non-observance of hygiene to taxi applications" to have more control over trips. If the passenger feels that the health issues have not been observed during the trip, he can select this option to inform the support team. After this report; the support team will take the necessary measures to maintain the passenger and driver's health.
In addition to complying with Iran's policy against COVID-19 in public transportation, passengers and citizens must follow health guidelines to stop the transmission of the disease.
Individual Health Strategies to Prevent COVID-19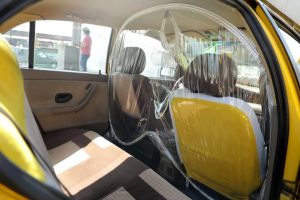 Some Individual strategies and health protocol for the Prevention and Control of the COVID-19 are:
Avoid outdoor activities as much as possible and avoid crowded public places.
Avoid eating in public as well as eating ready meals as much as possible and use fully cooked food.
If you notice cold symptoms, rest and use the mask correctly, and if the symptoms become severe, go to medical centers.
Use a paper towel to contact the car handles.
Drivers may avoid cash as much as possible and make payments online, by card, or using apps.
Drivers should wear masks and gloves, preferably with medical alcohol-based disinfectants.
Do not smoke because of its effect on weakening the immune system and predisposing people to the virus.
It is also recommended for car hygiene that the ventilation condition is appropriate in such a way that the windows are open or semi-open to create airflow, and the car's ventilation condition is not circulating inwards.