The coronavirus has not yet wholly disappeared from any country. However, some businesses have started their economic activities after a few months of ups and downs. In Iran, for example, online hotel booking restrictions have been lifted; Travelers who have to travel and choose accommodation can do so.
Given the current situation and the importance of your health, the Iran Travel Guide Centre talks about hotel hygiene measures against COVID-19 and Iran tourist policies during the coronavirus.
First, we recommend you avoid unnecessary trips as much as possible to eradicate the virus.
Iran's tourism industry and hotels, like other countries, are in the worst condition these days. Iran's tourism and hotel industry has suffered a lot with the coronavirus outbreak in Iran. This crisis has also caused most flights to be canceled and many hotels to be empty. Now, with the prolongation of the disease and the need for some people to travel, hotels in Iran have adopted new health protocols to prevent this disease.
In the following, stay with us; we will review the Iran tourist policies during coronavirus:
Health Protocols Against Corona in Hotels
Sanitary Entrance of the Hotel
During the coronavirus in the hotel industry, one of these Iranian tourist policies is to oblige hotels to use digital locks and keys. This system can prevent the handles from being touched too much by different people and minimize communication.
Currently, most hotels in Iran have automatic doors that do not require using hands to enter and exit. Handles, elevator keys, stair railings, reception counters, and other surfaces are periodically disinfected during the day. Another point is not accepting guests without masks. This way significantly prevents the spread of the disease to other people.
Equipped and Alert Hotel Staff
The hotel management must carefully monitor all cleaning and disinfection of public spaces and rooms. Also, all hotel staff, including homemakers, servers, receptionists, cooks, etc., should wear masks and gloves during their activity. Preventing cash receipts and minimizing the use of credit cards in hotel services is another Iran tourist policy during the coronavirus.
Continuous Disinfection of Hotel Surfaces
All areas of the hotel, including the lobby, reception, rooms, toilets, elevators, restaurant, kitchen, etc., must be disinfected several times during the day.
Also, disinfectants should be available at all entrances for passengers if necessary. There are also alcohol pads inside and outside the elevators so people can disinfect them before touching the buttons.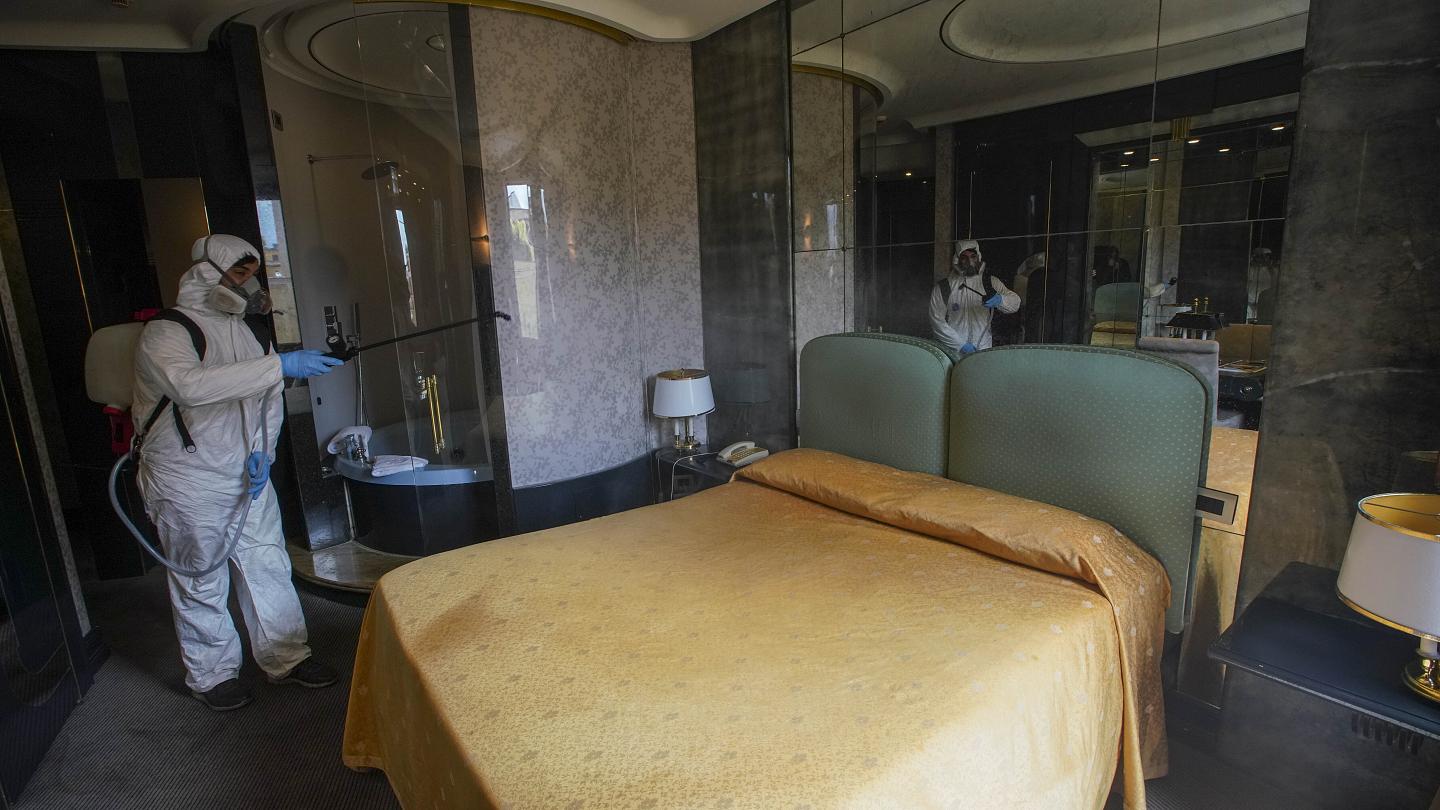 Safe Social Distance
Another principle that hotels should follow during the coronavirus in Iran is to apply social distancing in the hotel restaurants and coffee shops. The total capacity of the restaurant is no longer complete, and people have to sit at the required length. Many guests may prefer to use the room service. In this case, people who bring orders to guests' rooms should also consider hygiene protocols such as wearing masks and gloves and keeping a distance.
more info: Iran policy against COVID-19 in public transport
Public Places in Hotels
Facilities such as a swimming pool, gym, or spa that were once considered advantageous for hotels; can be a nuisance these days. However, some hotels have resorted to disinfecting sports equipment, but the best thing is to stop these activities until further notice.
Go back and use disposable containers.
In recent years, attention to the environment has become a significant concern in most businesses. At present, maintaining the health of passengers and the importance of cleanliness and cleanliness is more important than environmental issues or the luxury of services. Therefore, the conditions of hotels have changed during the coronavirus in Iran, and the best solution is to go back and use disposable plastic equipment in the bathroom. Hoteliers also replaced glass containers with disposable and plastic sanitary ware in the bathroom and toilet to protect the environment.
Observance of Health Protocols by Passengers
Although hotel staff is required to follow Iranian tourist policies during the coronavirus in Iran to prevent travelers from contracting the virus, travelers should also follow the tips. Using a mask is an essential step to keeping ourselves and others healthy. So do not underestimate the cover. Regular hand washing, disinfection of personal belongings, social distancing, and avoiding approaching other people significantly impact our health.
But the other point is that although hotels must comply with the above, it is good for travelers to comply with some things to protect themselves. For example, although accommodation units should disinfect surfaces, guests should avoid touching surfaces. Especially characters that are more polluted and more exposed to other people. To be on the safe side, disinfect the TV control, switches and sockets, and the door handle after entering the room.
Keep your distance from other people in public places and be more careful in spaces such as elevators. It is necessary to have a maximum of 2 or 3 people in the elevator car, depending on its area, and do not forget that it is still required to use a mask. Keep in mind the need to comply with what is said in the restaurant and coffee shop of the hotel several times. Experts recommend that you order hot snacks and foods as much as possible. Make sure the servers use masks and gloves.
We hope your travels will be safe and full of joy and unforgettable memories by observing the above, whether by the hotel staff or travelers.