Before planning your trip to any country, there are certain items that need clarifications. Among these items, visa holds an important place on your pre-travel checklist. Cause without having right visa, the entrance to the country will be impossible, OBVIOUSLY!
Iran is a home to ancient towns and monuments with spectacular architecture that catches everyone's attraction. If you haven't made up your mind about traveling to Iran, make sure to check Iran Travel Guide Center to learn everything you want to know about Iran and Iranian visa guide.
Follow this Iranian Visa Guide:
Validity of Visa for Iran
All types of Iran visas are valid up to 90 days. But you can only stay till 30 days, regardless you enter via airport or overland. If you want to stay more, which you probably will. Because Iran is stunningly beautiful and a lovely spot where you get the chance to have special experiences. So make sure to search for Iranian cities and Iran travel.
As It was mentioned, you have 2 options in case you want to extend your Iran tourist visa (Apply 1 to 3 days before visa expires):
Refer to Iranian Foreign Affairs Office in Tehran. There are two main offices:
One is located on Motahari St. and the other is located on Satarkhan St.
If you're in cities other than Tehran, you should refer to Police +10 Offices.
If you have a 1-month visa, you can extend it twice for 30 days. Yazd and Isfahan are popular places for visa extensions among travelers.
Types of Iran Tourist Visa
Based on your purpose of the trip along with other factors, the type of visa that suits you best can be determined. These are 12 categories of Iran non-immigrant visas:
A-Entry
B-Tourist
C-Pilgrimage
D-Diplomatic
S-Service
E-Education
F-Temporary Work
G-Transit
H-Media
I-Investment
M-marital
T-Medical
Depends on which type of visa for Iran is suitable for you, documents and requirements that are needed varies. Although, the most common types that are suitable for people who want to visit Iran as a tourist are listed below:
·       How to get a visa for Iran on arrival (VOA)
In contrast with other countries, visa for Iran on arrival (or Iran airport visa) is possible and quite simple, but only for tourist purposes. So, if you want to enter Iran for other reasons like education or transition this is not the good option for you. Visa for Iran on arrival can be issued at international airports, including:
Imam Khomeini Airport
Tehran Mehrdad Airport
Mashhad International Airport
Tabriz International Airport
Shiraz International Airport
Isfahan international Airport
Kish International Airport
Once, you get off the plane, you should find the visa-on-arrival counter and ask for a visa for Iran. The main disadvantage of this type of visa for Iran is that you have to spend more than 4 hours at the airport, so the officer can check your documents. Visa on arrival can only be extended by the approval of Iranian Foreign Affairs Office, which is not an easy process. So, if you're planning on staying more than 30 days, get visa for Iran at the Embassy instead.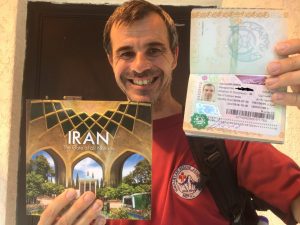 Requirements for Visa for Iran on Arrival
Valid Passport (at least six month)
Confirmed Return Ticket (based on your choosing, within a 30-day timeframe)
Digital Personal Photo
An Invitation letter or Hotel Reservation Voucher
Travel Insurance (mandatory)
You must have valid travel insurance, and you must bring any documents which prove it. You can also buy it at the airport, but it has very limited coverage. Unfortunately, most popular travel insurance companies will not cover you for Iran (like World Nomads).
Online Visa Application Form (if you want to apply for Iran tourist visa online)
·       Iran tourist visa (e-visa)
You can check the link https://e_visa.mfa.ir and apply for online visa. This process takes almost 7 to 10 business days, but you don't need to wait a long time at the airport. You can assure yourself of your entrance to Iran! Iran's ministry of foreign affairs suggests that you should take the following measures at least two days prior to your travel:
Apply for an electronic visa application (you can use the link new application for more information)
You must make a copy of Grant Notice to the counter at the airport. (you can get the notice when your visa application is approved and you receive the grant email)
If you do the above procedures, you can minimize the risk of visa rejection and you can save your time!
Visa on arrival doesn't mean that it's a visa-free country. You must pay your visa fee through banking terminals in euros. fees of visa for Iran differs based on the type of visa you're applying for.
Countries whose nationals do not need visa to Iran
Armenia (90 Days), Azerbaijan (30 Days), Bolivia (30 Days), Egypt (20 Days), Georgia (45 Days), Lebanon (30 Days), Malaysia (15 Days), Serbia (30 Days), Turkey (90 Days), Venezuela (15 Days).
So, if you don't hold a passport from any of the mentioned countries, you must pay for your visa.
Not all countries can get Iran tourist visa on arrival.
Countries whose nationals can acquire Iran tourist visa on arrival
 Albania, Australia, Austria, Bahrain, Belarus, Belgium, Bosnia Herzegovina, Brazil, Brunei, Bulgaria, China (People's Republic), Croatia, Cuba, Cyprus, Denmark, Finland, France, Germany, Greece, Hungary, India, Indonesia, Ireland, Italy, Japan, Kazakhstan, Kuwait, Kyrgyzstan, Luxembourg, Mexico, Mongolia, Netherlands, New Zealand, North Korea, Norway, Oman, Palestine, Peru, Philippines, Poland, Portugal, Qatar, Romania, Russia, Saudi Arabia, Singapore, Slovakia, Slovenia, South Korea. Spain, Sweden, Switzerland, Syria, Tajikistan, Thailand, Turkmenistan, Ukraine, United Arab Emirates, Uzbekistan, Vietnam.
Countries whose nationals cannot acquire Iran tourist visa on arrival
Afghanistan, Bangladesh, Colombia, Iraq, Jordan, Nepal, Somalia, Afghanistan, Pakistan, Sri Lanka.
Note: Iraq citizens are only allowed to acquire visa on arrival at the Mashhad international airport.
Needed documents for Iran Visa On Arrival
Based on Iran's ministry of foreign affairs you should have the following documents available when you want to complete your online visa application:
Passport (to apply for all types of visas, your passport should have at least six months of validity)
Travel itinerary (if you have already arranged your trip)
Resume or Curriculum Vitae
Digital personal photo (e.g., in color, in 400*600px, reflect your current appearance)
Digital image of your passport
Other Information: Some applicants, depended on the visa type, will be asked to provide additional information.
Note: you must have confirmation of your first night at specific hotel. Or if you have a host who's willing to take you, his/her information might be required.
Iranian Visa Guide for Us, Canada and England Citizens
Visitors who come from Us, Canada or England cannot apply for visa on arrival or have electronic visa prepared. The only option for these nations is to acquire visa from tour agencies. Complete trip itinerary, place of residence, arrival and departure dates are necessary for US citizens.
·       Acquire Visitor Visa through Travel Agency
If you want everything prepared, without dealing with endless paperwork, I think this option suits you best.
In this way, you just need to find the suitable travel agency and have required documents prepared, including:
Digital image of your passport with at least six-months' validity
Digital personal photo (e.g., in color, in 400*600px, reflect your current appearance)
Visa Application Form
The agency will issue an invitation letter to you. A reference number will be notified to the agency if visa department of Iran approves the invitation. Then, you have to submit required documents along with reference code to the embassy or consulate of Iran. The code is valid for one month, and takes one to three working days, so be prepared for your trip!
Note:
Israel citizens are not allowed to visit Iran
Your visa will be granted if there is any evidence on your passport, as long as your last visit to Israel was more than six months ago.
Citizens of all countries (except for Israel) can travel to Qeshm, Kish and Chabahar (free-trade zones) for up to 14 days without a visa for Iran
For citizens under 18, written consent from the parents is required
Iran isn't stamping passports anymore. They give you a separate piece of paper. But, if you want to do visa extension, you will get a full-page stamp.
Hooray! You're ready to go to Iran. Don't waste your time and get your visa for Iran soon. Read up on Visit Iran to learn about this amazing country and read more about Iranian Visa Guide. This trip is worthy of consideration. You won't regret it. I Promise YOU!