Iran is a historical country in which you can always find different types of nature and history. Come along to the Iran Travel Guide Center to learn better about it. One of the most attractive villages in Iran is Abyaneh. Maybe you have heard about the red village in Iran.
Yes? It's Abyaneh traditional village!
People call Abyaneh the red village in Iran because its houses are made of red clay. When you go to this city you will see red houses on steps that have amazing views from any corner of the city.
While walking in narrow alleys, you will be surrounded by these beautiful houses which are so unique with their small balconies and lattice windows.
Abyaneh is a village located in Isfahan province, just 41km from the city of Natanz. If you plan to visit this city, it's easy to go from Tehran, Isfahan, or Kashan. There are many ways to travel there, and going by bus is easy, cost-effective and scenic.
The road to Abyaneh is surrounded by desert and if you look, you can see many ruins of ancient Caravanserai. The trip from Tehran to Abyaneh is about 5 hours driving, though it can be a bit longer by bus.
History of Abyaneh Village in Iran

The red village in Iran has a long history. It dates back more than 2000 years to the time of the Sassanian Dynasty in Iran and since 1975 has been included on Iran's National Heritage list and that is still standing with minimum changes since then.
During the Sassanian Dynasty, Abyaneh was used more as a hunting area for kings, it always had suitable weather in summer. Abyaneh village in Iran is one of the oldest human habitats on the sidelines of Iran's desert. It's about 500 houses in Abyaneh as a census report said in 1982.
These houses are on the northern hillside of "Barzrud" (برزرود). The name "Abyaneh" comes from the word "Viona", which means willow grove.
In Abyaneh, you can still see people retaining many aspects of their traditional culture, such as clothing and dialect. Abyaneh costume (h2)One of the most interesting attractions in Abyaneh is the ancestral costume that women still wear.
They can be seen walking down the streets in colorful dresses full of flower designs and patterns, with dark, loose pants underneath and a "Charghad" (چارقد) or scarf, covering it.
Abyaneh Women's Charghad
Men wear long, baggy trousers of black cloth. Women's scarves have also special designs. It's full of flower patterns and amazing colors on it. Most of them are white with red flower patterns on them.
But you also can see some different designs. In the world today, it is rare to find a place whose customs and language are as untouched and preserved as Abyaneh village in Iran.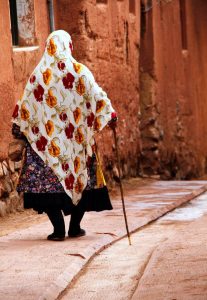 Which Language Do People Speak in Abyaneh?
In Abyaneh, the inhabitants speak a specific dialect of Persian. In the past, the people of the red village in Iran spoke Pahlavi, but this has changed with time. Nowadays their Persian dialect has a special accent and is mixed with some Pahlavi words.
Architecture of Abyaneh traditional village
The architecture of Red Village in Iran is full of details. One of the most interesting and special things is the door-knockers which are found on the curved wooden doors of most houses. These knockers have two different-shaped handles on each door; one in a long shape and another in a circular shape. Each of them makes a different sound when you knock on the door.
When a man wants to knock on the door, he should use the long-shaped handle. When a woman wants to knock on the door, she should use the circular shaped handle. The person at home will then know if the person knocking is a man or a woman.
If it's a man, the man of the house should open the door and if it's a woman, the woman should open it. If it's a man and the man of the house isn't home, the woman will know to put on her hijab.
Lattice windows are another beautiful detail which can be found in Abyaneh traditional village. These windows can be made out of wood or clay, and are carved into intricate shapes and patterns. They are unique to Abyaneh and are an important and attractive part of village architecture.
Weather of Abyaneh

During the Sassanian Dynasty, Abyaneh was used for summer holidays as a hunting area. It was ideal during the summer heat because the Karkas (کرکس) Mountains surrounding Abyaneh keep the village cool.
However, winter time in Abyaneh traditional village can be difficult because of the intense cold weather.
The red village in Iran is provided water by the Barzrus River and because of this access, the people of Abyaneh can grow products such as barley, wheat, and potatoes in their fields.
Abyaneh is also full of fruit trees such as pears, apricots, and apples. If you plan to visit Abyaneh, it's better to travel there during spring or summer.
However, if you are interested in viewing Abyaneh in the winter or autumn, and are not sensitive to the cold, there are fewer tourists and the amazing view of the village will be quiet.
Attractions of Abyaneh, Red village in Iran
Abyaneh fire temple
The fire temple is a sample of the Zoroastrian monument. This fire temple is the oldest one in Abyaneh village in Iran which was built in the mountainous union. The fire temple is built in the district of "Miyandeh" (میانده) and is called "Harpak"(هرپک). The style of architecture is four-vaulted.
Abyaneh castle
Red village in Iran has three castles. One of them belongs to "Yusmun" (یوسمان) region and is placed in the southwest. As documents say, this castle backed more than 200 years.
"Paleh" (پاله) castle which is located in the northwest of the village belongs to the district of Pol and "Hadeh" (هاده) castle which is in the northeast of the village, belongs to the district of Hardeh. These castles were built in the rebellion period and people made them to protect their security.
Jame Mosque

This mosque is located in the "Miyundeh" (میونده) district of Abyaneh village in Iran and has two halls. The old hall propels to the main alley. Its floor is wooden and in the southern wall of the hall, there is an old wooden altar, which is between the most important monuments of Abyaneh village in Iran.
You can see some verses of the Quran, plants, and flowers engraved in it with embossed Kufic lines and some believe it to be cuneiform. This mosque belongs to the Seljuk period back to 466. AH. The new hall of the mosque is a large chamber that has an outlet in the ceiling in its central part. The entrance of the mosque is also carved with flowers, bushes, and embossed lines.
To have the best view of the 2000-years civilization red village in Iran, you can walk towards one of the castles (preferably Takht-e Haman (تخت هرمان) cross the Barzrud (برزرود) river, and get to the hill-top. That's where you can watch this breathtaking scenery. All the red clay old houses are on top of each other.
Handicrafts and Souvenir
As of late, carpet weaving has also become popular in the Village. You also can find lots of designed jewelry as Bracelets and necklaces that are so specific. Also "give" (گیوه) is an old shape shoe that is really simple in shape but so comfortable and beautiful.
Foods of Abyaneh
Going to Abyaneh traditional village means that you can eat lots of traditional Iranian foods which belong to this village. One of these foods is "Gipa"(گیپا), which is a stew made with mutton, rice, onion, split peas and is served on special occasions. It's very delicious and people from all over the world can enjoy this meal.
Another noteworthy food is "Karvani (کاروان), which is made with onion, whey and mint and is so tasty. Other foods such as "Joben" (جوبن) and "Ardine (آردینه) are also traditional foods from the Red Village in Iran that you can find easily in all restaurants there.
Milk products are so famous in this area and healthy. Also, the Walnut of Abyaneh is famous in all of Iran. Then don't forget to taste them.
Don't travel to Abyaneh these days! (h2) two special days in Iran called "Tasua"(تاسوعا) and "Ashura"(عاشورا). These days are marked by Muslims as a whole, but for Shia Muslims, it is a major religious commemoration of the martyrdom at Karbala of Hussein, the grandson of the Prophet Muhammad.
These days, people who are from Abyaneh come to this village from all cities and countries. Then it's more than Abyaneh's capacity for more guests and they ask people to travel to Abyaneh village in Iran in these days.
Where Should You Stay in Abyaneh Village in Iran?
Abyaneh traditional village in Iran has different options for lodging. Abyaneh Hotel is a popular option and another one is Viuna Hotel. Also, the Harpaak Traditional Eco-lodge is more popular for backpackers because it's cheaper. A hotel recently opened that is Yosmoon Traditional Hotel.