Iran has an incredible nature which is different in each part. The huge part of Iran is desert, there are two large areas of the desert which call "Dasht-e Kavir" (دشت کویر) and "Kavir Lut" (کویر لوت).
They are so popular for short trips because they are in the center of Iran and from all cities it is so easy and close to travel there. This high-altitude plateau surrounded by ranges of mountains. Iran desert facts have lots of secrets which you should know some of them, before starting your Persian desert journey to Abouzeid Abad. Follow Iran travel guide center to know more about it.
Silk road: One of Iran desert facts said that silk road passes from Iran and it's in the middle of deserts. The crossroads of important trade routes is near "Bam" (بم) city in Kerman province.
Kavire lut: It is one of the most amazing Iran desert facts. Iran's Lut desert is central of the hottest recorded spot on the earth's surface. 70°C was recorded there in 2005 and the Lut has taken the hottest top spot. according to NASA's satellite data of land surface temperature.
Not just beautiful, historical and peaceful
Iran deserts are so famous because of their different style which is full of historical places in it. There are lots of famous desert as "Mesr desert" and "Maranjab".
Most of the people who travel to Iran want to have a trip to desert too.no one want to miss The magic of this deserts. peaceful beauty sand deserts which have an amazing view in the night to Observing stars, all are things that say you should start your Persian desert journey.
One of these deserts which is so wonderful to have a Persian desert journey is Abouzeid Abad. Abouzeid Abad located in Isfahan province in "Aran and Bidgol" (آران و بیدگل) city, but so close to Kashan.
It will take about 4 hours to arrive Abouzeid Abad from Tehran. If you want to go Abouzeid Abad in your car, it's easy to find. Go to Kashan and after Kashan turn to Ghotbravand Blv and then Molasadra Blv to the end. Turn right and keep going straight to Abouzeid Abad.
Abouzeid Abad is not just famous as a desert, there are some historical Spectacular like an underground "nosh abad" city in Abouzeid Abad. Also, you can visit Safavid caravanserai and reservoir.
What are Abouzeid Abad attractions?
Oi Underground City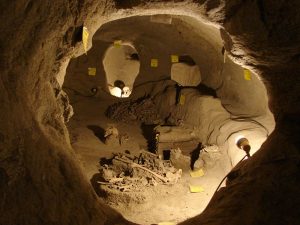 Ancient "oi underground city" is one of the oldest underground cities in the world which located in Abouzeid Abad. The history of the city back before Islam come to this country and as archaeologists said it's related to "Sassanian" age.
The most interesting thing about this city is "oi underground city" discover by a normal person who was well digging in his home in 2005. This city all made with hands. No machine used for digging 4 to 16 meters (10 to 60 feet) deep in the ground. This city made to protect people and took refuge while the city was in combats.
Abouzeid Abad caravanserai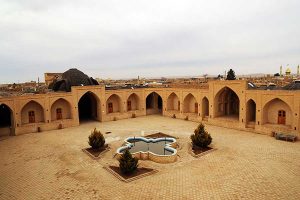 It's the best place to stay if you want to spend a night in Abouzeid Abad desert. The history of this caravanserai back to 400 years and belong to the "Safavid" dynasty. Abouzeid Abad caravanserai still works after 400 years and it is a unique property for it.
There is 29 room which is still beautiful as old-time and they try to don't have any big change while restoration of it.
Karshahi Castle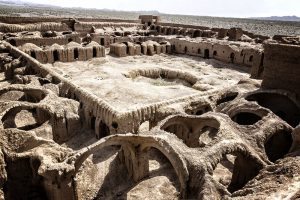 This castle is at the north of Abouzeid Abad, which made in battle with Mughal. It is about 4000 m2 area and as archaeologists said, the base of this castle back before Islam in Iran. it's the second adobe building after "Arge bam" (ارگ بم) in "Kerman".
White Caravanserai
This caravanserai made by "shah Abbas Safavid" order, in Safavid age. It's about 50km far from "Maranjab desert". Nowadays it doesn't work, but it is still so nice to visit its' ruins while you are in Abouzeid Abad.
Abyaneh Village
The red village in Iran is Abyaneh. Abyaneh has a long history. It dates back more than 2000 years to the time of the Sassanian dynasty in Iran and since 1975 has been included on Iran's National Heritage list and that is still standing with minimum changes since then. at the Sassanian dynasty, Abyaneh has used more like a hunting area for kings, it always has suitable weather in summer. Abyaneh village is one of the oldest human habitats on the sidelines of Iran desert.
Activities which you can try in Abouzeid Abad
It is clear that the best and first activity that you should try is to walk on sand dunes to feel the awesome Abouzeid Abad sense. But there are lots of attractive activities that you can choose to do them.
Camel riding is one of the most popular activities for tourist who travel to the Abouzeid Abad desert. Also, it will be so exciting if you take a safari trip on sands.
And if you stay night time in Abouzeid Abad, don't forget to do Observing stars. Stellar observation is awesome in Abouzeid Abad deserts.
Abouzeid Abad Wildlife
As we know from Abouzeid Abad desert, there is not a dangerous part of wildlife. There are rabbits, eagle, hawk, sand fox, jackal, snake, wolf and some other desert animals in this area. But you should not worry about them if you follow desert rules.
Best time to travel
The best time to visit Iran is different from the best time to have a Persian desert journey. As we know of Iran desert facts the best time to have a trip to Iran deserts is November to May.
If you travel in summer, it will be so hot. By the experiences, February and March are best months that you can enjoy more in the desert.
Things that you shouldn't forget for Persian desert journey
-choose light clothes and carry a jacket for night time.
-carry lots of water with yourself even if you are not drinking water that much.
-it is better to have some carbohydrate with yourself.
– you need a scarf because of small sand storms that sometimes happen.
-never go to the Abouzeid Abad without trustable GPS.