If you are planning to travel to Iran, Kashan City will be one of the top 10 places you must see, we mean it! But why is Kashan a special offer for tourism? And why should you care about it when you're going to visit Iran?
Maybe you've searched for Iran Travel Guide Center on the internet to see the places you should visit when you're traveling to Iran, or you just heard something about Iran's historical cities like Kashan city and you want to know more about it. Anyway, we're going to review this amazing place, stay with us.
In Kashan, you can see old buildings and houses with beautiful and amazing architecture that has a unique design. Also, the fascinating nature and traditional arts of this city are famous. But these are just a few features of Kashan, which has made this city one of the most enjoyable tourist places.
What factors distinguish Kashan from the other Iranian cities?
In general, many reasons made Kashan a fantastic tourism destination. Having all these factors simultaneously is seen in only a few cities in Iran. These factors include:
Special location
Traditional and unique architecture
Handicrafts
Natural tourist attractions
Let's examine these factors separately. Come along with us to get to know more about this beautiful city.
The special location of Kashan
Kashan is one of the Iran historical cities in Isfahan province, which is very important due to the various tourist attractions of this province. Every year, many people travel to this city to visit the attractions of ancient Iran. Kashan is located between Tehran and Isfahan. If you are going to take place in a hotel in Tehran city or Isfahan, you can travel to Kashan on just a three-hour trip. There's also another feature for Kashan, It's so close to some of the deserts of Iran like Abouzeid Abad, Iran Mesr desert. If you are interested in desert tourism, And you also like to stay in a city with good weather, Kashan is the best option for you.
This strategic position has made Kashan an outstanding tourist destination. The specific location of Kashan allows you to have many choices for the hours you want to spend here.
Traditional and Unique Architecture in Kashan
Kashan is a historic city with a wonderful traditional architecture. With its 7,000-year history, Kashan city is considered one of the most important archaeological sites. Certainly, one of the attractions of Kashan is the historical monuments of this city. These buildings have been built by Iranian architects whose art and taste can be seen in the buildings, which is worthy of the admiration of any viewer, for sure. There are too many of these monuments in Kashan and around. Here are some of the most famous historical sites in Kashan:
Fin's Garden & Bathroom
Fin Garden is one of the most beautiful Iranian gardens, which is not only a garden, but it has a history behind it. In the southern part of this garden, there are two famous and historic baths, the most famous historical places of Kashan. The murder of Amir Kabir (God bless him, he was truly an amazing person), one of the most important historical and political events in ancient Iran, occurred in this bath.
Mosque of Kashan
The oldest monument in Kashan is the city's mosque, dating to the rule of the Seljuqs. The remarkable beauty of this mosque can be seen in the art of calligraphy by the masters on the walls.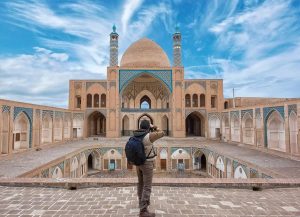 Aqa Bozorg's mosque and school
The mosque and school of Aqa bozorg in Kashan is one of the most beautiful Kashan attractions and the most magnificent mosques built during the Qajar era. The dome of the building has beautiful architecture, and in terms of its type of construction, it is considered to be the shortcomings of its time.
Niasar Fire Temple
The fourfold Fire Temple of the Sassanid era one of the Kashan attractions located at the Niasar Highlands of Kashan, was used in the past as a place to hold special ceremonies of the followers of the Zoroaster religion.
Historical Houses of Kashan
The City of Kashan has many historic houses with beautiful architecture. Many of these historical houses have been rebuilt, and most of them have been recorded as historical monuments.
Some of these old houses have become a residence for foreign and domestic travelers after rebuilding and re-living.
Who doesn't like to stay in one of these beautiful houses in Iran's historical cities?
One of these houses has become the residence of travelers, by Mrs. Manouchehri, a resident in Switzerland. They bought and renovated an old house a few years ago. Today it has become a place for travelers to relax and accommodate guests with a rustic sense of tranquility.
We suggest that if you're going to travel to Kashan, do not forget to visit Manuchehri's house. There are so many historical buildings in Kashan as Kashan tourist attractions. Here is a list of the most famous historical buildings in Kashan:
Historical House of Ameriha
Abbasid House
Tabatabai's house
Residential landing house in Kashan
Tabatabai's house
Monk's house
House of Americans
Honest house
Hosseini's house
House of Razaghian
Al Yasin's house
Historic crown house
Handmade House
Sharifian House
Broujerdiha House
In Kashan, you can see old buildings and houses with beautiful and amazing architecture. The Boroujerdiha House is among these valuable historical monuments built during the Qajar government. The features of this Kashan tourist attraction are the crescent winders and its shape.
Niasar Cave
One of the spectacular views of the city of Kashan is the beautiful cave near the village of Niasar, which has become famous for its name.
This beautiful tourism phenomenon is one of the most popular attractions in the area, which seems to have been built up by human beings almost 2000 years ago.
Kashan Traditional Market
Another valuable historical heritage in the city of Kashan is the traditional market of this city, which in addition to its architectural beauties, was one of the best and most famous markets in its time.
Nooshabad Underground City
Near the city of Kashan and in Noushabad city, there is an underground city with a depth of four meters to eighteen meters, all built by human beings. The history of Nooshabad Underground City dates back to pre-Islamic times but now it is one of the Kashan tourist attractions.
Abyaneh Village
The Abyaneh village of Kashan is one of the most beautiful and unique villages in Iranian history, which is popular among tourists all over the world as a unique Kashan tourist attraction.
This beautiful village, which can be considered one of the highest residential areas in the country, has a modest climate, beautiful and remarkable architecture of homes, natural beauty, and historic tourist attractions which have made it one of the most visited areas of the country today.
Kashan Handicrafts
Kashan has a variety of handicrafts. How can we talk about Kashan and not mention Kashan's carpet? As you know, weaving carpet is one of the oldest handicrafts in Iran and Kashan is the most important carpet center in Iran. Everyone who has traveled to Iran, no matter if he crossed from the south or the north, has seen hot weather or cold, you can hear some good feedback about the Iranian cities, Especially Kashan tourist attractions. We're sure they will talk about the handicrafts they've seen here in Kashan.
Shardin, a French tourist, says: "The foundation of the wealth and lives of Kashan people is textile and silk weaving."
Generally, craftsmen and artists of Kashan in the field of carpet weaving, Zaribafi and Makhmalbafi, Masking, Stamping, Tiling, Tile, and decorative arts have exhibited elegance and beautiful works.
The largest Iranian painters whose works are well-known in the world such as Reza Abbasi, Sani al-Molk, and Kamal al-Molk are from Kashan.
Natural Tourist Kashan Tourists Attractions
Kashan has a moderate climate and its sun will cuddle the skin.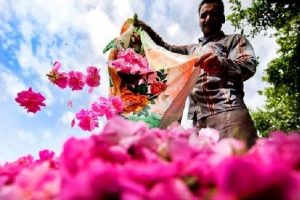 Kashan has so many natural tourist attractions. 30 km to the south, you'll see the capital of Iran's Golab ((Damask) Rosewater), Ghamsar, where Damask Rose flowers are all over your sight!
Of course, if you choose the best time to visit Iran, especially Kashan attractions, especially in May, you can see the process of taking rose water in real time.
Ghamsar has a relatively moderate climate and is considered one of the best villages in Kashan due to the tasty water it has.
If you move 25 kilometers from Kashan to the west, you will arrive in the green city of Niasar. Niasar Waterfall is one of the famous natural attractions of this city.
Kashan has an interesting climate variation. For example, Ghahrood is a village located 42 km away from Kashan and 20 km from Ghasr. Unlike Kashan, which is usually hot and has desert-like weather in summer, this village has a very cool and pleasant climate due to its location in a mountainous region.