The Best time to visit Iran can differ for each individual tourist. This time can depend on your preferences, whether you want to see the nature, or the history, whether you like to ski in the snowy ski resorts or want to spend a day in the desert.
Iran is a four-season country; It means there are numerous attractions available for you to enjoy, regardless of the season or Iran climate.
Weather in Iran
Spring Time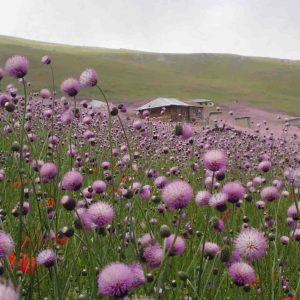 Spring marks the start of the new solar year in Iran called "Nowruz".
It is one of the most original Persian traditions, with beautiful and delicate manners and customs.
The first two weeks are national holiday and most of the Iranians are on travel.
It is advised that you avoid traveling the country during this time because the prices surge and the roads get extremely crowded. But the rest of the spring is just delightful.
The weather in Iran during this season in most parts is about 20 to 30 degrees Celsius.
This is a good time to enjoy the natural sights especially the northern forests and hiking trails.
Shiraz city has a world renowned fame during this season, with its gardens of sour orange blossoming and covering the whole city with their mesmerizing scent. (from April to May)
Summer Time
Summer is vacation time for most of the students all around the world.
The weather in Iran during summer is hot in southern and central parts, but cool and pleasant in northern and north-western parts.
During this season many domestic tours also take place, giving you the privilege of using high quality and reasonably priced offers.
It is the best time to visit some of the cooler cities in Iran, such as Tabriz city in north west, Mashhad city in north east, Sanandaj city in west and Yasuj city in central region, where Iran climate is cool most of the year.
Also, Ahvaz city in south west, has the record for" hottest city on earth" during summer with the recorded temperature of 60 under the shade! Ahvaz has the most terrible of Iran climate!
If you want to try this kind of temperature, summer is the best time to visit Iran south part.
Autumn Time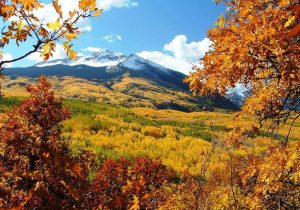 Iran climate during autumn is a bit unpredictable.
Rain showers and cool breezes are the vanguards of cold winter to come.
This is a low season for domestic travelers, so most of the tourist attractions and hotels are empty and offer discounts.
It is the best time to visit Iran deserts such as Maranjab desert and Shahdad desert and enjoy a night of camping and star gazing there.
Visiting central cities such as Isfahan city and Kashan must be a part of your plan during this time of year, because it is the least crowded period with the most delightful weather in Iran.
Winter Time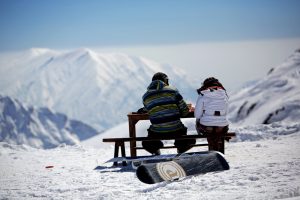 Iran climate during winter is suitable for backpacking in southern cities.
It is the best time to visit the Persian Gulf Islands like Qeshm Island and Kish Island, or visiting the UNESCO world heritage historical sites such as Susa, chuqa Zanbil, Persepolis, and Bishapur.
Northern and western cities face a bitter coldness, and mostly get covered with snow.
It is also the time to get the advantage of the ski resorts all around the country, such as Tochal ski resort in Tehran City and Fereydoon Shar ski resort in Isfahan city.
More info about the Best Time to Visit Iran
Except for Nowruz, there are two other occasions that the situation is not normal in Iran (maybe including unsuitable weather in Iran):
30 Days of Ramadan. Muslims in all the Islamic countries in this month go through fasting, and no one is allowed to drink or eat in public. Read our article of Ramadan in Iran for more info.
10 days during Muharram. Ashura Mourning Festival takes place during this lunar month and the date


Muharram in Iran

changes every year. During this time, the whole country goes through public mourning, and special customs and traditions take place during this time. It is a tradition worth visiting, but the overall atmosphere of the country is glum.