Tabriz city is the capital of Eastern Azerbaijan province. located 700 km away from Tehran City, connecting the capital to Bazargan Border (Iran – Turkey border) and Jolfa (Iran – Republic of Azerbaijan border). Tabriz city has deep roots in ancient Persia and contemporary history, and the buildings and landmarks from all those eras enrich Tabriz tourism Industry furthermore.
People of Tabriz city speak in Azeri dialect, and are known for their humorous spirits. A Fun fact about Tabriz is that there are no Beggars anywhere in the city, making Tabriz city the first beggar free in the country!
the climate of Tabriz city during summers is extremely cold, but during the summers the weather is never any warmer than 30.
So If you are planning to travel to Tabriz, Follow this Iran travel guide article to get an overall understanding of the city and Tabriz tourism:
Travel to Tabriz
Airplane: There are daily flights taking off from Tabriz International Airport To Tehran city, Mashhad city, and Isfahan city. Other cities also have air travel to Tabriz; but on a less frequent basis. Also, international flights to Dubai, Iraq, Turkey, Republic of Azerbaijan and Armenia are available here every week.
In order to get to Tabriz International Airport via public transport, you can take the city buses from the Tabriz Bazaar Bus station.
Train: Tabriz city is connected to Tehran city and Jolfa city by railway. Daily trains departure to these destinations.
You can use BRT and city buses and get off at railway station stop to get yourself to here.
Bus: There are buses coming and going to most of the cities in the country. Tabriz city Bus terminal is located at the southern side of the city, there are City buses available to get you to Tabriz terminal from the city center.
Getting around in Tabriz city
Tabriz Metro: only some parts of Line 1 of Tabriz Metro is operational, connecting south east of the city to the city center. As same as Tehran metro, you can acquire a disposable one-use ticket for every ride that you take, or get a credit card ticket which is also accepted by the city buses and the BRT system.
BRT: The Bus Rapid Transit network in Iran is active at many cities. It is operational in Tabriz city, allowing you to get to high density areas of the city swiftly. You can use these buses via the credit cards, or pay in cash.
City buses: the city buses in Tabriz city accept both cash and credit card as a method of payment.
Tabriz Hostels and Hotels
Tabriz tourism is swarming with domestic and International travelers every year. There are a number of choices available in the city, meeting every kind of need and demand. Most of the Tabriz Hostels and hotels are located in the Ferdosi street.
Pars guest house: a budget option among Tabriz hostels. There's a large courtyard here which is both pretty and useful for cycle tourists. Located at: at the corner of Miar Miar and Ferdosi street.
Phone number: +98 914 860 1684
Mashhad Guest house: another budget option among Tabriz hostels in Ferdosi street.
Phone number: +98 41 3555 8255
Ghods Hotel: a couple levels higher than the previous option in Tabriz hostels, but still with a reasonable price and convenient access to public transportation. Located at: Terminal Ghadim Square (old terminal square) right across from Golestan Garden.
Phone number: +98 41 3556 8098
Hotel international: A five-star option in Tabriz hostels and hotels with acceptable service quality. Located at: Daneshgah square, Azadi boulevard.
Phone number: +98 41 3334 1081
Tabriz Tourism
There are enough sights and attractions available in Tabriz city and its surroundings to keep you busy for at least a week when you travel to Tabriz. Qajar museum, Constitutions house, and the Blue Mosque are three of the must-sees in Tabriz tourism. Aside from those, El Goli is one of the wonders of the city. It is a castle located at the middle of a water pound and surrounded with a large Persian Style Garden, creating a surreal scene.
Sa'at (watch tower) Square and the Museum of Municipality are another landmarks of the city, helping you to get a better image of the ethics of Tabrizi People at your travel to Tabriz.
Tabriz grand Bazaar is the largest Bazaar in the whole world, with hundreds of stores and dozens of mosques, tea houses, restaurants and… it is undeniably one of the greatest attractions of the city.
Tabriz tourism is not only limited to the city itself. Kandovan Village, Qom Tape Desert and Arasbaren forest are a couple of the top sights around the city which you have to visit when you travel to Tabriz.
What to eat in Tabriz city?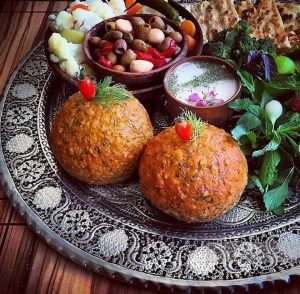 Kufteh Tabrizi, Dolma, and Tabrizi Ash are some of the most popular Iranian cuisine dishes, exclusively available only in Tabriz city.
Also, don't forget that Tabrizi chefs and backers are famous for their skills all around the country. So make sure that you try the local Iranian sweets and desserts such as the cookies, Ris, Qurabieh, Baqlava and Rahat-ol Holghum.
Tabriz Souvenirs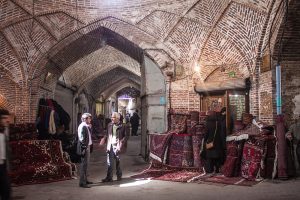 The whole Azerbaijan region and especially Tabriz is famous for its handmade rugs and carpets. The designs of the carpets and the skills of the local craftsmen are impressive. Also Tabriz is a hub for leather made accessories and shoes in the country, with the best qualities and the most reasonable prices. Even if you don't have any intention of buying anything, make sure that you pay a visit to the shoemakers' market and the Carpet Market in the Grand Bazaar, just to enjoy the beauty of their products.