Sanandaj City is the capital of Kurdistan Province. It is the second-largest Kurdish center in the country. Due to its strategic location, Sanandaj's history is filled with events, breakdowns, and victories, some exhibited in the Sanandaj Museum.
Being located in the middle of the Zagros Mountain range, Sanandaj City is one of the few evergreen cities in the country. the nature and view in the suburbs and especially some of the neighboring cities are breathtaking, making Sanandaj's nature as worthy as Sanandaj's history; especially in places such as Uramanat and Palangan Village.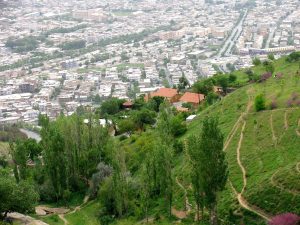 As same as Kermanshah City Sanandaj is one of the coolest cities in the country, with fierce winters and snowfalls which cover the whole city and surroundings.
So, if you want to Travel to Sanandaj city, follow this article from the Iran Travel Guide Center to learn more about the history of Sanandaj, its Souvenirs, the Sanandaj Museum, and more…
Travel to Sanandaj City
Airplane: Sanandaj City International Airport only carries the stamp of "International". The only flights available here are either to or from Tehran city.
Due to the geographical situation of the city, only certain airplanes can be used here. That and other obstacles have prevented the aviation industry in Sanandaj to grow.
Sanandaj Airport is located at the southern end of the city by the Kermanshah – Sanandaj highway, accessible only via personal vehicle or Taxicab.
Bus: There are daily buses available to Tehran city, Tabriz city, Mashhad city, Ahvaz city, and more. Also, buses to Istanbul and Wan in Turkey and Sulaymaniyah and Erbil in Kurdistan are available daily.
Sanandaj Bus Terminal is located on the eastern side of the city, accessible via city buses. There are NO train stations available anywhere near Sanandaj.
Hotels and Hostels in Sanandaj City
As great as Sanandaj's history and attractions are, the tourism infrastructures don't come even near to what you would call "sufficient". A handful of choices of hotels that are available in Sanandaj, can't make up for the demand at all. It's a budget option in Sanandaj, with minimum quality service. Good for solo travelers and backpackers.
Address: Ferdowsi Street
Phone number: +988733416453
Sanandaj Tourist Hotel (JahanGardi Hotel)
A reasonably priced option with acceptable service quality
Address: Pasdaran Blv.
Phone number: +98 87 3362 3676
This hotel is in the beautiful Village of Uramanat. Internet and Restaurants are also available
Phone number: +988734883535
Getting Around in Sanandaj City
Few public transport options are available here, not meeting the greatness of Sanandaj's history and tourism demand at all. the only options here are the conventional city buses and shared cabs. No BRT and Metro are available here.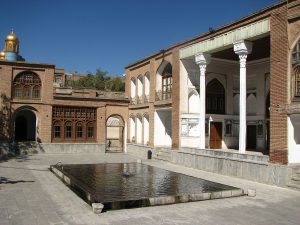 Sanandaj Museum, Historical and Natural Attractions
Sanandaj history, especially contemporary history is present in the very fabric of the city. Sanandaj has one of the largest old-fabric neighborhoods in the country, and they are still residential and full of life.
Other manifests of great Sanandaj history are the Sanandaj Museum, The Khan Bathhouse, Khaneh Kurd and Sanandaj Museum of Anthropology, Khosro Abad House, Habibi House, Jameh mosque, and…
One of the merits of Sanandaj City is that most of its historical places are located pretty close to each other, surrounding the Sanandaj Museum.
But Sanandaj museum and Sanandaj history are not the only main attractions of this city. When you come to this Kurdish region, going out into nature and nearby villages is a must-do for you.
Uramanat and Palangan villages are some of the oldest and most original villages in Iran, still boasting village life and tradition after hundreds of years.
With their unique step-shaped architecture on the face of tall mountains, where a house's roof is the other house's yard, it only adds to the originality and greatness of Sanandaj history and culture.
As far as nature, if you travel to Sanandaj during spring, you'll face an evergreen horizon, and during autumn and winter, most of the mountain peaks and hiking tracks in the region will be covered with snow.
What to Eat in Sanandaj?
Aside from the famous and multiple local Ash and Kebab dishes, Saj bread is one of the unique breads in the country with an amazing taste. But it is also very hard to get your hands on it, mostly served in Uramanat villages and some home bakeries.
Badam Sukhteh, Basluq, Nan berenji, Kak, and Konjedi Gaz are some of the most popular and high-quality Iranian desserts and sweets made in Sanandaj city and most of the other Kurdish regions of the country.
Natural Gum or Saqez is harvested from the trees in the vast plains of the Kurdistan region and is very popular among locals, believing to have medicinal benefits.
Souvenirs from Sanandaj, Kurdestan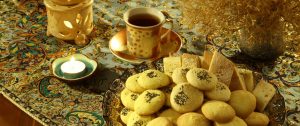 Handmade rugs and shoes have been manufactured in Sanandaj city for ages, the elegant wood carvings and wood with designs rooted back in Ancient Sanandaj are some of the best choices of souvenirs from this city.
You can also see some of these "one-of-a-kind" designs in the Sanandaj Museum.