Imam Khomeini Airport is the largest Iranian airport, opened in 2004. It is the sole airport for major international flights in Iran, that's why it is located in the central part of the country, giving the passengers the advantage of using other means of transportation to get to other cities once they are in Iran. This airport is also relatively close to the capital, Tehran.
Before the establishment of IKA, every international flight went through Tehran International Airport (Mehrabad). Now, except for certain destinations, most of the international flights in the country are taking off here, at IKA.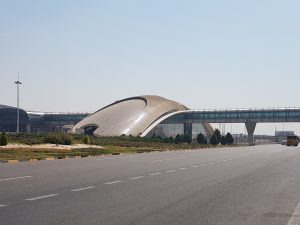 Follow Irantourism as an Iran Travel Guide Center to get to know IKA more:
How to get to Imam Khomeini Airport?
From Tehran: there are various choices of transportation available for getting to Imam Khomeini Airport from Tehran:
Tehran Metro: By taking Line1 of Tehran Metro, you can get to IKA as one of the public transport means. To do this, you must get off the train at Shahed station and continue your trip by taking a second train. The second train will take almost 20 minutes to get you to IKA. This is the fastest and most convenient choice among public transportation options to get to IKA. But the operating time is limited only between 6 a.m. to 12 p.m. The trains come and go every hour during this period, and the ticket price is 75.000RLS at the time of writing this article (January 2020).
Bus: You can commute between Tehran and IKA using designated buses. These buses commute between Tehran International Airport (Mehrabad) and IKA 24/7. They make stops at Haram Motahar (Holly Shrine) Metro Station and Azadi Square along the way. So, it's a cheap option for the times when Subway is not operational. These buses depart almost every hour from both ends. At Tehran International Airport (Mehrabad), these buses are located by Terminal 4. The ticket price is about 50,000 to 100,000 RLS at the time of writing this article (January 2020).
Shared cabs: You can get to Shahed Metro station in Line 1, and from there, get a Shared taxi or a van to IKA. The price for these shared cabs in normal hours and weather conditions is about 60.000 RLS. This is a good option only if you have limited luggage and enough time left for your flight. This trip takes almost 30 to 40 minutes.
Taxicab: This is the best option for you if you have little luggage and people. The taxi fee between IKA and Tehran costs around 750,000 to 900,000 RLS. This price might be affected depending on the time of the day, weather conditions and the surge time. You can get a Snapp, the local version of Uber, if you want a better bargain.
Rent a personal car: You can also rent a private ride from the Europe Car office in IKA and return it to Tehran International Airport (Mehrabad) or other destinations according to your plan. They have offices in cities: Mashhad, Rasht, Tabriz, Isfahan, and Shiraz.
From other cities: There are buses available from the cities of Isfahan and Shiraz every day, taking you straight to Imam Khomeini Airport.
Available services at Imam Khomeini Airport (IKA)
Exchange centres and Banks: the exchange centres are available at IKA, 1 in the departures area and 1 in arrivals.
There are also 4 Bank branches available in IKA. These banks are Melli, Tejarat, Saman, and Sepah. Both the exchange centres and Bank offices are open 24/7.
Hotel: Ibis 4-star hotel is located on the southern side of IKA. It is only minutes from the Terminal and provides you with all the services you might need. Cafe, Restaurant, and WiFi are also available.
Sim Card provider: Irancell and Hamrahe-Aval are two major Mobile Sim Cards Providers in Iran. They both have a booth in the arrivals area, providing you with Sim Cards and other services.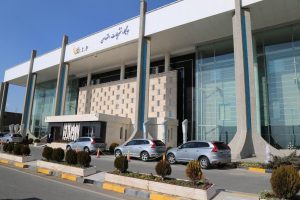 CIP area: Passengers who have to stay at the airport for a long time are recommended to use the CIP area for waiting. Here, you will have access to free Internet and drinks, and you can shop from luxurious shops available in the area. Also, you won't have to stay in line to get your boarding pass, and a servant will assist your boarding.
Cafes, Restaurants and Duty-free shops: There are a few Cafes and restaurants available at Imam Khomeini Airport. So, this is your last chance to get a bite of some decent Iranian cuisine!
Also, the duty-free shops provide you with all kinds of handmade domestic souvenirs from around the country. So, if you couldn't get your hands on your favourite Persian-style gifts before, there's no need to be worried.
Which countries, Which airlines
IKA is the headquarters for most Iranian Airlines, such as Mahan and Homa.
There are direct flights available from IKA to the following destinations: England, France, Netherlands, Denmark, Italy, Serbia, Bulgaria, Romania, Germany, Ukraine, Russia, Austria, Greece, India, China, UAE, Saudi Arabia, Thailand, Malaysia, Georgia, Azerbaijan, Kuwait, and Iraq.