You arrive at one of the Persian cities to visit Iran. The next thing you want to do is to get around the city. Using taxis might be an option. But what if you want a cheaper alternative without getting stuck in traffic jams?
Rapid transit in Iran is the answer. This article discusses rapid transit in Iran (in Tehran city and some of the other major cities of Iran).
Tehran Metro
Tehran metro and its stations have been operational since 1999 and have developed much since. Tehran metro has eight lines and 118 metro stations.
To use rapid transit in Iran, you may purchase an electronic ticket card or buy paper, one and two-way tickets. However, an electronic card is preferred since the card is also usable with buses across Tehran. The price for a one-way ticket is 10,000 Iranian RLS, which at the time of writing is approximately 0.25 US Dollars. A ticket to Imam Khomeini Airport is 75,000 RLS or slightly less than 2 USD.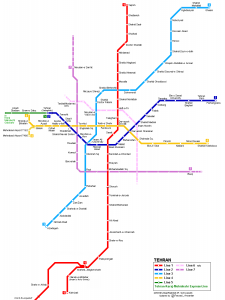 Although Tehran metro has 118 metro stations, at the time of writing this article, some of the metro stations are not open, including the metro stations in line 8. Also, some of the stations on line 3 are not open. So if you spot any metro stations on your map, be sure to check if it works or not.
It starts working from 5:30 in the morning until 23:30. The trains in the lines inside Tehran city (all the lines excluding line 5) arrive at the stations every 4 minutes.
We notice that the Tehran metro has a useful application, including detailed maps and metro stations. For more information about this app, read the related article (useful mobile apps for visiting Iran).
Important Stations of Tehran Metro
Tehran metro and metro stations not only help you get around in the city itself, but it is also helpful; if you want to leave the city. Payane Jonoob (ترمینال جنوب – South Terminal) station, in line 1, is inside the gigantic bus terminal which has buses leaving for most of the major Iranian cities.
As it is in line 1, the oldest of Tehran metro lines, you can be sure that between 5:30 and 23:30, trains are always available for that station.
However, during the peak hours (16:30 till 19:00), not only would it be hard to get in, it is even harder, if not impossible, to get in with your luggage and bags inside the overcrowded trains.
"Rail Way" Metro Station
Rah Ahan (راه آهن – Railway) station in line 3 (colour-coded light blue) of the Tehran metro gets you to Tehran railway station. The trains in the relatively new line 3 of the Tehran metro are not as crowded as line 1 (colour-coded red) of the Tehran metro.
This entry to our list of important stations might be a little confusing, even to the Iranians themselves. This is a bus terminal, which is called by three names on different maps. It is called Payane Beyhaghi on BRT maps, Shahid Haghani on Tehran metro maps and Argentina by locals.
The bus terminal is different in some respects from Payane Jonoob. Firstly, unlike the latter, this one is located in central Tehran, which may make it an easier destination for you. Additionally, depending on your destination, it is possible that the bus leaving for your destination leaves from Beyhaghi and not the other.
"Airport" Metro Stations
In line 4 of the Tehran metro, colour-coded yellow, there are two stations dedicated to Mehrabad Airport. They are named Mehrabad Airport Payane 1&2 and Mehrabad Airport Payane 3&4, with the word payane, meaning 'terminal'.
The airport has mostly domestic flights. According to what has been written on your flight ticket (any of the four terminals), you should get off the train at one of the two stations. To get to these stations, get off at Bimeh station (بیمه), and change your train.
Recently Tehran metro has been connected to Imam Khomeini International Airport (IKA). To get there, head southwards in line 1 and change your train to Shahed station. However, the intervals are very long (80 minutes), and the trains leaving from Shahed to the airport are not always available.
Metro Stations in Other Iranian cities
Rapid transit in Iran, compared to Tehran, is rather underdeveloped. This has led many locals to prefer using taxis to metro and buses.
However, due to the population and car traffic increase in these cities, people increasingly feel the need for these public means of transport.
In the following part, we introduce the metro networks of the other Iranian cities.
Isfahan Metro Stations
Isfahan metro has three lines, and only one is active. It connects its north to its south with 20 stations along the way.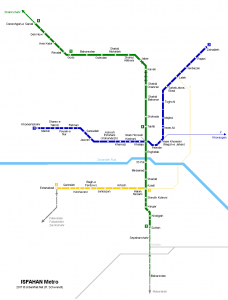 The ticket price for the Isfahan metro is 7,000 RLS or 0.20 USD.
 Shiraz Metro Stations
Shiraz metro currently has only one active line with 16 active stations. As Shiraz is smaller than Tehran city and has less traffic, many of the locals prefer using taxis and ride-hailing apps in Iran, such as Snapp there, as the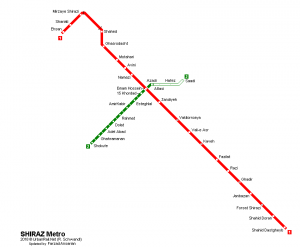 prices are a lot lower than those of Tehran city.
The current active line connects the city's southeast to northwest and passes from most of the major points in the city. A ticket in Shiraz metro is sold for 5,000 RLS or 0.12 USD.
In Shahid Dastgheyb station, the Shiraz metro connects to Shiraz International Airport.
Mashhad Metro Stations
Mashhad metro has four lines, only two of them being operational. Line 1 (colour-coded green) spans from the east to the southwest, and line 2 (colour-coded light blue) from the northeast to its south.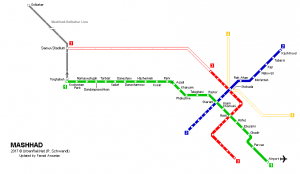 Although many planned stations have not been opened, the current active lines and stations mostly do the job.
Line 1 is connected to the international airport in southwest Mashhad, and the railway may be reached using line 2, the station named Rah Ahan. The ticket is 5,500 RLS which would be approximately 0.13 USD.
Tabriz Metro Stations
Tabriz metro has five lines, with only one being active. From its 70 stations, ten are active. The ticket costs you 5,000 RLS or 0.12 USD. Among all the cities covered in this article, Tabriz has the most underdeveloped metro.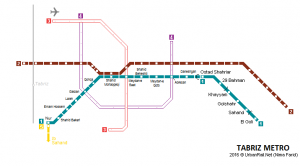 The line connects El Goli to Meydaan Saat (Watch Sauer).