A journey through Iranian cuisine
Iranian cuisine's reputation goes before itself. Today, we go on a journey through Iranian cuisine. Here, we go city by city, talk about the best Persian food, and introduce you to the best places where you can taste all Persian foods.
Follow this mouthwatering article from Iran Travel Guide Center to learn more about Iranian cuisine:
Travel to Tehran, limitless access to every Persian food
In the Capital, Tehran, nothing is unreachable. But probably because you (as most tourists) will start your travel from here, we recommend you try the most common Persian or Iranian food here.
Kebab: Kebab is the favourite Iranian food, barbeque red meat, which can have different tastes depending on how it is prepared. The most common ones are "Kubideh", which is minced, and "Chenje", which is only sliced and a bit stiff.
Depending on your order, they are always served with either bread or rice.
The best place to try these classic meals is Nayeb restaurant in the Grand Bazaar. You must use Line 1 of the Tehran metro to get there and take the "15-Khordad stop".
Khorosht: Khorosht is another Iranian food that is a watery stew served with rice or "Cholo", as we call it in Farsi "چلو". It can be a mixture of meat, tomato and sometimes eggplant, called "Qeimeh", or green with vegetables and peas, called "Qormeh".
We recommend you to try these at Hotel Qanari Restaurant. Take Line 1 of the Tehran subway, and then take the "Taleghani stop" to get there.
Kale Pache:  The famous stew of head and hoofs of the sheep tastes much better than it looks. It is usually eaten as breakfast depending on your taste; you can ask for the eyes, brain, tongue and every other part of sheep.
To try this Iranian food, you can go to every "Kale Pazi" shop around the town. Rip and slice your bread into little pieces and add it to your soup. This is called "Telit". Just be careful about your blood fat! You've got lots more travelling and Persian food exploring to do!
Shiraz City, the heart of ancient Iranian cuisine!
Shiraz is the ancient capital and the heart of the Persian Empire and Iranian cuisine:
Salad Shirazi: This salad is served alongside most of Shiraz's meals, "Dampokht" and "Albaloo polo". It is one of the most commonly used salad mixes in Iranian cuisine and is mixed with sour orange extract and basil. Haft Khan Restaurant is recommended for this Salad.
Kufte Holoo: This stew of meatballs is called Peach stew, but don't get it wrong, there's no peach in it! The reason for the name is only the size of the meatballs. We suggest you get this delicious meal at Qavam Restaurant.
Kalam polo: An Iranian food which Shirazi Salad and yoghurt always accompany. The main ingredients are cabbage, onions and of course rice. Don't miss the delicious Tahdig. You can stop by Shiraz by taking the Ancient Persian plan as our suggestion.
Bandar Abbas, where Persian food meets other cultures
Regag: Regag or Tomoshi is thin cornmeal bread. It is usually eaten with a mixture of cheese, egg, and Mahyave (local bread). This originally Portuguese recipe is a salty sauce made from fragmented fish. You can try this at every cart shop around the corner in Bandar Abbas city.
Qaliyeh: This is another Iranian vegetable food that is a stew-like Qormeh stew in Tehran city, but way different than that one. It's seafood with shrimps or fish, spiced up with pepper and local spices. It's a symphony of flavours and smells, usually served with rice or bread. Our recommendation is you try this meal at Fanoos restaurant.
Mahi Kebab: As we said, Bandar Abbas boasts seafood, so even the classic foods of Iranian cuisine, such as Kebab, are affected by it. This barbequed fish, usually flavoured with herbs and spices, is a luxurious meal. But it is commonly eaten not with a spoon and fork but with your bare hands! So roll up your sleeves and get ready to go Indian style! We recommend you to try this meal at Badgiran Restaurant.
Rasht, the Capital of Iranian cuisine 
Welcome to the capital of Iranian cuisine and Iranian food…!
Baghale Qatogh: This Iranian food is usually served with rice and smoked fish. This green stew is prepared fast -unlike most Iranian cuisine recipes- and is an appropriate choice for vegetarians (excluding the fish, of course). Try this original Persian food at Bineh Restaurant in Rasht city.
Ash: one of the most original Persian foods is the soup called Ash. This soup tastes different from city to city, but here in Rasht, some of the best types of it, especially "Dough" and "Jow" Ash, are available. This healing green soup mostly consists of being and peas and is dressed with onions and garlic. You can try it in every city, especially in Rasht, at Ash stores or "Ash foroshi".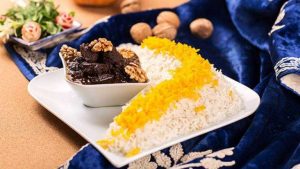 Fesenjoon: if you like sour food and if you like nuts, this is the best choice for you. Another stew served with rice is a mixture of pomegranate extract and crushed walnuts. People have difficulty stopping themselves at the dinner table when it is served! We recommend you to try it at Afshar or Razaghi restaurant. You can stop by Rasht by taking the Caspian Quest trip plan.
 Tabriz, Persian food in Turkish style
Tabriz was the capital of Islamic tourism in 2018, and the skills of its chefs and backers are famous all around the country.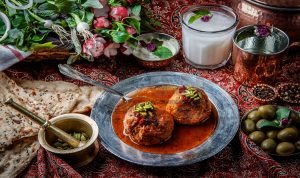 Kufteh Tabrizi: A giant ball of r, mincedced m, eat and herbs, floating in tomato paste sauce and stuffed with egg or plum. A single one of them can fill a hungry stomach to the fullest. So be careful when ordering it! We recommend you to try this Persian food at Kufteh Aba restaurant.
Dolma: One of the tricks of Iranian cuisine is changing one or two ingredients and making a new dish. The saDolma is a kind of Mediterranean cuisine. My ingredients as Kufteh, wrapped in grape leaves. It is most common after the summer harvest. Dolma, the most ancient recipe in Iranian cuisine, is Dizi. It consists of two parts: the soup, which is served in a bowl for you to Telit your bread in it, and the rest of the ingredients, such as meat, peas, and beans which are crushed and mixed. Dough, Sabzi and onions or pickles are essential to its serving. You can get this original Persian food at Mohammadi restaurant.