Iranian food culture is a diverse one; But what better way to understand a culture, rather than tasting it? Iranian food culture is one of those cultures that teach you, patience and harmony.
Cooking Persian food usually takes up to 2 or 3 hours; but the longer you wait, the more rewarding it becomes. Spices and herbs have a main role in shaping the overall taste and smell and can be a good choice of souvenir.
Along with that, Iranian drinks and beverages usually play the role of a desert and are taken after a meal (if hot) or with the meal (if cold). Follow this Iran travel guide to get a clearer sight into what's going on with Iranian eating habits.
Iranian Food Culture and Iranian Eating Habits
When you are at an Iranian dinner table, the gestures and the sequence of actions might stun you a bit. But don't worry. Every act has a reason, and by reading this article you'll have a deeper sight into Iranian food culture:
Tarof: the bulk of Iranian cuisine is made upon this culture. Once you are at an Iranian family dinner table, you'll find it boasting and glowing with lots of colors and smells. All mouthwatering with promises of joy and fulfillment; But can you stomach all of them? Of course not…!
The first rule of Iranian food culture is: "Tarof". It somehow is an Iranian eating habits that shows welcoming and friendly gesture of going out of your way (by miles!) in order to make your guests feel at home.
So they will take your plate and try to feel it up for you time after time. As pleasant as it can be, you need to be aware of your capacity and put your feet down when you think you want no more to eat.
Vegetables at the table: The healthy center of every classic Iranian table is not only the Salad but the raw green vegetables called: "Sabzi".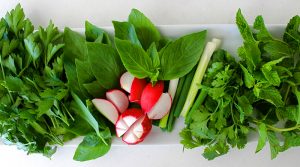 The unique raw taste of green onion (pīyāzche) and parsley (jafarī) along with a couple of radish (torobche) is what gives every Persian food its authenticity. Don't judge the odd and strange flavors in advance. Soon you can't get your hands off it.
Bread and Rice: two inseparable elements of Iranian food culture are rice and bread. Actually, Persians only call these two "food"! Everything else is served by them or ate with them. Iranian cuisine and culture holds high value for them and treats them with respect at the table. Never spare even a small piece of rice or bread.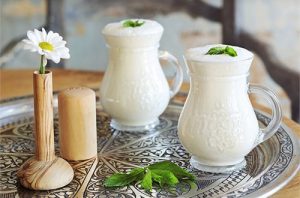 Doogh: the most common of Iranian beverages and drinks in Iran is this white sour mixture of water and yogurt. It is believed to have healing powers as well as hypnotic effects. It is usually served cold mixed herbs and salt. But it is almost never served alongside with seafood.
Tahdig: the bottom of the pan that comes in last, but wins the favor of everyone. It's the rice or bread at the bottom of the pan, fried and crispy. Everybody gets a fair share of it, but never enough! The same goes for the bread which "kebab" is wrapped in.
What to Taste, where to Taste It?
Now that you have an overall understanding of Iranian eating habits and Iranian food culture, it is time to talk about the most delicious Iranian food. On a separate list, we'll go city by city, telling you what to taste and where to taste it, in order to spice up your travels. So follow our next article on a journey through Iranian cuisine.