Iranian beverages and drinks may be unique in the world. It consists mostly of herbal extracts, and there are no Alcoholic beverages. It is the most important part of Iranian food culture.
Instead, the main focus of Iranian beverages is on their health benefits. A drink is always available for every issue, such as sleep deprivation, headache, nausea, dizziness, and…
You can try the following Iranian beverages at coffee houses and "Sharbat khane" places around the town when you travel to Iran.
Hot Iranian Drink
Black Tea: Probably the most common of Iranian beverages and drinks in Iran. It is served at gatherings, ceremonies, tea houses, and everywhere.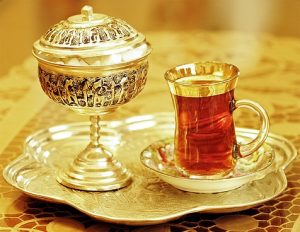 They are accompanied by sugar cubes, date fruits, or another Iranian dessert, spiccato e it up; sometimes, Ira,nian ted is made with a pinch of cinnamon or lemon juice.
Arabic coffee: This drink in Iran is served in most Arabic regions, especially in southern parts of Iran. Try this coffee in southern cities such as Bandar-e Abbas or Ahvaz. The routines and steps of preparation and serving date long back into history; each is meaningful.
Chehar Tokhme: A hot drink mostly served to those down with flue or common Cold. A mixture of 4 different herbal seeds helps your body fight the viruses and keeps you hydrated simultaneously—a miracle of Iranian beverages for your body.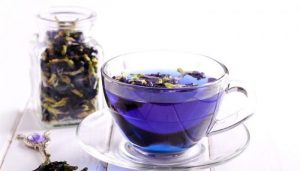 Golgav Zaban: A drink for soothing your nerves and refreshing your body, especially your kidneys. This classic Iranian drink is one of the recipes mothers always recommend to their family members when they are grumpy!
Cold Iranian Drink
Araghs and sherbets are the best representatives of Iranian beverages and drinks in Iran. They are a cold mixture of sugar and herbal extracts from various plants such as mint, rose, saffron, and… here we introduce some of them to you:
Sekanjebin Khiar:  Sekanjebin is a mixture of honey and vinegar. It helps your metabolism and detoxifies your body.
Khakshir Ablimoo: a mixture of lemonade and Flixweed. It keeps your buddy hydrated, and Flixweed helps your skin fight acne.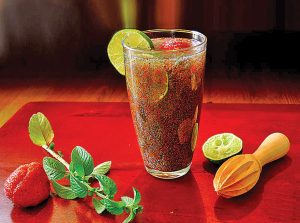 Aragh Na'na: Mint extract is believed to be a cure for headaches and muscle spasms, and also it is useful for stomach bloating.
Saffron and Rosewater: These substances are present in almost every Iranian meal. Their rich tastes and smells are always welcomed and unforgettable in any traditional Persian beverage, especially Sherbets.
These traditional Persian beverages are some of the best choices for letting go of steam on hot evenings and enjoying some healing effects. You can try them at ice cream shops or "Sharbat khane" places around the town.
Sugarless Iranian Drink
Dough: a mixture of water and sour yogurt. It goes well with the taste of Iranian dishes and is full of benefits for your body. It is almost always present at Iranian dinner tables.
Ab Talebi: Melon smoothie is a classic Iranian drink everyone favors, especially during the hot summer days.
Ab Havij: Carrot juice and Ice cream are some Iranian beverages that are always available on the menus, no matter where we go.