Qeshm Island is the Largest Island in The Persian Gulf. It is filled with natural wonders that you won't find anywhere else in the country. The culture and lifestyle of the locals also is completely different than the rest of the country.
Qeshm island tourism is the number one destination for most Iranians during Holidays, so tourists might not want to be there during this time because it gets extremely crowded and most of the Qeshm Hotels get overbooked.
Another advantage point of it is that you can enter and stay on Qeshm Island visa-free. There are 69 cities and villages on this Island.
The weather here during spring, winter, and autumn is cool and pleasant benefiting Qeshm island tourism, but during summer it gets extremely hot and humid.
Iran Travel Guide Center invites you to follow this article to have detailed information about Qeshm Island Tourism before travel.
Travel to Qeshm Island
By Airplane: Qesh Island International Airport is located at the Center of the Island, 50 km away from Qeshm City. It is accessible only Via personal vehicle or Taxicabs. T+here are direct flights to Tehran City, Mashhad City, Rasht City, Isfahan City, Kerman City, and Dubai City available. There are several Qeshm Hotels located close to the Airport as well.
By Bus: You can get a direct bus ride to Shiraz City and Isfahan City from Qeshm Bus Terminal. These buses commute to the mainland through Pol (Bridge) Harbor.
By Train: The closest train station to here is in Bandar Abbas city; from there you can take the ferry rides to Qeshm Island. There are daily trains available to Tehran city.
By Ferry ride: You can get a ferry ride to the Island from Bandar Abbas city's Shahid Haghani port. This ferry ride takes almost 50 minutes to get you to Qeshm city in Qeshm Island. These boats leave every 30 minutes. Also, there are ferry rides available to Hormoz Island.
You can also take the car moving Barges (a special boat for transporting heavy goods overseas or rivers) from Pol Harbor, and get off at Left Harbor.
Qeshm Hotels
You won't run out of choices among Qeshm Hotels and hostels; There are many Qeshm hotels but we mention only three as samples. It is located in Naghashe Village, it has been more than 80 years since it was established, and has an authentic and classic design.
Address: Naghashe village, 9 km away from Qesh International Airport
Phone number: +98 9177699177
Another budget option among Qeshm Hotels is Gonbad (گنبد) Namaki Hotel. This hostel has a classic and local design and serves homemade dishes.
Address: Kani Village: Namakdan, Qeshm Island
Phone number: +98 9171683976/ +98 9371383476
A decent choice of Qesh Hotels is Diplomat Hotel. It is located inside Qeshm City and is also suitable for tourists.
Address: Azadegan Blv. Qeshm City, Qeshm Island
Phone number: +98 76 3522 9927
Qeshm Island Tourism Attractions
Qeshm Island is a big Island, with more than 69 cities and villages. The most famous Qeshm Island tourist attractions are the natural ones. Aside from the sandy beaches and the clear waters of the Persian Gulf, you can enjoy the Hara Forests, which are filled with saltwater trees. Valley of Fallen Star and Chahkooh Valley are two phenomenal sights on the Island.
The Salt Cave and the turtles' beach are also worth visiting, especially when it's time for the eggs to hatch. Also, Portuguese Castle is an Iconic Landmark of the Island, dating back to the 1600s.
There are some islands around Qeshm Island, such as Hengam Island, Larak Island, and Naz Island, the last one being accessible only during low tides.
As with every other Island, there are several water sports available in almost every corner of the Island, sports such as Scuba diving, snorkeling, paragliding, jet skiing, and… entertaining you throughout your whole stay.
Qeshm Restaurants
There are many local Iranian cuisine dishes available on the island, but the best ones are the Seafood. Ta Moshi (تموشی) is a bread baked with eggs and added fish sauce, Ankas (عنکاس) which is a stew of ink fish, Kolomba Zitoon (کلمبا) and Hawari (هواری) are all different recipes for preparing fried fish served alongside rice.
Most of this food is only accessible in this region.
Baba Sambuse
Offers a fusion of Indian-Iranian cuisine food.
Address: close to Plus Hotel, Old Bazaar, Qeshm city
Darya Restaurant
A High-Class restaurant serving mostly Seafood.
Address: Darya Mall, Dargahan City
Qaleh Restaurant
This is where you can try most of the Local Authentic Dishes.
Address: Behind the Portuguese Castle
Qeshm City Souvenirs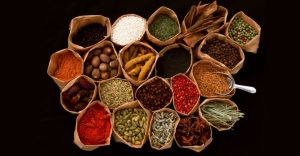 You might notice the amazing colorful dress code of the locals here the moment you enter Qeshm Island. These clothes are one of the best souvenirs of the Island. Also, spices, handcrafts, local cookies, and specially dated fruits are other main souvenirs of the city.
Qeshm Island Visa
One other factor that helps to boost Qeshm Island Tourism, is that foreigners can enter this Island and stay as long as they want, Visa Free. So no need to get a Qeshm Island Visa!
Even if you decide to continue your trip to other places in Iran, you can easily get a visa from the Qeshm island visa office.