Tomb of Saadi Shirazi is one of the Shiraz Attractions located side by side to the Delgosha Garden. Saadi Shirazi was a prominent Persian poet who lived his life as a Sufi and died in solitude in the 13th century. Saadi's words are still quoted by people even after 8 centuries that have passed since his living. It is as though his words have lived through the ages. He is regarded as the second greatest Persian poet after Ferdowsi, who single-handedly saved the Persian language after the occupation of Iran by the Invading Arabs.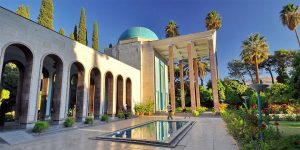 So, follow the Iran Travel Guide Center to learn more about the Tomb of Saadi:
Overlook of Tomb of Saadi Shirazi
Accessibility: to get to the tomb of Saadi, you have to take a bus and get off at the Delgosha Intersection Bus Stop and from there walk up the Boostan Boulevard to the end, pass the Delgosha Garden.
Or you can get to Saadi's Tomb, one of the Shiraz attractions through the subway; it is like the Tehran metro. Get at any station of metro in Shiraz and get off at Saadi Station on Line 2.
Open Days and Hours: The tomb of Saadi is open the whole week, from 8 a.m to 8 p.m
Ticket price: 500.000 RLS
Brief History of the Tomb of Saadi in Shiraz City
The tomb of Saadi is located at the place where this Persian poet lived during the last years of his life. he lived in complete solitude, dedicating his remaining years of life to contemplating and praying. His first memorial Tomb was built a couple of years later after he passed out, but it was destroyed a couple of decades later due to resentment of a local governor.
Today Tomb of Saadi is one of the Shiraz attractions and a place where literate gatherings and poem reading groups get together every day, to rehearse his poems and pay their respects to this prominent Persian Poet.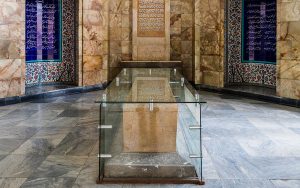 Design of Saadi's Tomb; One of Marvelous Shiraz Attractions
The building of Tomb of Saadi is located in the middle of a Persian-style garden, with tall trees, colorful flowers, and of course a water fountain.
The architecture of the building is adopted from the shape of the "Chehel Sutun" or Forty Column Palace in Isfahan city. It is dressed with mirror works and mosaic works of all colors. Saadi's Tomb is located inside this building, which is covered with high walls and a hexadecimal ceiling. There are 8 tablets attached to the walls all around the room, seven of them inscribed with selected poems of Saadi, and one of them describing the process of constructing the building.
Other poets buried at the Tomb of Saadi
Left to the Saadi's Tomb there is another Persian poet buried. Shurideh Shirazi, a blind poet who was born and died in Shiraz City is buried in Saadi according to his own last will. These two tombs are connected via a long and elegant hallway, supported by high columns.
Underground fish pound
Beneath the surface of the Tomb of Saadi, there's a water stream flowing, ending up into a fish pound. People have always believed that washing their clothes in this pound and with this sacred water could bless them. Especially during the celebration of the "Last Wednesday of the Year". It was one of the rituals of saying goodbye to the past year and getting ready for the upcoming year. Now, this fish pound's entrance is located left to the Tomb of Saadi, going down underground via a series of steps. Today, there are no more fish in the pound, but some paintings are making up for them.
More Info about the Tomb of Saadi
There are literate gatherings taking place in this cultural place, such as live music festivals, Poem-reading gatherings, live performances, etc. So, if you want to get a glance into local contemporary art you might be able to do so if you are lucky; but on the other hand, during these times, the Tomb of Saadi gets extremely crowded. So, you better watch out for them if you would like to have a peaceful and quiet tour of the place.
National Saadi Day
Since Saadi Shirazi is considered one of the great luminaries of the world, the Center for Saadi Studies in Iran declared the first day of the month of Ordibehesht (This date is between April and May in the Gregorian calendar) as National Saadi Day in 2002. Furthermore, in May 2010, both domestic and international cultural foundations declared the first day of Ordibehesht as Saadi Day, commemorating and honoring the father of poetry and literature, Saadi Shirazi.
Tourist Attractions Around Saadi Complex
The land of Shiraz is a city rich in beautiful and historical tourist attractions, making it an excellent destination for sightseeing. So, when you visit this city of love, don't forget to explore other fascinating places in Shiraz. Some of the closest and most famous attractions around the Saadi Mausoleum include:
Delgosha Garden: Delgosha Garden is one of the most beautiful green spaces with a rich history dating back to the Sassanid, Safavid, and Qajar periods. This garden boasts authentic and stunning Iranian architecture, featuring tall and lush trees, flowing water streams, and a magnificent summer pavilion situated in front of a seasonal pool. Delgosha Garden, located just 850 meters from Saadi's Mausoleum, captivates the attention of many tourists.
Quran Gate: Quran Gate is one of the oldest and most historic gates in Shiraz, located in the northern part of the city. This historical gate exhibits unique architecture and once served as a passage for travelers in the past. Saadi's Mausoleum is situated 3.6 kilometers away from the Quran Gate.
Hafezieh (Tomb of Hafez): The Hafezieh complex, the resting place of the great Persian poet and master of words, Hafez Shirazi, is located approximately three kilometers from Saadi's Mausoleum. Similar to the Saadi Complex, Hafezieh features lush greenery and numerous tourist attractions.
Kuhestan Park: Kuhestan Park, positioned just 500 meters from Saadi's Mausoleum, is one of Shiraz's renowned parks, stretching along the Zagros mountain range. This park, also known as Mast-e-Saghi Park, Mother Mountain Park, and Snowy Mountain Park, offers scenic beauty and is a popular tourist destination.
Haft Tanan Museum: Located 2.6 kilometers from Saadi's Mausoleum, the Haft Tanan Museum is the final resting place of seven prominent poets and figures from the past. Known as the "Museum of the Seven Bodies," it is a significant tourist attraction in Shiraz.
Explore these enchanting sites around Saadi Complex to enhance your unique experience in this city filled with history and culture.