Qajar bathhouse and the Anthropology Museum of Qazvin city is one of the largest Bathhouses in Iran. It was built not in the Qajar dynasty period, but during the Safavid era. It was operational for around 350 years until it was purchased by Qazvin city hall and transformed into an anthropology museum.
So, follow Iran Travel Guide Center to learn more about Qajar bathhouse and the Anthropology Museum of Qazvin city:
Overlook of Qajar bathhouse
Accessibility: in order to get to Qajar bathhouse and Anthropology museum, you can use public transport and take city buses to Azadi square stop, from there you have a five-minute walk through Zar Abadi street in order to get there.
Open days and hours: Qajar bathhouse is open 7 days a week from 9 a.m. to 5 p.m.
Ticket price: 250,000 RLS
Phone number: 028 3323 3155
Web site: qajarmuseum.com/en/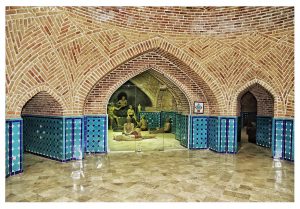 Summary of Qazvin Qajar museum
Qajar Bathhouse and museum of Anthropology is one of the most important museums in Qazvin city. It is located in the city center, making it easy to access and close to other attractions in the city.
The building was established 350 years ago by the order of the king. Because that a general of the army belonging to the Qajar tribe volunteered to build this place, it was named "Qajar Bathhouse "in his honor.
The whole structure is divided into two sections, one for ladies and one for gentlemen. The building consists of three rooms. The first one, the dressing room, is a large hall where there are water pound and seating places for people to undress and get ready to enter the Bathroom.
The bathroom is large, with cool and warm water pounds. It is in the shape of hexadecimal and decorated with brickworks and mosaic works.
Here, people would wash or wait for the workers to come and do it for them. The bathhouses used to be not only a place to clean yourself and do personal chores but a social hub for the citizens where they could interact, exchange news, and take care of their personal needs such as shaving, taking tattoos, and…
Today, not having the need for such a structure, a museum of anthropology is exhibited here. In this museum, you can see the lifestyle, dress code, traditions, and occupations of past citizens of Qazvin city and the surrounding cities.
Occupations such as blacksmith, pottery making, and grape harvesting and grape preservation method, which was by hanging them vertically.
Some of the traditions of the locals here have been manifested through some framed artworks. One of these traditions is the "12th day of Moharam".
Local lady Muslims during this day, pick up pickaxes and shovels and march through the streets, following the event that took place 14 centuries ago, when the wives of Imam Hussein followers had to bury the bodies of their beloved ones when the local authorities had prohibited the men from doing so.
The other manifest worth visiting is the one that shows the tradition of "rain pray" where people would gather together and pray for the rain falls.
Another attraction of Qazvin city: Russian Church in Qazvin