Sa'dabad Complex is a treasury of Tehran city's culture and history during three stages of time.
it is one of the biggest Tehran Museum. It was initially constructed by Qajar monarchs at the end of their period and it continued until first Pahlavi era (Reza Khan) and it was expanded during second Pahlavi era (Mohammad Reza Pahlavi).
To know more about the most important must-see in Tehran, Sa'dabad Complex, the richest Tehran Museum, follow this Iran travel guide article.
Overlook of Sa'dabad Complex
Accessibility: Za'faranieh Gate :Take 9-46 or 11-2 usual buses or bus rapid transit network in Iran (BRT) line 7 (dark green) and Tehran Metro line 1 to Tajrish terminal.
To reach Za'faranie Gate, you must take Asad Abad or Asef taxies in west side of Tajrish Square and get off at Shahid Taheri street and take 5 minutes of walking to reach the gate.
To reach Tehran museum from Darband Gate, get to Tajrish square. In the beginning of Ja'fari street and Qods Square (next to metro station) take taxi to Darband square.
In spite of accessibilities from Tajrish square to the gates, it only takes 25 minutes of walking to get to the Za'faranieh gate which is highly recommended in spring days of Tehran.
Open Days and Times: During Spring and Summer: it's open from 9 A.M. to 7 P.M.
ticket sales opens until 5 P.M.
During Autumn and Winter: it's open from 9 A.M. to 5 P.M.
Ticket sales opens until 4 P.M.
Website: en.sadmu.ir/
phone number: 021-27940379
Tehran. Iran Sa'dabad Complex
Sa'dabad Complex is located in the northernmost point of Tehran.
From north, it's surrounded by range of Alborz mountains. From three other directions, it is surrounded by other parts of the city.
This complex contains 18 palaces that each of them belonged to specific blue-blooded Pahlavi.
Sa'dabad Copmlex is a 1,100,00 square meters' mansion which Darband river goes through and irrigated the whole complex in first Pahlavi period, although in second Pahlavi era, shortage of water, lead them to beget aqueducts.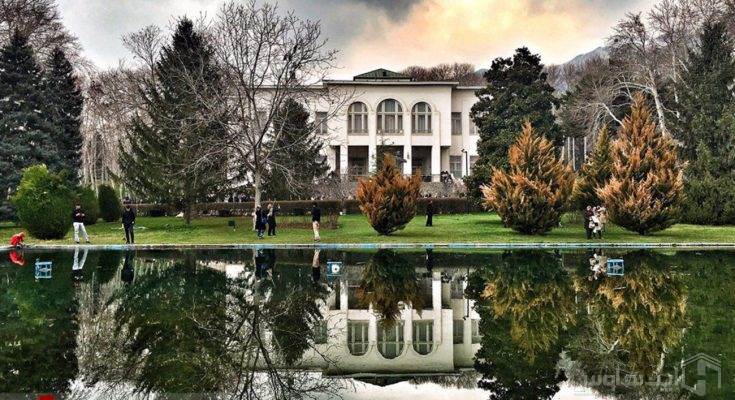 Nowadays, there are 12 aqueducts existing in Sa'dabad Complex.
In Sa'dabad Complex, you also can visit the biggest Tehran museum. After the 1978 Revolution of Iran, the complex became one of many Tehran museum.
• Tehran museum of White Palace (Mellat Museum): the summer house of Mohammad Reza Pahlavi (king of Iran)
• Asvad Palace (minister's office): the building is used as the Museum of Fine Arts
• Shams Palace: The royal clothing museum
• Ashraf Palace: The Royal Dishes Museum
• House of Gholam Reza (brother of Iran's king): The Royal Weapon Museum
• Shahram Palace: The Military Museum
• Behzad Museum
• Mir Imad Calligraphy Museum
• Royal Albums and Documents Museum
• The Royal kitchen museum
• Omidvar Brothers Museum
• Water Museum, Farshchian Museum and Royal Cars Museum, all have been added in the recent years.
Facilities of Sa'dabad, Tehran, Iran Museum
There is a store in front of Za'faranieh gate, which provide customers with cultural products.
Two coffee shops are located next to Mellat Palace Museum and Green Palace Museum which catering visitors with Iranian and European breakfast and cold and warm lunches with all kinds of drinks.
To facilitate commuting between palaces for visitors in the Sa'dabad Complex, some vehicles with fare price have been provided.