Shiraz is one of the most beautiful tourist cities in Iran. So, one of the most popular destinations for domestic and foreign tourists is this beautiful city with numerous historical and ancient monuments. There are many restaurants in Shiraz where travelers and tourists can dine and see the old and scenic places of Shiraz. Shiraz restaurants serve authentic Iranian and Shirazi cuisine.
Continue reading the Iran Travel Guide Centre article to learn more about Shiraz's best restaurants.
Famous Restaurants in Shiraz
Shiraz Haft Khan Restaurant
Haft Khan is a luxury restaurant and one of Shiraz's best restaurants, near the Quran Gate, Shiraz Grand Hotel, and Royal Hotel. The restaurant's name is derived from Haft Khan Rostam in Shahnameh (The Epic of the Persian Kings book). Of course, the word "Khan" in Persian literature also means eating table and plate.
The khans (parts) of this restaurant are as below:
Khan I:  Froud (فرود) means down, down, exception and a term in music (floor below the ground floor).
Khan II: Sindokht (سیندخت) means daughter of Sin (Simorgh) (ground floor, buffet)
Khan III: Belyan (بلیان), the name of Khidr the Prophet, whose nephew is Elias the Prophet (first floor of fast food)
Khan IV: Zareer (زریر) means golden Chain mail, son of Sohrab, brother of Ghstasab, father of Bastor (first-floor coffee shop)
Khan V: Noufel (نوفل) means Jameel, Kareem (2nd floor -the Nations Restaurant)
Khan VI: Gisia (گیسیا) from the selected names (2nd floor Coffee Shop of Nations)
Khan VII: Garsivaz (گرسیوز), the owner of endurance and stability, brother of Afrasiab (roof).
This restaurant is a complete set with all kinds of Iranian and foreign dishes, fast food, and a coffee shop for every taste. Live music is a regular part of the restaurant, and Tahchin (ته چین), Ghalieh Mahi (قلیه ماهی), and Shirazi Dempakht (دمپختک شیرازی) are some of Haftkhan's signature dishes. Considering the quality of the food and the type of service, the restaurants in Shiraz prices are more expensive than other restaurants.
Address: New Quran Boulevard, corner of 17th Street
Shiraz Sufi Restaurant
The Sufi restaurant (رستوران صوفی) is one of the oldest and best Shiraz restaurants. This restaurant was established in 1361 with a capacity of 150 people and the architectural style of the Qajar era. It was a great success with excellent food and very good service. The Sufi restaurant changed its decor in 2003 and became taller in the style of Zandiyeh. Sash windows, brick facades, and traditional furniture show the special architecture of this restaurant.
The menu of the Sufi restaurant is very diverse; all kinds of Iranian, Middle Eastern, and even Italian dishes are available in this restaurant. Hot bread and grilled chicken, lamb, fish, cabbage pilaf, sugar pilaf, and vegetable soup are some dishes served in this restaurant.
Address: Afif Abad St, next to Bank Mellat
Shiraz Sharzeh Restaurant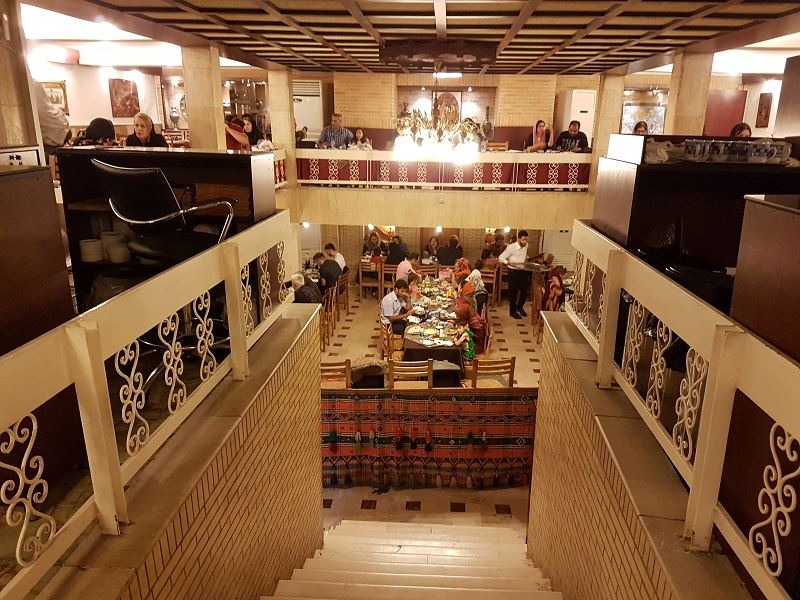 Sharzeh restaurant is an old restaurant in Shiraz with a traditional texture and has maintained its quality from the past to the present. Live traditional music, an attractive atmosphere, hot and fresh bread, lari kebab, kubideh kebab, fish kebab, and bean pilaf with muscle are among the best foods in this restaurant.
This restaurant is near Vakil Bazaar and Zandiyeh Hotel; this two-story restaurant is the name of the best kebab restaurant in Shiraz due to the quality of the food.
Address: Taleghani Street, Vakil Mosque Street
Shater Abbas restaurants in Shiraz
Shater Abbas is one of Shiraz's best restaurants and is very popular among the people of Shiraz. This restaurant in Shiraz serves a variety of Iranian dishes. The restaurant's interior design is Iranian, and the chef next to the main dish also serves Halim bademjan and hot tafton bread.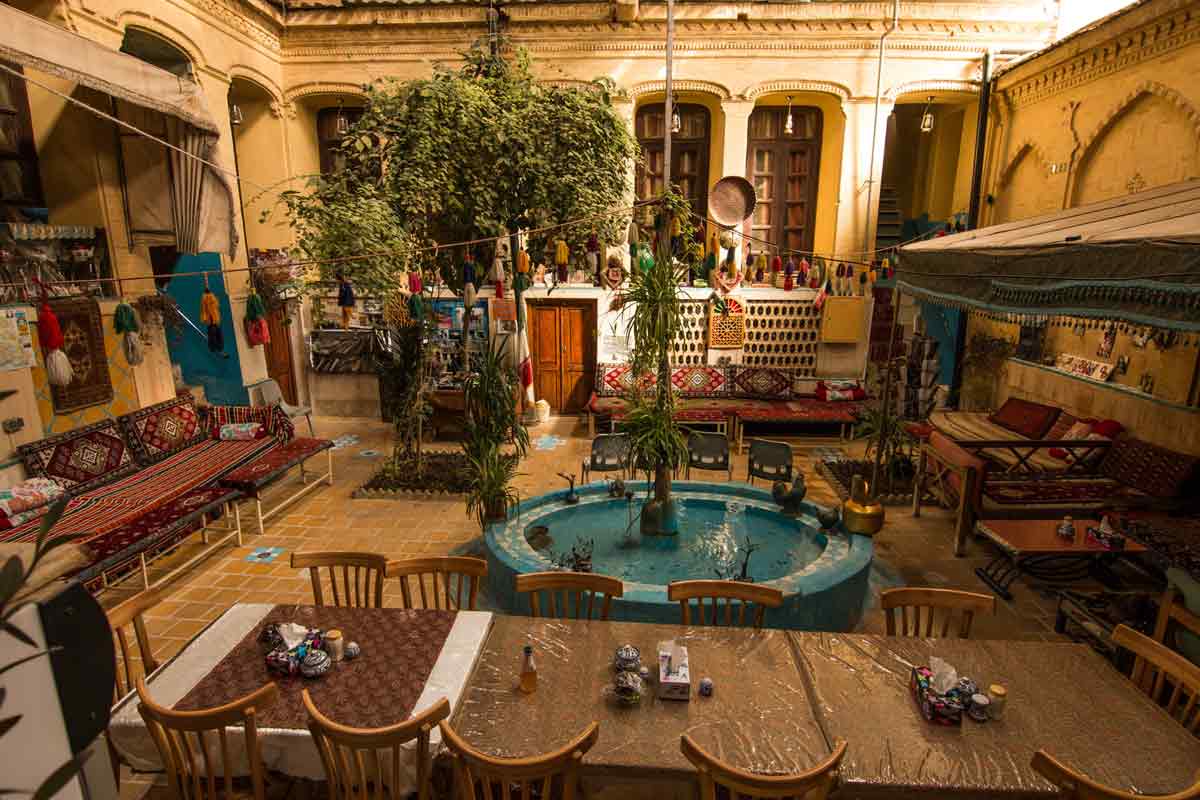 Shater Abbas has branches in different cities, two of which are in Shiraz.
Address of branch 1: Shiraz, Azadi Blvd.
Address of branch 2: Chamran St.
Traditional Parhami House in Shiraz
Parhami traditional house is a small old mansion located in the heart of one of the old neighborhoods of Shiraz, and today, it has been turned into a traditional restaurant. The pond and fountain, traditional music, old glasses, and old appliances tell a beautiful story of nostalgia for customers. Every day, four types of traditional food will be served in these lovely restaurants in Shiraz. Kalam Polow is very famous in the conventional Parhami house.
Address: Lotfoali Khan Zand St., opposite side of "Nasir al Molk mosque
Tradesman's Cultural House (Vakil Cultural House) in Shiraz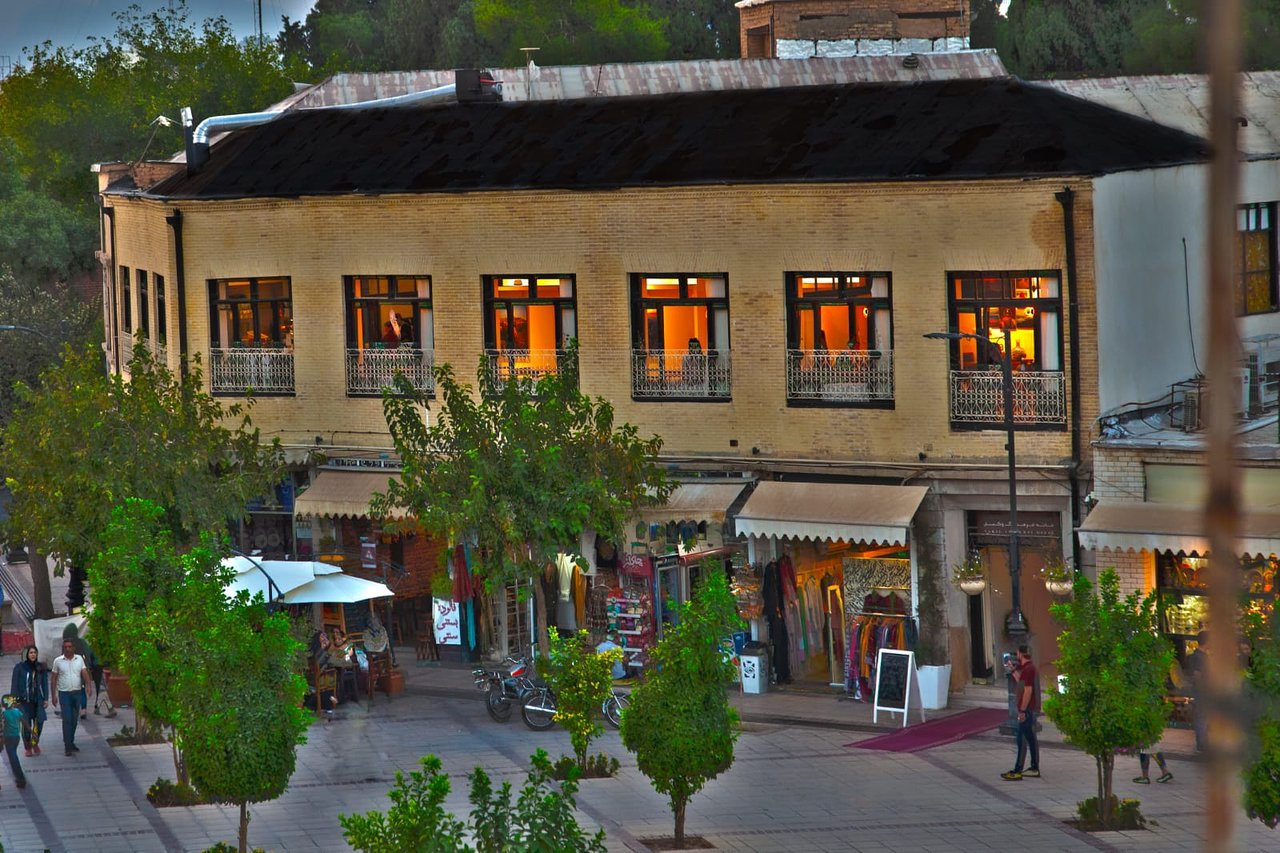 This very modern, beautiful, and cozy restaurant is on the first floor of a building facing the Vakil Mosque. These restaurants in Shiraz serve a variety of local and foreign dishes. However, the mushroom soup of this restaurant is one of its most popular dishes.
Vakil Cultural House (خانه فرهنگی وکیل) is one of Shiraz's best restaurants, and its walls are full of paintings, creating a very relaxing and pleasant atmosphere.
Sarayeh Mehr Traditional Restaurant of Shiraz
This traditional restaurant is one of Shiraz's best restaurants among the traditional Vakil market corridors. This Shiraz restaurant includes a tea house and a traditional restaurant.
Sarai Mehr restaurant's calm and cozy interior is decorated with wooden beds, old paintings, carpets, and rugs. Restaurant guests can enjoy delicious and authentic Iranian dishes such as grilled chicken, special jujeh kebab, and dizi.
Address: Bazar Vakil
final word
The number of good restaurants in Shiraz is so large that they may not fit in one article. The list we presented in this article in Iran Tourism Magazine is some of Shiraz's best restaurants from the point of view of tourists and customers, which we hope will be a good guide for your next trip to Shiraz.
Common question
What is the famous food of Shiraz?
Kalam Polo and Ashe Sabzi Shirazi are the most famous dishes in Shiraz.
What is the most famous Shiraz dessert?
Faloodeh and Masghati (a kind of Persian Saffron Sweet)