Shah Cheragh in Shiraz is one of Iran's most famous tourist places, and many people travel and visit this beautiful place every year. If you want to travel to Shiraz, we recommend not ignoring this fantastic place's stunning architecture. The current article will elaborate on this attractive area for you. So, follow us to the end and obtain more information about this beautiful and brilliant mosque.
Shiraz is one of the best places for travelling, and it is also the Iran travel guide centre that contains a lot of historical and restaurant places. This province is the third holy place of your iron as well. Looking at this beautiful mosque, you can understand all Iranian architects with its beautiful mirror and arabesque. This sacred place is the tomb of Ahmad-Ebne-Musa (Ahmad, the son of Musa), and many Iranian and tourists visit this tomb every year. So, it can be one of the best places known for Iran tourism.
Who is Shah Cheragh?
As we mentioned above, Shah Cheragh in Shiraz was the son of Imam Musa Kazem (the 7th Imam of Shia) and the brother of Imam Reza (the 8th Imam of Shia). He was travelling to Khorasan to join his brother, but he could not reach there and was killed. So, he was buried in Shiraz city, and after a while, the mosque and tomb were built there under Queen Tashi Khatun's command.
The History of Shah Cheragh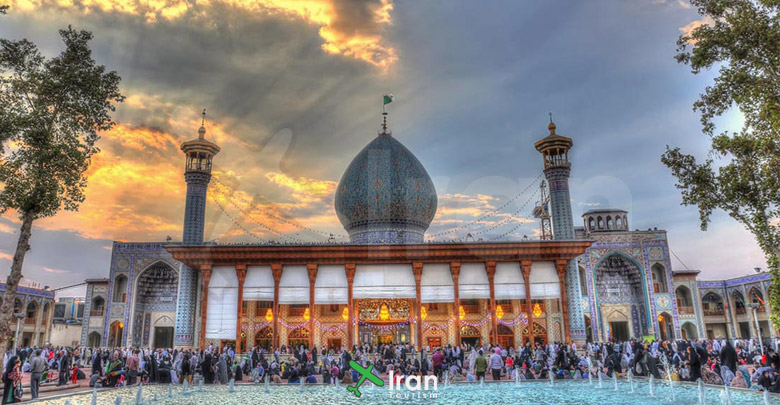 This place was built during the era of Atabakan of Fars in the 12th century. Shah Cheragh in Shiraz includes two main entrances on the North and South sides of the mosque. By entering the shrine, you can see an eye-catching tile working in this place that is so attractive and autistic.
There are many two-storey rooms all around the yard. All the iron columns are covered with delightful embroidery. So you can understand that travelling to Shiraz and visiting this beautiful mosque can be a new experience with a holy feeling you cannot feel in any other place.
Innovation of Shah Cheragh
As mentioned above, Queen Tashi Khatoun (mother of Abu Eshaq King) commanded the renovation of Shah Cheragh in Shiraz in the 14th century. During this process, they built a tall tomb with an extensive mausoleum in 5 years. Additionally, they made a large school next to this tomb. It is worth mentioning that Queen Tashi Khatoun devoted some of the shops near the bazaar to the grave.
After many years in 1506, King Ismail commanded a massive renovation of the tomb. Nevertheless, there was a bad event for this tomb 85 years later. Half of the tomb was destroyed that year because of the earthquake. After that, it was renovated again by Nader Shah Afshar's command. You have to know this was the main history of the Shah Cheragh in Shiraz.
Artistic attractions and architecture of Shah Cheragh building
The building of Shah Cheragh in Shiraz has a porch in the eastern part of the holy shrine. Nowadays, its size is around 38.5 and 5 meters. This porch contains ten columns, and these parts are designed with the name of God. You can see various Islamic motifs on the stone on the front side of the porch. These Islamic motifs and attractive designs can attract any person.
The roof of the Shah Cheragh tomb is decorated with attractive wooden stuff. The principal pron has six main entrance doors. One of these is located on the southwest side of the shrine, and the other is on the northwest side. Other parts of the shine of the Shah Cheragh in Shiraz are two doors on the east side and an entrance door on the northern side connected to Lotfali Khan Street.
Golden Shrine
This beautiful shrine has a golden door with many beautiful designs. Two corridors on both sides of this golden door are connected to the porch and shrine. The working titles of this attractive shrine are eye-catching, and many tourists like these artistic designs.
To gain more information about Shah Cheragh in Shiraz, you must know that the holy shrine weighs more than 70 tones and combines different attractive arts. The Qur'an verses are written in these parts with an artistic design. These verses increase the holy feeling of this shrine. The working mirrors are so creative and are used between 2000 to 12000 pieces of mirrors in one square meter of this shrine. The main pron of Shah Cheragh is around 14000 square meters.
The Last Word
Shah Cherag in Shiraz is one of the country's best and most beautiful tourist places. In this article, we mentioned some important points about this tourist place. If you want to travel to Shiraz and visit this holy shrine, this post can guide you in this way. It can help you to gain more information about Shiraz and Shah Cheragh.
Sources:
https://apochi.com/attractions/shiraz/shah-cheragh/