Chitgar Lake, or the Lake of the Persian Gulf Martyrs, is Iran's largest artificial lake. It is the ideal place for cycling, hiking, picnics, memorable walks, and romantic dates. Moreover, recreation and excursions in Chitgar Lake are available throughout the year. During the hustle and bustle of urban life, in addition to traveling to northern cities, which costs a lot of time and money, the capitalists can travel to the Lake of Chitgar in a short time and enjoy the beauty of nature. The tourist complex, located west of Tehran and surrounded by towers, evokes a sense of being in one of the coastal cities when tourists are there because a cool breeze blows from the lake.
Iran Travel Guide Center will provide you with more information about the Chitgar area and its Lake.
A piece of brief information about the Lake of Chitgar

This lake, also known as the Persian Gulf Martyrs, was built to soften and reduce pollution in the northwest of Tehran. It contains various recreational and welfare facilities frequented by many people daily because it is close to many of Tehran's major attractions. The Lake area is 130 hectares, and 120 hectares of recreational space have been built next to it.
If you do not use the recreational and non-free facilities of the complex, sightseeing around the lake is free, which is one of the benefits of this lake. This is one of the most famous Tehran attractions, which is very popular due to parking, WC, restaurants, a prayer hall (north), a musical fountain, and a pergola (west of the lake).
Where is the Lake of the Persian Gulf Martyrs?
Chitgar Lake is an artificial lake northwest of Tehran, located in the Chitgar Forest Park. From the south, the lake is bordered by the Hamedani (Hakim) highway, from the north by the Hemmat highway, from the east by Azadegan highway, and from the west by the residential fabric of District 22 of Tehran Municipality.
Metro access to the Lake of Chitgar
To reach Chitgar by one of the rapid transit in Iran, simply take one of the trains on the Sadeghieh-Golshahr line, get off at Chitgar metro station, then take the bus to Shahid Bagheri town to reach the lake.
How to access Chitgar Lake in other ways
Apart from the metro, the Lake of Chitgar is also accessible by bus, taxi, and private vehicle. You can also take buses to Chitgar Lake. In addition to the Chitgar subway bus terminal, you can use the Darya town bus at the Sadeghieh bus terminal and get off at Jozani station about 30 minutes later.
If you are a resident of Shariati, Mirdamad, and Tajrish streets, you should go to the three ways of the mint (Hemmat-Shariati intersection) and take the CRT metro buses. The route of the Chitgar Hemmat-Shariati bus includes Hemmat Highway to Olympic Village, Dehkadeh Boulevard, Dehkadeh Square, Amir Kabir Boulevard, Bigdeli Street, Kuhak, and Chitgar Metro Terminal. Then you have to take another bus to reach the lake.
You can reach this beautiful complex faster and easier by visiting the Chitgar Lake taxi station at the Chitgar terminal.
If you use a private car to visit Chitgar Lake, depending on your location in Tehran city, you can enter the exit of Chitgar Lake from Shahid Kharazi Highway and reach your destination. You can also go to Bamland through Shahid Hakim Highway, Kashan Boulevard, Azadegan Freeway, Hava Nirooz Street, and the Chitgar Lake parking lot. From the west, through 45 meters of the municipality, Azadshahr Road, Shahid Mirkamali Street, it is possible to access the lake.
If you are going to Chitgar Lake from Karaj, you should enter Azadegan Highway to the north through Karaj Road; Then, you have to drive on Kharazi Highway, Kashan Boulevard, Moj Square, and finally Moj Street.
What is Chitgar Entertainment?
In addition to the beautiful nature of Chitgar Lake, there are many entertainments for visitors that everyone can use and enjoy according to their taste and interest. Here are some of them:
Boating
One of the fun pastimes of Chitgar Lake is boating, for which you can use the west or east pier; the possibility of watching the fish and birds of the lake doubles this pleasure. The east port is located on Bamland, and the west port is situated on Milad Boulevard. The whole lake is insured, and a life jacket is provided when boarding the boat. In addition, people over 90 kg, pregnant women, and children under 14 years (alone) are not allowed to boat. Swimming is prohibited in this lake.
Fishing
Fishing is also one of the fascinating pastimes of BamLand and the Lake. It is possible to use the services and facilities of the fishing club for those who are interested. It is also possible to save money by joining this club.
Cycling
Cycling is an appealing sport and recreation that can be enjoyed in a beautiful environment such as Chitgar Lake. It is now possible to ride an electric bicycle or advanced gear bicycles on the Chitgar cycling track.
You can rent bicycles at the west and east entrances of the lake. Depending on the bicycle's model, renting a bike varies from 20 thousand to 50 thousand tomans per hour.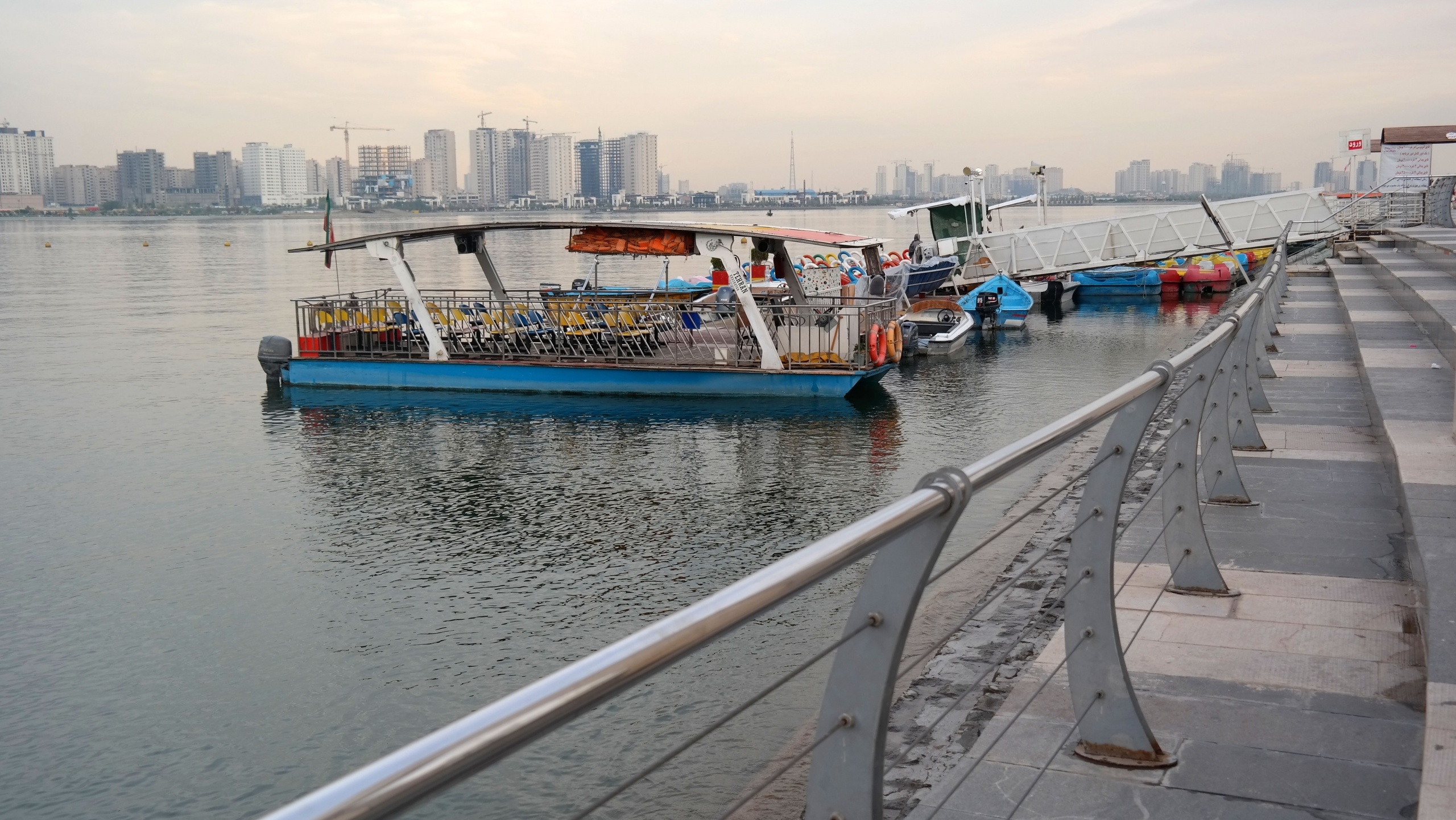 Rocky shoreline
Chitgar Lake's rocky shore is one of the best and most beautiful parts of this complex, which sometimes creates an exciting feeling for visitors due to the presence of ducks. There are no fences or guards here, so you can easily play in the water and go near the water.
Chitgar Amusement Park
There are several exciting attractions at Chitgar Lake, built by Germany, Netherlands, and Italy, including a horror park safari, a sky jumping track, a giant carousel, and more.
Attractions near the Chitgar Lake in Tehran
1- Bamland Shopping Center
Bamland Shopping Center, along with Bamland restaurants, is well-known among the residents. Bamland's operating hours are from 11 AM to 11 PM daily. Located near Chitgar Lake, Tehran's Bamland is one of the city's shopping centers. It boasts numerous cafes, restaurants, an amphitheater, a skating rink, cinemas, and dedicated play areas for children and teenagers, attracting a large number of enthusiasts daily.
2- Chitgar Forest Park
Chitgar Forest Park is one of the most beautiful parks in western Tehran, located in District 22. Within Chitgar Park, you can find the Apark Water Park, which adds to the recreational options. There are multiple entrances to Chitgar Forest Park, with the main one accessible from the Tehran-Karaj freeway and the exit at Dastvarreh Street.
This entrance is near the gas station and Chitgar Park's car parking area. Another entrance is located approximately one kilometer after the gas station and behind the Iran Khodro Metro Station, close to the National Botanical Garden of Iran. If you wish to access this garden from the Chitgar Forest Park entrance near the Bamland Shopping Center and Chitgar Lake, you should enter the Shahid Hamdani Expressway. Along this route, just before the underground tunnel of Gaza Martyrs, you can enter this delightful garden from the north side of Chitgar Park.
3- Opark Water Park
Opark Water Park, also known as Opark, is the best water park in Tehran, located near Chitgar Forest Park in District 22. Purchasing tickets for Tehran's Water Park or Opark can easily be done through the Opark website. Opark is currently the top water park in Tehran, situated near Chitgar Lake and the Bamland Shopping Center. It is one of Tehran's indoor recreational areas suitable for all age groups and one of the best tourist and recreational spots in Tehran for children.
4- House of Upside Down
Tehran's House of Upside Down is one of the best attractions in the western part of Tehran for those who are interested in unusual and bizarre experiences. This recreational venue, which is the second branch of Tehran's Dream Park, offers attractions that you won't find in many other tourist destinations in the capital. As you can see in the pictures, the entire structure of this complex is engineered to be upside down, making it a unique and intriguing place to visit!
5- Royal Lounge Restaurant
Royal Lounge Restaurant is one of the best restaurants in Tehran, located near Chitgar Lake. It stands out for its unique architectural style, particularly its semi-floating structure on the waters of Chitgar Lake. This design creates an extraordinary dining experience for visitors. In addition to a diverse menu of delicious food, the restaurant offers a variety of hot and cold beverages as well as delightful cakes for those with a sweet tooth.
6- Iran Mall Shopping Center
Iran Mall, one of the largest and most impressive shopping centers in the Middle East, is situated near Chitgar Lake in Tehran. This sprawling mall offers an extensive range of shopping options, dining experiences, entertainment, and recreational activities, making it a popular destination for locals and tourists alike.
With numerous international and Iranian brands, boutiques, and stores, Iran Mall caters to shoppers seeking fashion, electronics, home goods, and more. The mall also boasts a sizable hypermarket, making grocery shopping convenient for visitors.
Beyond shopping, Iran Mall is a hub for entertainment. It features a vast food court offering a diverse culinary experience, from traditional Iranian dishes to international cuisine. Additionally, there's an ice-skating rink, a bowling alley, and a cinema complex with the latest movie releases.
The architectural design of Iran Mall is impressive, and its grandeur is especially captivating when illuminated at night. It's not just a shopping center; it's an all-encompassing destination for leisure, shopping, and socializing, making it a must-visit location for anyone exploring Tehran and its surroundings.