Shahr-e Sukhteh (شهر سوخته) is one of the heritages of Iran which is located near Zabol (زابل) road to Zahedan (زاهدان) in Sistan & Baluchistan Province (سیستان و بلوچستان).
Shahr-e Sukhteh is an ancient Iranian city which dates back to more than 5000 years ago like Rey city.
Shahr-e Sukhteh civilization is one of the wonders of an ancient world. The city was built in 3200 B.C and people was living in four eras between 3200-1800 B.C.
The whole area of this city is almost 152 hectares and it was built between Hamoon (هامون) lake and Hirmand (هیرمند) river.
Iran travel guide center invites you read the whole article that is written for tourists who travel to Iran.
Hills of Shahr-e Sukhteh is divided into four zones:
central region
residential region
industrial region
graveyard region
Why They Call This City Shahr-e Sukhteh?
This name (Shahr-e Sukhteh) according to documents goes back to 150 years ago. This city was burnt twice: once in the initial level of its growth and the other time is at the moment of its destruction.
Also, signs of burning are found in this city; so, this is why they name it Shahr-e Sukhteh, means "Burned City".
This Iranian city was green and full of beautiful trees like maple, willow and poplar.
Moreover, Hamoon river was full of water and there was large area of canebrakes. It is said that this city was destroyed by wide environmental factors, climate changes and changes in world trade.
How to Go to Shahr-e Sukhteh?
You have two choices:
first one which is more safe is to take tour from Tehran city which includes visiting Zahedan and Zabol.
Second way: you can take train as main public transport from every Iranian city and then take bus to Zabol and visit this ancient Iranian city.
The Occupation of Shahr-e Sukhteh's Inhabitants
Experts after a lot of research understood that one of the reasons that make this Iranian city famous is that majority of people were expert in occupations like: mosaic arts, weaving, pottery, gold smiting, wickerwork, farming, metalworking, animal husbandry, architecture, fishing, jewelry making and management.
Shahr-e sukhteh a City with Global Reputation
It is said that in this city every work had its own rule. For instance, building  were built organized and in stunning way.
Moreover, for using water from river and lead it into houses and farmlands, they designed some paths and made some clay pipes and put it in these pathes.
People who lived in this city were such expert in art and industrial that they had global reputation even after centuries.
According to documents, they traded with Turkmenistan (ترکمنستان) and Dare-Punjab (دره پنجاب).
Amazing and Historical Attractions in Shahr-e Sukhteh
1. The first artificial eye in the world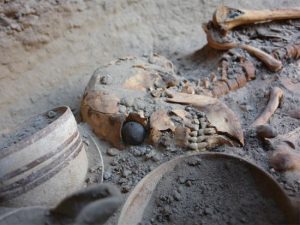 For the first time, an artificial eye is found in the graveyard of this city which belongs to a woman who lived 4800 years ago!
2. Brain surgery
One of the most wonderful things which discovered in this city is the oldest signs of brain surgery!
A skull of a 14-years-old girl was discovered in the graveyard of this city which shows that doctors did a brain surgery for her and she was alive after this surgery for a period.
3. 5000-years-old ruler
A ruler with 10 C.M length which is accurate to 0.5 M from ebony was discovered here. It means people who lived in this city had a lot of developments in mathematics.
4. The oldest backgammon in the world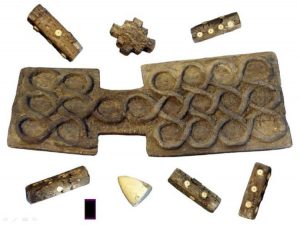 The oldest backgammon in the world was discovered in the graveyard of Shahr-e Sukhteh which is older than the one was discovered in royal graveyard in Mesopotamia.
This backgammon is from ebony and it's in the shape of rectangle. Also, it has 60 playing marbles from turquoise(firooze/فیروزه), agate (aghigh/عقیق) and azure (lajevard/لاجورد).
5. First animation of the world
Archaeologists found a goblet (Jum/جام) which has pattern of a goat and tree on it. ،his pattern repeats five times and if you put them near each other, you will understand that goat moves and jumps on tree and eat from tree's leaves. Documents show that this pattern is the oldest idea of ancient people for animation.
6. Jewelry trade
One of the occupations in this city was jewelry making. People in this city like other societies cared about beauty. Lot of necklaces and bracelets in different colors from combination of various stones like turquoise, azure, agate and other stones were discovered in the graveyard of this city. They were also exported to other Iranian city.