The National Museum of Holy Defense was established in 2012 in Tehran City near Vanak (ونک- Vanak) square and next to the Shahid Haghani (شهید حقانی- Shahid Haqani) metro station. A long time ago Iran-Iraq war started in 1988 with the Iraq invasion and their struggle continued for eight years.
Iran Travel Guide would like to inform you that war had begun with Iraq and the Iranian people had to defend against the enemy by their lives.
Furthermore, most of Generation "Y" (people born during the 1980s and early 1990s.) do not know about war details and they never have seen their nation's sacrifice to defend against the enemy.
As a result, the government decided to build a museum to show more details about the war and keep the memory of martyrs. So, the first idea for the museum originated in 2004.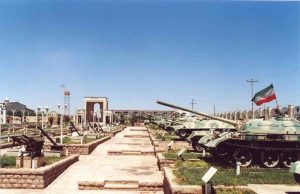 One of The National Museum of Holy Defense's halls is Butterfly (پروانه- Par-vaa-ne) Hall (Parvaneh in Persian means butterfly).
Parvaneh Hall includes statues that are memorial of 1500 martyrs as well as holy defense commanders and their staff are represented in separate glass boxes.
The next division of the hall is dedicated to retired as well as live commanders to talk about their stories as well as their missions in the war for visitors.
There is also an area that shows 3D pictures of 72 people who were impressive commanders in the war period.
The last section of the hall shows the divers pictures who had gone on war missions. It will help if you know that the Shahid (شهید) word means martyr because most of the names for streets, valleys, highways, stations, etc. have this prefix.
Iranian Resistance Symbols
There are several video projectors to show 360-degree movies about war history and missions in the Holy Defense Museum.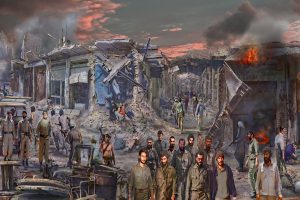 This section tells you the story of the possession of Khorram Shahr (خرمشهر- khor-ram-Shahr) city by the Iraq army then taken back this city by the Iranian army.
Azadi (آزادی- A-zaa-di) Bridge was the last location in Khorram Shahr city which was in control of Iranian people but after 34 days occupied by the enemy.
Later on, Bridge's model is built as an endurance symbol of people in this city in this museum.
The Tallest flag in Iran
The highest flag was installed in Iran located in The National Museum of Holy Defense area, Tehran, and it is the third one by dimension criteria in the world.
Tajikistan and Azerbaijan have taller flag's stand than Iranian flag's stand. However, Turkmenistan, Jordan, UAE, USA, Brazil, and Malaysia have shorter flag stand than the Iranian flag stand.
Designers have considered the effect of high-speed (120 km/h) wind and possible earthquakes for their design.
The size of the flag is 42 meters in length and 24 meters in width Also flag basement is positioned at an altitude of 1500 meters and it has a capacity for 500 people.
The total number of stairs from the land to the flag is about 611 numbers.
Symphony of war and colors
This national museum of Iran has a movie screen that is made of water and displays war scenes for those who were not there.
The Most Powerful Laser in The World
The National Museum of Holy Defense has a big garden that is full of lights that spread out more than 16 million colors and it has harmony with water fountains in the designed lake.
Each fountain is 15 meters high and makes a circle with 30 meters in diameter and light effects mixed with sounds, laser light, and artificial fog.
The peak of this show is when the strongest laser light transfers pictures and words from this garden to the Alborz Mountains. At the west part of the holy defense museum, on Sarv Street, 7 unknown identity martyrs are buried.
Additionally, this national museum of Iran has a 5D cinema to display war movies such as Tarigh-ol Ghods (طریق القدس – Tarigh-ol-ghods) mission to release Bostan (بستان – Bos-taan), khamse khamse (خمسه خمسه – Kham-se) mission in Iraq by General Doran who was a pilot of F-4 Phantom II and hero of the war, Morvarid (مروارید- Mor-vaa-rid) mission which has a target to destroy Al-bakar and Al-omiye oil terminals by Peykan (پیکان- pey-kaan) frigate.
The 5D cinema has various effects such as chair movement, hit on foot and face, sound, wind, and vibration. Also, everyone has a private sound effect through wireless technology.
Memorial of Peaceful Nuclear Power's Scientists
Due to the peaceful nuclear activity of Iran, four nuclear scientists were killed by the enemy through bombing and also Dr. Fereydoon Abbasi was injured.
So, they represent scientists' cars on exhibition in the Holy Defense Museum area in 2013 as a memorial of them.
The scientists' names are Dr. Rezaei-nezhad, Dr. Shahryari, Dr. Ali-mohammadi, Dr. Ahmadi-roshan, and Dr. Abbasi. In addition, Dr. Rezaei Nezhad was killed directly by a bullet and he was not in the car.
Iran tourism notice that on your way to the Holy Defense Museum, you are surrounded by a beautiful garden that contains 400 types of herbal plants in 1km.
Khorram Shahr Mosque

Khorram Shahr mosque in Tehran!?
There is a mosque in the National Museum of Iran which is copied from the original one in Khorram Shahr city; They built this mosque to remind people's resistance in this area during the war period for new generations.
Firearms Simulator
The National Museum of Iran has a firearms simulator with Kalashnikovs for teenagers who would like to have experience of using Kalashnikov as war's gun and this simulator has a capacity for 150 persons.
Shopping at the Defense Museum
The National Museum of Iran also has a Holy defense shop which has a different type of holy defense symbols to sell.
Restaurant in Museum
This museum has three restaurants in the outside of the museum.
Working time
Saturday to Wednesday from 9:00 AM to 5:00 PM
Thursday from 9:00 AM to 9:00 PM
Friday from 10:00 AM to 9:00 PM
Tel: 0098-21-88657026 -88657080 -88657081
Accessibility to The National Museum of Holy Defense

There is a Tehran metro station next to the museum Haqani Metro station (line 1- red line), You have to get on metro line 1 and head to the Tajrish (تجریش) destination.
Also, there is a bus terminal next to the museum as well as a metro station which has several destinations inside Tehran city. Besides, the Address is across from Taleghani Park, end of Sarv St, Haghani Highway, Vanak Square, Tehran, Iran.
Ticket price
Holy Defense Museum ticket price is about 120,000 RLS for each person. However, you can get up to 60% discount through online ticket websites like Takhfifan.