Holy Shrine of Imam Reza is one of the most visited attractions in Iran, receiving more than 12 million visitors annually. In the heart of Mashhad, Iran, it looks like a castle of light.
Mashad city is mainly known for its mausoleum of Imam Reza, the eighth Imam of Twelver Shiites, but many other attractions. There is no need to be religious to visit this place. The complex includes libraries, museums, research centers, seminaries, and outstanding architecture, making it one of Iran and Islam's most significant cultural centers. Join the Iran travel guide center to learn more about this Iran tourism religious attraction.
Imam Reza was who?
Shias point out that Caliph Al-Mammon faced many difficulties. One of the descendants of Prophet Muhammad, Imam Reza, was the eighth Imam of Shia (one of the two main branches of Islam). During the reigns of the Abbasid Caliphs (an Islamic steward), he lived from 765 to 818. In that era, Imam Reza was a popular figure, which led Al-Mammon to summon him to the capital city of Tus (now Mashhad city) as his successor. However, Imam Reza gained more popularity than the Caliphs. Al-Mammon decided to kill him by poisoning him. Imam Reza was buried in a village near Tus, in Khorasan Province. Later, the town was renamed Mashhad, "the place of martyrdom." Mashhad is among Iran's largest, most populous, and most important cities.
Information about Imam Reza Holy Shrine
The Holy Shrine of Imam Reza covers more than 598,657 square meters in the center of Mashhad, with nine courtyards (Sahn), twenty-eight halls (Ravvaq), libraries, mosques, museums, and so on. This complex has a long history, and it was not always this way. Throughout five dynasties and more than 2800 years, it underwent fundamental changes. Mashhad experienced urban growth during the Timurid era and the reign of Shahrukh Mirza. He visited Mashhad frequently to visit the Holy Shrine of Imam Reza. His wife, Goharshad, built a large and beautiful mosque beside the shrine known as the Goharshad Mosque.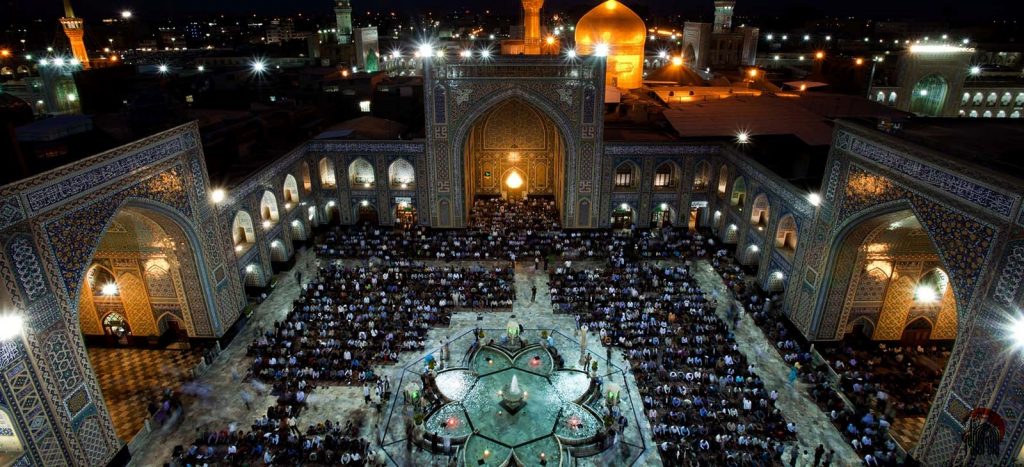 When Islamic art was at its peak in the Safavid era, Safavid kings built the first Imam Reza Shrine. Safavid kings who loved art and Shia religion built numerous outstanding buildings near the holy shrine. As a result, this complex grew more rapidly than ever before, becoming one of Muslims' most important religious sites. As a result of their rule, the Qajar and Afsharid dynasties built new courtyards and halls for their court. The construction of large yards and halls took place during these years. Azadi Courtyard, for example, has breathtaking architecture and decoration (especially adorned with gold). In addition, the Holy Shrine of Imam Reza is full of Persian-Islamic art. During the modern era (Pahlavi and contemporary), the dome was renovated, and a new sanctuary replaced the old one.
Imam Reza Shrine Halls and Courtyards
Razavi, Enghelab, Azadi, Jomhouri, Qods, Qadir, Kowsar, Hedayat, and Goharshad. As mentioned above, the Holy Shrine of Imam Reza contains nine courtyards and twenty-eight halls. The courtyard is a rectangular open area surrounded by Iwans (a rectangular hall or space, typically vaulted and walled on three sides) and halls. Each courtyard has its own charm and decoration.
Be sure to visit the solar clock and grand courtyard of Jomhouri and the big pool. Enghelab courtyard (or Atiq/Kohan courtyard) boasts the iconic Esmal Tala (or Esmaeel Tala), Saqa Khaneh (a place where water is served), Panjere Folad (the steel window), and Naghareh Khaneh (where musicians play Naqareh). Inside the Azadi, the courtyard is also the Iwan-e Tala (golden iwan), a fantastic and eye-catching structure.
Tomb of Imam Reza in Imam Reza Shrine, Mashhad
In the center of this large complex lies the tomb of Imam Reza. If you are not a Muslim, you cannot enter this part of the complex (known as Roz-e Monavvareh). There is usually a lot of traffic here, and you cannot approach the tomb, especially during religious holidays. Look up to see the wonderful Ayeneh-Kari (decoration with mirrors) and Kashi Kari (tiles) in the ceiling and under the dome. These fine artworks will surely take your breath away.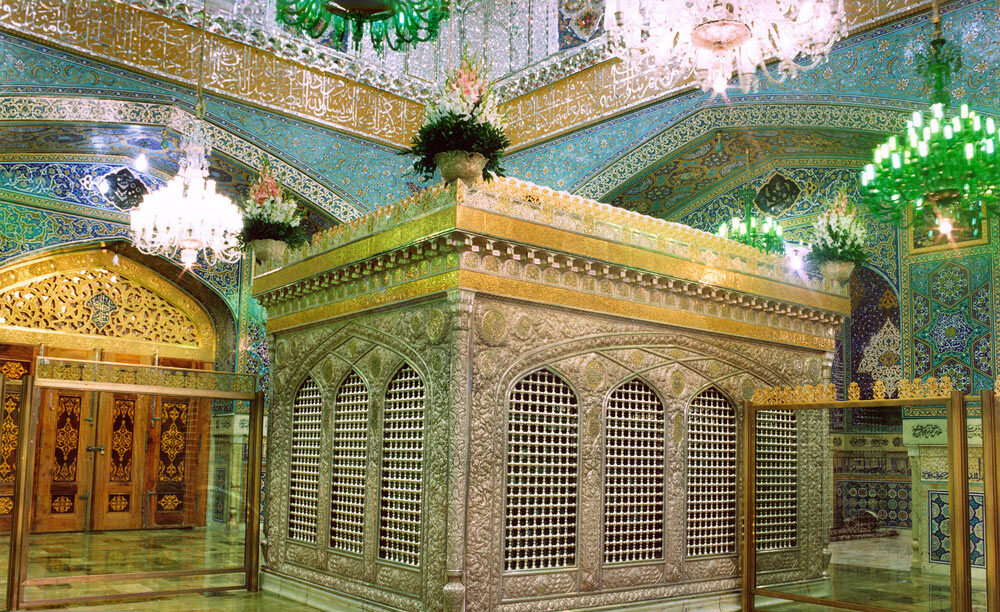 Holy Shrine of Imam Reza Museums
As part of the Astan-e Qods-e Razavi Museums (the administrative organization that manages Imam Reza Shrine and its various properties), there are 16 museums and treasuries inside and outside Imam Reza Holy Shrine. Collections belonging to this institution are the largest in Iran and include objects worldwide.
The following is a list of Astan-e Qods-e Razavi Museums and Treasures:
Quoran Museum and Exquisite Quoranic Objects
Museum of Ali Khamenei Endorsements (the supreme leader of Iran)
Astan-e Qods-e Razavi History Museum
The Hall of Master Farshchian Artworks
The Carpet Museum
Anthropology Museum
Stamp and Postal Museum
The Treasury of Paper Money
The Treasury of Coins
The Treasury of Abstract Arts
The Treasury of Aquatic Creatures
The Treasury of Astronomy
The Treasury of Clocks
The Treasury of Utensils
The Treasury of Weapons
The Treasury of Medals
Except for the Anthropology Museum, all museums and treasuries are within the Kowsar Courtyard of the Holy Shrine of Imam Reza.
Can anyone enter the Holy Shrine of Imam Reza?
Before entering Imam Reza Shrine, Mashhad, you should know a few things:
First, since this is a holy place for Muslims, a dress code is mandatory. The hijab should be worn, specifically the chador. Avoid wearing heavy makeup as well. There are several places just outside the shrine entrances to borrow a Chador.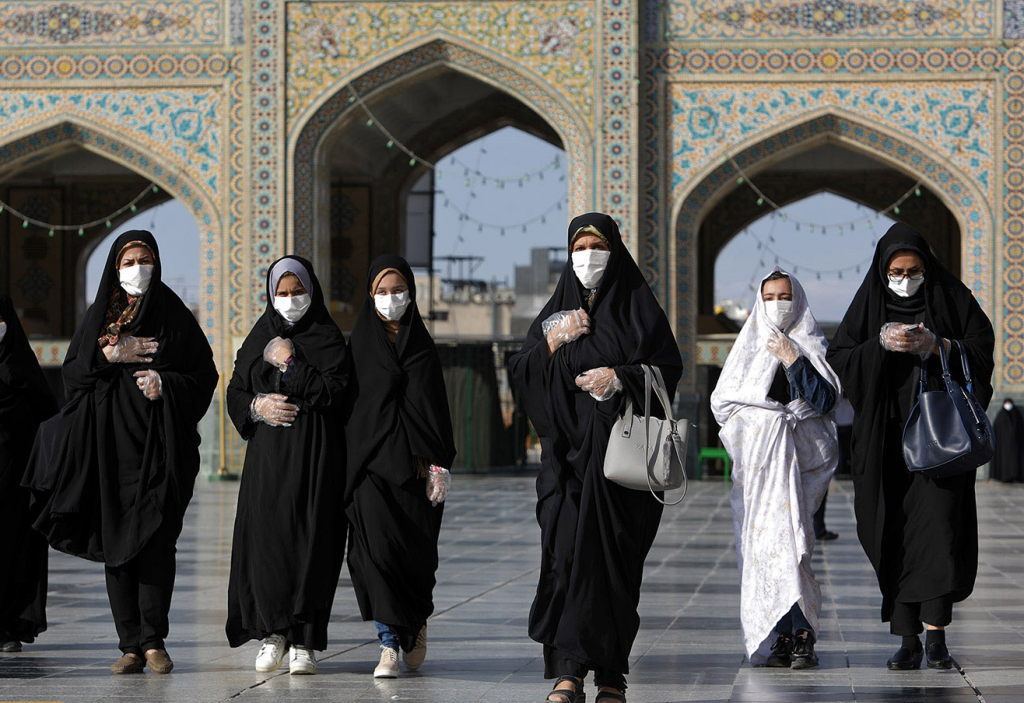 Anyone can visit the complex, but two places inside the complex, the Goharshad Mosque and the tomb (Rozeh Monavareh), are off-limits to non-Muslims. Other than these two places, you are free to go anywhere. There is a brief physical security check at each entrance before entering the complex. Sprays and large baggage are not allowed inside. Therefore, it is best not to bring anything extra.
Also, be sure to bring a map of the complex. Imam Reza Shrine is a vast complex, and all of its components might seem similar.