The Eram Garden of Shiraz is a beautiful garden in the northwest of Shiraz and one of the main Iran tourist attractions that attracts many domestic and foreign tourists every year. The Eram Garden in Shiraz is one of this city's most popular tourist attractions due to its citrus trees and a long street lined with cedar trees. Large and old cedar trees have enhanced the beauty of this garden and the main pavilion from the Qajar era, which is the central component of the garden.
Shiraz's Eram garden has an area of 110,380 square meters and was nationally registered on November 5, 1974. Join the Iran Travel Guide Center to learn more about this dream Botanical Garden in Shiraz City.
About Eram Garden in Shiraz
The Eram Garden of Shiraz also houses the Botanical Garden of Shiraz University, which is an open garden to the public. The exact builder of this garden is unknown, but there is a legend that one of the chiefs of the Qashqai tribe ordered its creation during the middle of the 13th century. Chiefs of the Qashqai tribe owned this property at least for 75 years.
After this, Farah Pahlavi purchased this property and gave it to the University of Shiraz as a reception palace. The garden belongs to the Faculty of Agriculture, and the mansion belongs to the Faculty of Law of the University of Shiraz.
The Architecture of The Eram Garden of Shiraz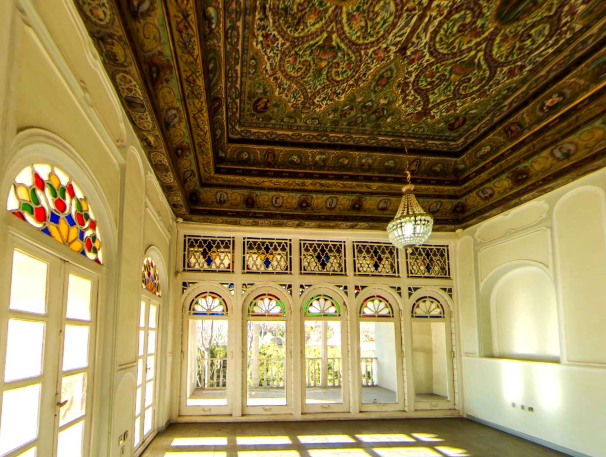 The Eram Garden occupies a large square area. It has undergone many changes over time, but now it covers an area of approximately 110318 square meters. The steep slope of the land was one of the challenges of building this garden. Stares were used to solve this issue. A palace with a unique ceramic tile design in the garden's center. Several short-animated stories are painted on the tiles of the arch of this building. The three-story building dates back to the Middle Qajar period. This building also houses a museum of precious stones that can be pretty surprising to see.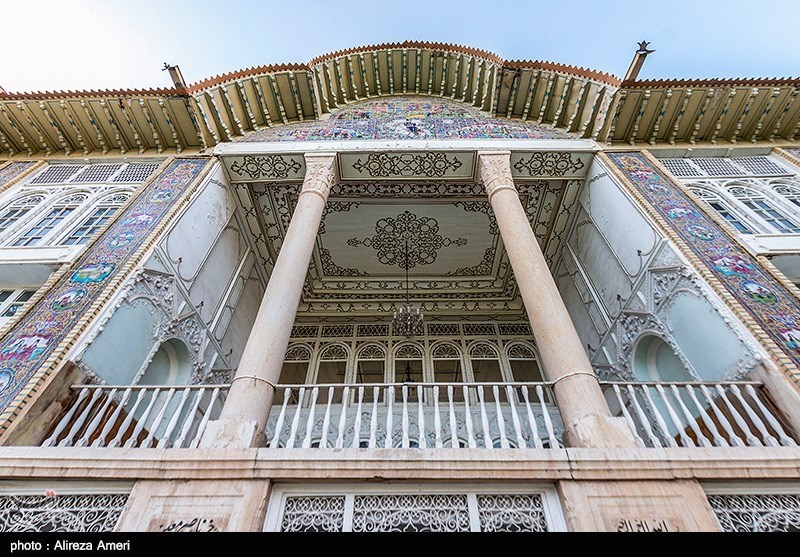 Things to Do in Eram Garden
Who wouldn't enjoy a lovely walk around tall trees while feeling the cool fresh breeze on their skin? As you enjoy the sound of water flowing through the stream beside you and the aromas of so many different flowers at the same time, take a moment to notice the plants and trees in the surrounding area, you will see plants and trees from all over the world that have assembled here.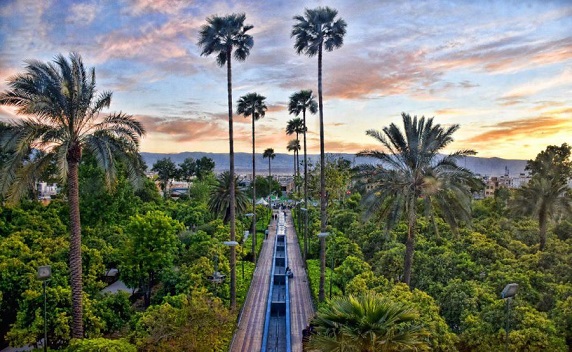 Don't miss visiting Shiraz's tallest cedar tree, 75 meters high. Various garden sections contain flowers and decorative plants, such as yellow jasmine, tomato, peach, peacock, and Japanese blossoms. Fruit trees surround you as well. The rose section is one of the best parts of this Botanical garden in Shiraz. More than 200 rose species make up this collection, rare in Iran and the Middle East.
Besides watching the trees and plants, you can also do other things in Eram Garden. For example, it would be fun to dress up like a local and take photos of the garden landscape.
You can also buy souvenirs and handicrafts from Shiraz at the gift shop in the yard. Finally, you cannot miss out on trying delicious Faloodeh Shirazi while in Eram Gardens! Especially if you visit during the summer season, and don't forget to experience Shiraz's famed Faloodeh.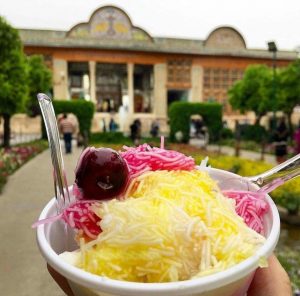 Eram Garden's location
It is located in one of Shirza's most desirable neighborhoods. Even though you are a little far from the city center, you can easily get to attractions such as Chamran Boulevard, Afif Abad Garden, and Quran Gate.
Restaurants and Accommodations near Eram Garden
You can treat yourself to delicious Persian food after visiting such a magnificent garden. There are many restaurants nearby. You can choose from Khan Restaurant, Rott Restaurant, Bell Parsi Restaurant, Fish and Chips Restaurant, and Baharan Restaurant.
Accommodations near Eram Garden include the Pars Hotel, Setaregan International Hotel, and Homa Hotel.
Eram and Excursion in Shiraz
The variety of places of interest in Shiraz is lovely and will make you a sweet trip. Whenever you plan to travel to Shiraz, be sure to have a list of its attractions so you can manage your time well. After sightseeing in Eram, continue your tour of Shiraz with other city attractions such as Nasir Al-Molk Mosque, Delgosha Garden, Afifabad Garden, Narenjestan Ghavam, and so on.