Logically, the Cost of living in Iran depends greatly on where you live. The Iranian economy is capitalistic, with an uneven distribution of wealth, so some people are very poor, and others are very rich. Rich people in the top 1% enjoy a standard of living that rivals that of the richest nations in the world.
Nevertheless, people in Iran still struggle to make ends meet. In addition, there is a middle class that is, on average, lower than the middle class in Western nations.
Stay with the Iran Travel Guide Center to know more.
Cost of Living in Iran by City
– RENT HOME PER MONTH
The most important Cost of living in Iran is accommodation. Whether in the suburbs or the city center, renting a place in Tehran isn't cheap. While you might be able to get an apartment for less if you live in a city that isn't a prominent tourist destination, it is still an expensive investment. For example, looking for a one-bedroom apartment will cost you around 500$, while an apartment for a family will cost you three times.
– RESTAURANTS
Iran is a relatively affordable country in which to dine out. However, prices between restaurants can vary greatly, and you should expect restaurants to be much more expensive than you would find in third-world countries. For example, a meal for two in a mid-range restaurant will cost you about 20 dollars.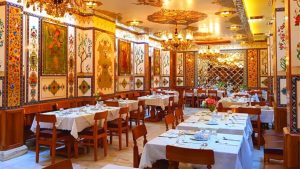 – MARKETS
Another significant Cost of living in Iran is related to food. Everyday groceries are generally cheap in Iran, more inexpensive than eating in restaurants. Any supermarket offers a wide range of reasonably-priced groceries. Just go shopping and cook away! If you choose to cook at home instead of eating out, you will save a significant amount of money.
– TRANSPORTATION
Iran generally has low transportation costs. Public transport means in Iran are relatively inexpensive. Travelers may hire a taxi or a private driver to get around. However, renting a car or leasing a driver can be expensive in Iran. Try to get a cheaper vehicle with a lower fuel price and a more affordable car version.
– SERVICES (MONTHLY)
Another cost of living in Iran is bills. Iran, in general, is not an expensive country to pay bills in. A normal-sized apartment of 85m2 with electricity, water, heating, and cooling costs 32$ a month, which is affordable for these utilities. In contrast, monthly internet costs a bit more.
LEISURE & SPORTS
You will need to pay up if you wish to spend some fun time in Iran or engage in sports activities. Iran's prices for these activities are higher, including renting out tennis courts per hour. Nevertheless, Iranian cinema tickets are cheaper than in other countries.
SHOES & CLOTHES
Shopping enthusiasts can indulge in Iran's many stores, but before you do, check the prices twice to avoid spending more than you want. For example, denim costs around 50$, maybe even less, while quality sneakers can cost 130$. In some malls, you can find delicate pieces of clothing.
The cost of education in Iran
Schooling will be a significant cost of living in Iran for ex-pats moving with children in Iran. Children of ex-pats in Iran usually attend an international school. Fees differ between schools and increase with each grade. However, these schools tend to have excellent facilities and teaching standards.
Most companies that relocate ex-pats to Iran provide allowances for their children's school fees. Costs fluctuate regularly at the school, so ex-pats should contact them directly. Usually, prices do not include uniforms, textbooks, or school excursions, so parents should consider that.
The cost of healthcare in Iran
Iran's public healthcare system is generally good, and its doctors are highly trained. Most tourists go to private hospitals because they offer better facilities and faster treatment. A fully comprehensive international health insurance policy is essential for tourists. Most often, travel companies will arrange this.
How do Iranians spend their money?
The most considerable expense for most people is indeed housing. The Iranian government isn't expecting the entire nation to spend all their money in the market. They have to pay their monthly rent, food, and supermarket costs. But, as much as the rent has to be paid, so does the food.
Transportation takes up the most significant living costs in Iran, even though it's inexpensive. Due to Iran being a fairly large country filled with people, they need to travel everywhere for work or other activities. Next up on the list of necessities for Iranians are restaurants, which means there is still enough money for some Iranians to enjoy a nice meal out occasionally.
An Overview of Average Salaries, Minimum Wages & Mortgages in Iran
Iran's minimum wage of about 320 dollars doesn't cover basic expenses for some Iranians. However, average monthly wages are just under 500 dollars, sufficient to live everyday life.
Tourists who wish to live in Iran for a while will need approximately 700$ if they want to have enough for all necessities and emergencies and 1000$ if they're going to relax completely.
Common Question
Is it possible to use a credit card in Iran?
Iran currently does not accept international credit cards like Visa or MasterCard.
What is the cost of traveling to Iran?
Due to the dollar's high value against Iran's Rial, traveling to Iran won't cost you much compared to other countries unless you want to buy expensive souvenirs such as Persian carpets.
The entrance fee is approximately 5 to 7 US dollars for each site. Some sites are less expensive than others.