Rasht City is Iran's largest Caspian shore city and the country's third most attractive tourist city. Rasht City is well known for its rainy weather, evergreen nature, and food diversity, making it the capital of food tourism in Iran travel. The history of Rasht is filled with bravery and betrayal.
The weather here is mostly humid, with constant rainfalls throughout the year. The best times to visit Rasht City are winter, spring, and autumn. The humidity and the heat during the summer might not appeal to everyone.
To learn more about Rasht hostels and hotels, Rasht restaurants, attractions, and more, follow Irantourism's article.
Travel to Rasht city
Airplane: Rasht City International Airport is at the city's northern end. Daily flights are available to Tehran city and Mashhad city, and less frequent flights to other cities.
Bus: Rasht city bus terminal is at the city's southern entrance. There are daily departures to most of the major cities in the country.
There are NO train stations anywhere close to Rasht city.
Getting around in Rasht city
The only public transport options available here are conventional city buses and shared cabs. No BRT or metro system is open.
Rasht Hostels and Hotels
Aside from the Rasht hostels and hotels mentioned below, other options are available in small towns and villages around Rasht City, with modest themes and classic environments.
Ordibehesht Hotel and Restaurant
This option of Rasht hostels and hotels located downtown, with easy access to public transport and important parts of the city, has reasonable price ranges.
Address: Neshat street, Ostad Sara street, Alam-ol Hoda Avenue, Sabze Meydan (Square)
Phone number: +98 13 3322 9210
Pamchal Hotel
It is located on the southern side of the city, close to Rasht, Tehran Exp way with free wifi and decent room service.
Address: Toshiba Square, Imam Khomeini Blv.
Phone number: +98 13 3366 3822
Gilan Grand Hotel
The luxurious choice of Rasht hostels, hotels, great outdoor restaurants, and high-quality room service.
Address: Monzarie Blv.
Phone number: +98 13 3336 5070
Rasht City Tourism Attractions
The history of Rasht goes back more than 1500 years ago. Being located strategically by the Caspian Sea, you can see that every local authority or government has tried to get its grip on the city during the history of Rasht.
Shahrdari Square complex is the city's central hub and maybe the most iconic landmark of the history of Rasht City. The Museum of Anthropology and The House-Museum of Mirza Kuchak Khan are two other important manifestations of the great history of Rasht.
One of the greatest museums in the country, Gilan Rural Heritage Museum, which gives you a better sight into Gilan village lifestyle, architecture, and the overall history of Rasht, is located 15 km outside the city by the Saravan eco-park.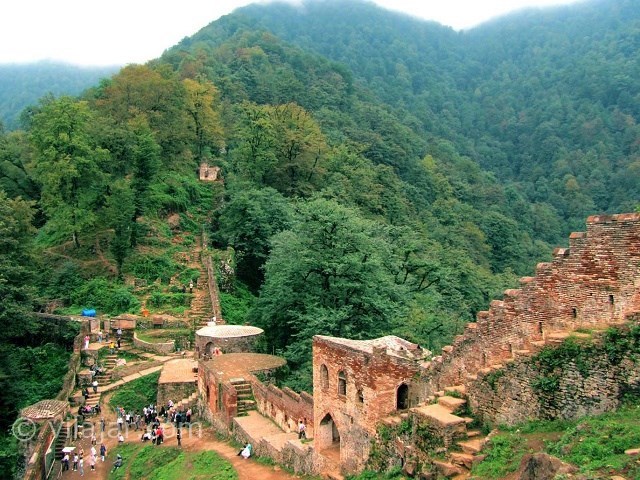 The natural sights around Rasht City are endless. From the Caspian Sea coasts to the north to evergreen jungles, walking trails in the west, and Alborz mountain peaks, lakes, and marshes… you will never run out of natural sights around here. Villages and cities such as Masouleh village and Qaleh rud khan are other amazing places to see around Rasht.
Rasht Restaurants
Rasht City is the capital of Iranian cuisine and food tourism in Iran. There are more than 100 delicious local dishes available in Rasht restaurants, but of course, you can't try all Rasht restaurants and dishes during your stay, so here we introduce you to some of the most popular ones.
Kebab Torsh and Morghe Torsh are barbequed lamb and chicken flavored with sour-tasting spices.
Shevid Qormeh, Shevid Mosama, and Alu Mosama are three stews usually served alongside rice.
Kuee Tare is a stew made with pumpkin.
Fesenjan Mahi is a sour-tasting dish consisting of fish and pomegranate extract.
Shoorkuli Restaurant at Golsar intersection and Moharam Restaurant in Imam Khomeini Blv. are two of the best Rasht restaurants where you can taste authentic Iranian cuisine dishes.
Rasht City Souvenirs
Rasht City is very famous for its fresh Smoked Fish. Fuman and Lahijan are two cities near Rash City with Great Local Cookies. Also, Tea, Olives, and Reshte Khoshkar are some other edible Rasht city souvenirs.
Several handicrafts are also available such as Mat weaving, Rashti Doozi, Chamoosh Doozi, and Morvar Bafi… you can get your hands on most of them in the Rasht city bazaar.