Tehran Birds Garden is located at the north eastern side of Tehran, at the middle of Lavizan Park. It's been less than 5 years from the day it was opened and since then it has become one of the largest Birds Garden in The Middle East. It contains dozens of various species of birds, from local and International habitats. If you are looking for one of the modern Gardens in Tehran, Tehran Birds Garden is the right choice for you.
So, follow Iran Travel Guide Center article to find out more about Tehran Birds Garden:
Overlook of Birds' Garden in Tehran
Accessibility: no station of Tehran Metro is close enough to Birds Garden of Tehran, but you can Get yourself to Farhangsara station at the end of Line 2, and from there get a shared cab to Tehran Birds Garden.
Or you can take Line number 214 bus (Shahid Dastvareh Terminal to Ofogh Terminal) and get off at Shahrak Shaid Rasuli stop.
Open days and hours: This garden  is open Sundays to Thursdays, from 9 to 18.
Phone number: (+98) 21 7707 5214
Ticket price: 250,000 RLS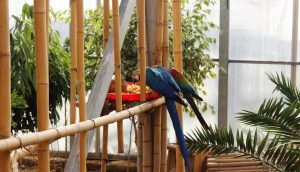 Summary of Tehran Attractions: Birds' Garden
Birds' Garden is one of the largest birds' gardens in the middle east and one of the most recently established of Tehran Attractions.  It covers a vast area with a huge selection of domestic and wild birds. Alongside that, the design of the Garden alone is something worth seeing especially during snowy winders or yellowish autumns.
There are 250 different species of birds available in this place. But the number of birds is much more than that, exceeding 2000. At the entrance of Tehran Birds Garden, there are a couple of trained Parrots greeting your arrival.
Some of the birds are put into cages, birds such as Canaries, Parrots, Hawks and Vultures. Further down into the park there are also birds like swans, ducks, and flamingos roaming freely by the Gardens large lake.
In another section of the Garden, there is an indoors exhibit full of vegetation specifically dedicated to Peacocks.
Also, another section of the park is under construction, where birds all fly free. this section is covered by huge fences which prevent animals from flying away, and outsiders from flying in.
More info about One of the Best Gardens in Tehran
There are a couple of shops and cafes available in Birds' Garden, where you can spend a delightful evening alongside birds and your friends.
To take pictures using professional equipment, you need to ask for permission from the Garden's office and pay the fee.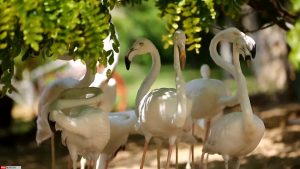 If you would like to have your picture taken with trained animals, there is a photo shooting place in the garden where you can do so.
If you plan to get to this Birds' Garden with a personal vehicle, you can use the parking by paying fee and taking the vans to get you to the Gardens by paying entrance fee.
There is a section of the garden dedicated to painting. Here you can have a clear view of the garden and also have certain birds at your disposal to paint a picture from.
Notice that Birds' Garden covers a vast area of land, so wear appropriate shoes for hiking in there and don't rush your visit there. We recommend you to dedicate at least 2 to 3 hours for covering everything available.