Azadi tower (Borje Āzādi; "Freedom Tower"), formerly known as the Shahyad Tower (برج شهیاد Borje Ŝahyād), is the first thing you see while entering Tehran city from the west or before landing airplane.
The Azadi tower architecture and particular shape with marble look of the tower give the city character and it's also the most iconic landmark of Tehran.
This monument was built in 1971 in commemoration of the 2,500th anniversary of the Persian Empire, commissioned by Mohammad Reza Pahlavi, the last king of Iran.
The architect, Hossein Amanat, won the competition to design the Azadi tower architecture which combines elements of Sassanid & Islamic architecture.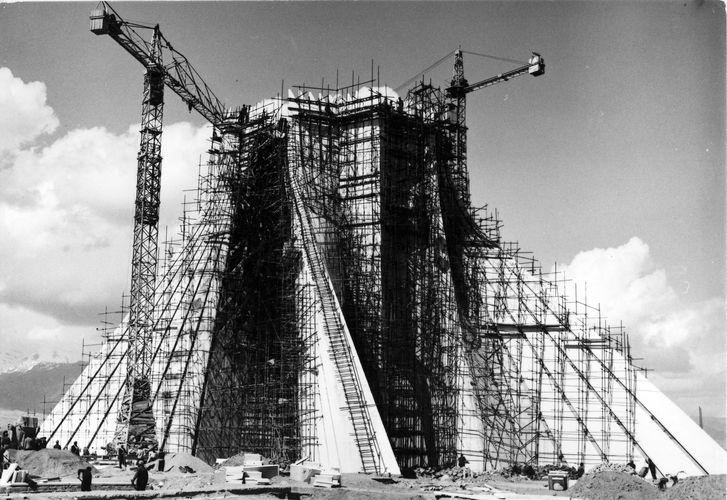 Tower has 45 meters' height and 4 floors with Azadi museum underground. There are 2 stairways with 682 stairs and 4 elevators which Symmetrically located on both sides of the tower.
Name of the Azadi Museum and Tower is from the square which it's located in, The Azadi Square.
Mehrabad International Airport is located on the southwest of the square, also the west terminal of Tehran is located on north western wing.
To know more about Azadi Tower Architecture and Azadi museum, follow this article which leads you to have a better understand of Iran travel guide.
How to get to Azadi Tower?
To get to Azadi Tower, take line 4 (color-coded light blue) of Tehran Metro to Meydan-e-Azadi.  Be careful, don't get confused by other Azadi stations.
Other choices of public transport are to take the buses of Bus Rapid Transit Network in Iran (BRT) to Azadi station or you can easily take normal buses to Azadi terminals.
Entrance Fee and Opening Hours of Azadi Tower
Opening days and hours: Azadi Tower and Azadi museum are open Every day, except Saturdays and official holidays.
Sunday to Thursday from 9 A.M until 8 P.M and Friday from 10 A.M until 8 P.M
Ticket price: 60000 RLS for the Azadi museum and 80000 RLS for other floors and roof top.
Website: http://www.azadi-tower.com
Phone number: +98 21 66023951-4
A Brief Summary of Azadi Tower Complex
Almost everywhere around the world, know Tehran city by its iconic landmark, Azadi Tower.
The building's ground, which forms the Freedom Square, is an oval-shaped area of 68,000 square meters. The surroundings of the tower include multiple fountains which give the area beautiful scenes.
All the main entrance of the tower sinks underground which leads into Azadi museum on the basement floor.
Azadi monument includes various divisions such as the Azadi museum, Iran-ology, gallery, library.
Azadi museum is an exhibition of art, handicrafts, pottery and precious stones.
There are 140 different stones such as Amber, rubies and turquoise, and onyx. In addition, replica of the Cyrus Cylinder is in this museum (main Cyrus Cylinder is in Britain museum in London).
Taking photo is forbidden in this floor but it's free on any other floor.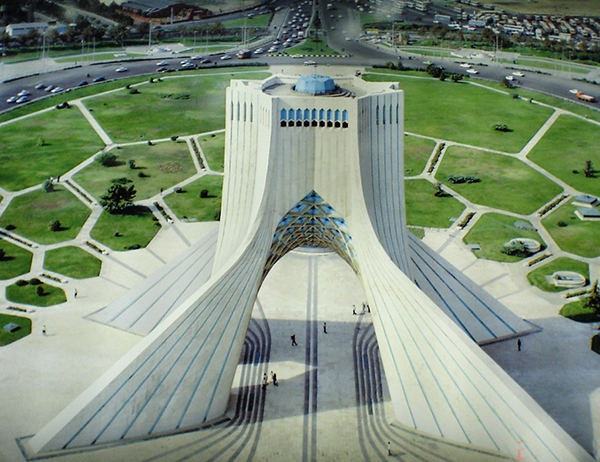 One of the most interesting halls in Azadi tower is Iran-ology hall. In this hall, you can stand on a mechanical conveyor and start your small journey through Replica of Iran.
As the conveyor carries you, according to the geographic location of the city, not only you will get to know historical and religious centers of the city, also you'll get to know climatic features and even handicrafts of the city.
In Azadi Tower's library more than 15000 books exist. This library holds many valuable books in history, social, architect and linguistics fields and is one of the valuable reserves of the country.