Milad tower, an impressive architectural structure known as insignia of Tehran, is one of the most magnificent Tehran tourist attractions.
Milad Tower (or as it is called in Persian: Borje Milad) as a mass appealing tourist attraction can be seen from almost anywhere of Tehran. Iran travel guide invites you to read the complete article.
History of Milad Tower
Milad tower as a staggering 435 meters (1,427 ft.) high multipurpose tower was part of the Shahestan Pahlavi project, as a remarkable symbol of Tehran, which was designed in the 1970s but never materialized except for the Tower.
After an international competition, the project was awarded to the Llewellyn Davies Company, and construction was inaugurated on August 19, 1975.
However, later architectural modifications were considered and applied from 2000 till 2009 to make it internally and externally specious to make it as one of the most stunning Tehran tourist attractions.
Structure and features
Milad tower, as the 6th tallest tower in the world, is a multipurpose tower which makes it a varying combinational structural and features which make it as one of the best Tehran tourist attractions.
Besides telecommunication uses, it also includes a rotating sky restaurant and is used as a convention, exhibition and conference center (a nearby building in the same complex) which is strongly recommended to the tourists to experience that.
The lobby structure of Milad Tower has 6 floors, accommodating many food courts and trade units including three floors with 63 trade units, 11 food courts, art galleries and commercial products exhibition that you can find there.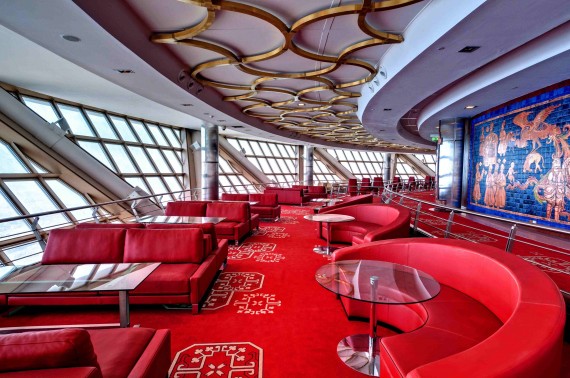 The shaft is a concrete structure is made from the ground floor and six elevators in three different sides of the shaft are used to transfer the visitors to the head of the tower, besides an emergency staircase at the fourth side.
Considerations for Visiting Milad Tower
If we, Iran tourist team, were to collect a list of most visited modern attractions of Iran, Milad tower would be at the top due to the sense of pride that Iranians have regarding this tower as one of the most impressive Tehran tourist attractions. As a result, Milad Tower is considered a "MUST SEE" by locals.
The best time to visit the open observation deck of the tower is either during the early hours of the day and when the sky is clear to get a view of the whole city, or around sunset to enjoy the endless lights of Tehran's nights.
As of this year, the dinner buffet of the revolving sky restaurant was about 40 US dollars and included a variety of Italian, Chinese and Persian foods. It is recommended to make reservation beforehand.
Milad tower is considered as a usual celebration and musical concerts location for different events in the year. So it is recommended to follow Iran travel guide websites and apps to know about schedule and furthermore details. It is worthwhile to mention that there are different tickets to be bought from the ticket counter depending on which part of the tower you want to visit.
One of the most attractive parts of the tower belongs to the Dolphinarium (Dolphins park) which is the first non-coastal Dolphinarium in the Middle East and the highest one in the world which would attract tourists and citizens in the cultural-recreational Milad Tower. It has a span of 3,200 square meters and a daily capacity of receiving 1200 visitors at each show time. It would be open for four show times a day.
Considering all the above-mentioned features and characteristics make Milad tower as one of the outstanding Tehran tourist attractions.
How to get to Milad Tower?
There are various ways based on your taste for going there. You can take Metro or BRT to "Azadi Sq." station near the Azadi tower, at Azadi Sq. You can buy the tickets at the cost of about 10 cents at the entrance of each bus or metro station.
Then you can go to bus terminal and take bus to "Vanak" take off bus at Milad station to finally find Milad tower.
Also you can take taxis based on where are you currently in the city and go there directly or indirectly to the above-mentioned places part by part.
However, Iran tourism advises you to use internet taxi services of snapp or tap30, which work similarly to Uber, as the most convenient way. You can follow the instructions for using those apps by clicking on the exact word, also you can go to the Iran tourist main page:
http://www.irantourism.travel/
You can buy the entrance ticket by going to this website, you may use google chrome or other applications to translate the page to your own language, at the price of 350000 RLS almost equivalent to 2$.
The approximate price for visiting open observation deck, revolving restaurant including art gallery, cafeteria and coin museum, open observation deck sky dome is 90000 RLS (0.5$), 920000 RLS (4.5$), 50000 RLS (2.5$), 70000 RLS (0.2$) and 170000 RLS (1$) in order.