Darband hiking track is a great choice for nature lovers in Tehran city, located at the north of the city, Darband mountain.
Darband hiking track in Darband complex where you can benefit great view and facilities.
It will take between 6-8 hours to reach Tochal summit. one of the safest ways of trekking Iran is through Darband hiking track.
Follow this article from Iran travel guide website about Darband complex to get to Know this place better.
Overlook of Darband Complex
Darband complex is one of the oldest promenades with pure fresh air, diversified restaurants, cafes and tea houses which offer Iranian cuisine, Iranian tea (chaee/چایی) and shisha (ghelyan/قلیون).
On the way of Darband hiking track you can have tea or food on the benches located right on the river for you to listen to the sound of the water and enjoy your moments.
It also equipped with Télésiège and sledge. In addition, if you think of trekking Iran, Darband hiking track is an excellent choice.
Accessibility: you can use subway, line 1 (color-coded red) of Tehran metro and get yourself toTajrish (تجریش) Station and from there get taxi or van to Sarband Square (meydane sarband/میدان سربند)
Open days and hours: Darband complex is open 24 hours, but restaurants close at 12P.M Télésiège and sledge working in sequence at 9:00 A.M and 10 A.M during Weekdays and 6:00 A.M and 10 A.M during weekends.
Darband hiking track
one of the best options of trekking Iran is Darband hiking track to Tochal (توچال) Summit.
Darband hiking track is accessible by two ways: either you can go to Sarband Square (initial dot of town) and keep on or you can get chairlift to get to summit and enjoy the view.
Places you will face from the middle of Darband hiking track are following below: Pasghale village (roostaye Pasghale/روستای پس قلعه), Dogholoo waterfall (Abshare Dogholoo/ابشار دوقلو), Shirpala shelter (Panahgahe shirpala/پناهگاه شیر پلا) and you will end up in Tochal Summit.
It might come as surprise to you if you know Darband hiking track is one of the suitable places for rock climbing sport in Tehran and most professionals in this field come here for exercise.
Picnic and Trekking Iran on Darband
One of the best places for picnic and trekking in Tehran is Darband town and its nature.
People often go on picnic on the weekends. You can take Télésiège or you can go on along trekking through spiral way that it passes through bunch of restaurants, cafes and tea houses and reach destination.
You'd better to take care because way in some parts has steep slope and it passes near the River.
You have to bear in mind that it takes between 1-3 hours to reach the appropriate point for picnic.
In addition, if you want to dine at peace and quiet, then you'd better to choose weekdays.
Don't miss wonderful Darband when you visit Tehran, because we offer you the best ways for trekking Iran.
Darband Complex Facilities
Restaurants and Cafes
Different restaurants with various menus are among the awesome places on Darband hiking track, where you can taste Iranian food, sea food or Italian food.
Restaurants are in open-air and they have old traditional Iranian style, where you can sit on special tables called (Takht/تخت) and enjoy your food.
Tea houses & Cafes
Darband tea houses are also as popular as restaurants specially among young people and university students.
You can taste Iranian tea with date (khorma/خرما) and a kind of Candy named "Nabat (نبات) here. Besides; you can try Iranian shisha here, too.
They are also some cafes in this area where you can have all kind of drinks and deserts.
Street Food
As you going up, you can see small kiosks (دکه) that they offer kebab and Jigar (cow or Sheep's liver) (two favorite Iranian food).
Sometimes you can see some vans or cars that they sell delicious snacks like toast with hot chocolate.
Iranian sweets and deserts
They are diverse confections in kiosks and shops that you might like to taste them like Plums (Alooche/الوچه), fruit leather (Lavashak/لواشک), gummy candy (Pastil/پاستیل), Pashmak, beets (laboo/لبو) and fava beans (baghali/باقالی). Make sure to buy them from shops that are trustworthy in terms of cleanliness.
Photography on Darband
Darband hiking track has many features that it turns it into an ideal place for photography like stone-pavement, buildings in heart of Rocky Mountains, statue of a Climber Man, different delicious confections and delighted young people and families.
No matter how good at photography you are, you will be able to take great shots here!
Télésiège(chairlift)
Darband Chairlift
One of the best entertainments in Darband is Télésiège. At the beginning, climbers and local people used it, but than it was used by other people too.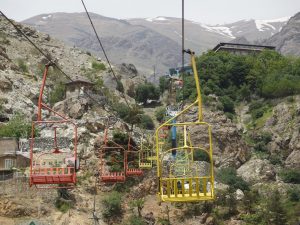 It starts working from 9:00A.M to 12:00 P.M on weekdays and 6:00 A.M to 12:00 P.M on weekends. Ticket price per person is 500000RLS.
You can check the availability on Télésiège on rainy or snowy days through this numbers:
(+98) 212271958-(+98) 2122719577
Darband sledge (Surtmeh)
Darband sledge (surtmeh/سورتمه) is located at the Golabdareh Park which is on Golabdareh (گلابدره) Street.
It's one of the elevated parks of Tehran city after Jamshidieh Park.
It's one of the breathtaking entertainments which is built according to international standards.
Price of ticket per person is 200000RLS.
Tel: (+98) 2124557
Darband Hotel (OSOUN hotel)
OSOUN hotel (هتل اوسون) in Darband is one of the elevated hotels in Iran, located at the altitude of 2300 meters above the sea level on Darband Mountain, Tehran, Iran.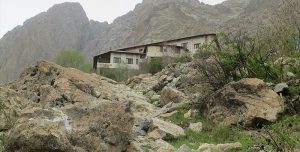 This hotel is a 2-star hotel with 16 rooms which rooms are decorated in old traditional Iranian style.
In order to book a room at Osoun hotel, first you have to check the weather of upcoming days; then you can make reservation from different websites online or https://www.snapptrip.com/en/
Tel: (+98) 9121155170
The prices of the rooms at the time of writing this article are as follows:
Double room: 1,500,000RLS
Four board: 2,300,000RLS
Six boards: 3,450,000RLS
Accessibility to the OSOUN Hotel: In order to reach the hotel, you have to spend 2 hours' in Darband hiking track and pass pas-ghale village and all the restaurants.
After a while, you will see the sign of (OSOUN Hotel-Restaurant) that you have to follow it.
After spending a relaxing night at hotel, you can enjoy breakfast with a lovely view of mountain.
Best Time of Trekking Iran
Darband town is in the north of Tehran and at the foot of Alborz Mountain (کوه البرز), so it has cold winters and moderate and cool summers.
Best time of trekking Iran is in spring and summer, specially May and June.
April and Autumn will be rainy and cool. Also winter will be cold and snowy
Attractions Around Darband
Darband sledge (surtmeh)
Tajrish Square
Imamzadeh Saleh shrine