Tajrish traditional bazaar is located at the most northern neighborhood of Tehran city; it is one of the most interesting Tehran bazaars and one of the must see places, when you visit Tehran. To the locals, this is the main market for everyday shopping and to the Iranians abroad, this is maybe the most memorable Tehran bazaars ever. Being close to Imamzadeh Saleh shrine and the Tajrish square has transformed this place into a social hub for northern Tehran citizens.
This bazaar is close to Darband hiking track, where you can take one of the Tehran's mountain climbing routes. It is also a place full of traditional restaurants and tea houses. Also Tochal Ski Resort is just a 10 minutes' drive away from here.
Follow this article to find out more about Tajrish traditional bazaar, one of the Tehran bazaars when you visit Tehran.
Accessibility to The Tajrish Bazaar
When you visit Tehran, in order to get to Tajrish traditional bazaar via public transport, you can take Line 1 (color-coded red) of Tehran metro and get off at the last stop, Tajrish.
Or you can take the Bus Rapid Transit network in Iran (BRT) buses in Valiasr street to Tajrish Terminal and get off at the last stop, Tajrish square.
Open days and hours
Most of the shops in Tajrish traditional bazaar, like other Tehran bazaars, are open Saturdays to Thursdays from 9 A.M. to 6 P.M. and also Fridays.
About Tajrish Bazaar
Tajrish traditional bazaar is a social hub for the northern district of Tehran. It is a smaller replica of Tehran grand bazaar, the greatest of Tehran bazaars. It is around 600 meters long with more than 400 stores, offering a wide range of products to the customer. Also, the fruit market is located at the center of the bazaar, filled with fresh and colorful fruits and vegetables from all around the country.
What You Can See at Tajrish Traditional Bazaar
Handicrafts
By walking around the Tajrish traditional bazaar you can browse handicrafts from all over Iran within a couple of steps; handicrafts such as: cashmere, seal, mosaics, pottery, rugs, copper containers, utensils and …
Nuts and Spices
Locally produced nuts and spices, as well as imported ones, are on sale by the shops all over the market.
Pickles
Most exotic pickles from local recipes. Trying is free but some of them might not appeal to every taste.
Jewels
Jewel stores are the shining diamond of Tehran bazaars. Here you can see jewels made by Iranian craftsmen with the universal quality.
The Fruit Market
The most colorful and spirit lifting part of the bazaar is the fruit market. The scent of the fresh vegetables and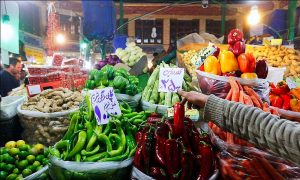 recently picked, juicy fruits at the center of the market, surrounded with old shops which are built in classic Persian style is a picture worth capturing. Both by your camera and in your mind.
Famous Cafes and Restaurants around Tajrish
Tajrish is a good place to get a taste of Iranian cuisine.
Etminan Restaurant: One of the oldest classic restaurants among Tehran bazaars, in the neighborhood that has still kept its original design and quality. It is located across from Samei Mall, in Tajrish traditional bazaar.
Akbar Mashti Ice cream: Try original Persian style ice cream at this original ice cream shop. We recommended this place when you visit Tehran.
Amoo Yahya Tea house: This is where all the shop keepers come to let go of some steam or have an enjoyable breakfast every day.  It is located at Sahabi intersection, in Darbandi street.
Seyed Mahdi Ash and Halim: Ash and Halim are good choices for every meal of the day and this is one the best places that you could try them around Tajrish traditional bazaar. It is located by the Razavi Mall in Tajrish Traditional Bazaar.
Ame Leyla Samanoo: Samanoo is a classic Persian pudding made of wheat sprout. This nutritious dessert is consumed for breakfast, dinner or even as a side dish. Make sure you try This while you are visit Tehran. The best place to try it is Ame Leyla Samanoo shop by the overpass bridge.