Tehran Grand Bazaar is the economical heart of Iran. Every major producer, factory, manufacturer, etc. owns a shop or branch to introduce and offer their products to consumers. Wholesale shops are working side by side with stores, and the line of cargo carriers seems never to stop. Aside from that, this is where most of the major political and cultural movements in history have started or escalated. The design and shape of the Tehran grand bazaar have changed and improved since its establishment. Yet still, it has kept its original motifs and principles. You experience a different way of shopping in Iran at Iranian bazaars.
Follow this article from the Iran travel guide to learn more about Tehran grand bazaar and to shop in Iran.
Overlook of Tehran Bazaar
Accessibility to the Tehran Bazaar for shopping in Iran
you can get to Line 1 (colour-coded red) of the Tehran metro and get off at Khayam or 15-Khordad station. Also, if you get off at Imam Khomeini station, you can take the carriages or electrical rides to the bazaar.
You can also get to any of the major bus terminals in the city and from there get to Tehran bazaar. Most airports have one or two lines leading to them.
Open hours and days of Tehran Bazaar
Most of the shops are open from Saturday to Thursday from 9 A.M. to 8 P.M. but some of the shops, especially the ones in the alleys and Times, or the ones which are the whole sellers and the jewellery stores, close at 5 or 6 P.M.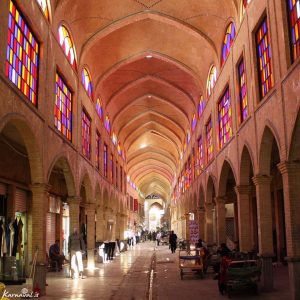 Summary of Tehran Bazaar
The history of the Tehran Grand Bazaar goes back to around the 17th century. Back then, Tehran city was just a small city under the shadows of Rey city (Persian: شهر ری). But later on, during the 18th and especially 19th century, when Tehran became the capital of Iran, Tehran Grand Bazaar started to transform into what it is now.
Tehran Grand Bazaar is a composition of smaller markets, each working on and selling an exclusive product, such as the jewel market, copper market, clothes market etc.
Each part of the Tehran bazaar is dedicated to one of these businesses. So if you are looking for a specific product, you don't go around the bazaar to shop in Iran. If you need silverware, you go to Silver Raste (a series of shops/Persian: راسته); if you are looking for potteries, you go to pottery Raste and so on.
And surrounding these markets, other businesses such as restaurants, tea and coffee houses, mosques and religious centres, accommodations, bathhouses, Zoorkhaneh (traditional gym/Persian: زورخانه), etc. were established to answer to the needs of the shopkeepers. This long and entangled chain of businesses makes Tehran Grand Bazaar what it is today.
Design of Tehran Bazaar
Like every other oriental bazaar, Tehran grand bazaar is a series of narrow and entangled streets with shops on both sides of it, and now and then, there's a mosque or prayer house for the local shopkeepers.
To cover against harsh sunlight, these streets are covered with roofs with a small hole at the centre to allow ventilation. At certain points on these streets, there is a big yard called Timcheh, surrounded by stores. This was designed to give people a break from the dark and crowded streets of the bazaar.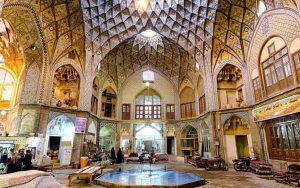 What to buy, where to buy it.
Tehran grand bazaar is one of the best places for shopping in Iran. Almost everything is accessible here, and the prices are reasonable for shopping in Iran.
Scarfs, Hats and gloves: Jāfāri Rastē is one of the best places for high-quality gloves, hats and scarfs shopping in Iran. Most producers have a shop here, with various designs and half-price.
Clothes: Kuwaiti Bazaar is a 5-level bazaar for shopping in Iran dedicated to clothes and accessories.
Edibles: Chahar Sūq Raste is where you can get everything your kitchen needs.
Jewels: Tāla Forooshan Raste is home to most Jewel shops and Watch seller shops in the Tehran bazaar.
Purse and backpack: Moshir Khālvāt Shop is the centre of the bazaar carry-on bags, purses and backpack sellers.
Home appliances:  get your hands on Iranian and International brands of home appliances in Hajāb-ol Doleh Raste.
Must see places in Tehran Grand Bazaar
Sābzeh Meydan (Square)
This is one of the oldest locations in the Tehran Grand Bazaar. It is situated on the north side of it. This square was where most of Tehran's religious and political gatherings would occur. Also, Tehran Grand Bazaar's major entrances are located here.
The Grand Cheharsuq (Intersection)
In Tehran's grand bazaar, every intersectiTehran'scting two major streets are called Cheharsuq. The Grand Cheharsuq, with its low ceiling and spectacular plaster works, is a must-see. It was constructed around 120 years ago and is close to the Grand Masque.
The Grand Mosque
This is one of the most beautiful and original mosques in Tehran. It is the main mosque in the Tehran bazaar. It was established some 200 years ago. The mosque has been a Tehran political and social hub, and many historical and groundbreaking speeches have taken place here. Locals also call this mosque Māsjede Shah (the King's Mosque)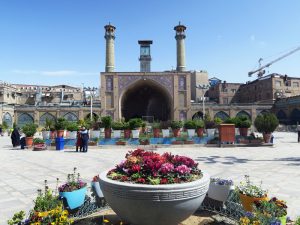 EmamzadeKing's Shrine
This Shrine is located at the end of the mercers' market. It is the third most religious place in Tehran, after Shah Cheraq Shrine and Imamzade Saleh shrine (at Tajrish Sq. near the Tajrish traditional bazaar). The date of its establishment goes back to the very first days that Tehran Grand Bazaar was established. The architecture and design of the exterior are worth watching, and the mirror works of the interior would make you hold your breath and cover your eyes.
Here also, the last king of the Zandieh dynasty is buried, marking an end to the reign of the descendants of Vakil-Ol-Roaya (the attorney of the commoners).
Hajab Aldole Timche
This large yard is located beside the Grand Mosque. It benefits from a spectacular design and all alone was worth registering in the National heritage list. Although now a business centre has been constructed inside it, still the architecture and beauty of it are worth visiting especially for photography.
Mahrye Timche
This yard is located close to Sabze Square at the entrance of the shoemakers' market. The dome's design is relatively different from the rest of the timches and even the grand bazaar itself. So if you want to know what a Timche is but don't want to go deep into the bazaar, Mahrye Timcheh is a good choice to take.
Famous Restaurants and Cafes in Tehran Bazaar
Nayeb Restaurant
With more than 140 years of experience, some say this restaurant introduced the royal dish of Cholu Kebab to the common people, tourists and bazaar shop owners.
Shamshiry Restaurant
It is another old and great place to try the original taste of Persian cuisine. If you want to learn more about Iranian cuisine, sweets and desserts, food culture, etc., check the related articles.
Moslem Restaurant
This restaurant has been established only for 15 years, but it is certainly the most crowded one. You can recognize it from the line of some 50 and more people waiting in front of it. They are especially famous for their Tahchine and Kobideh dishes.
Behrouz Omelette
To find this place, you need the locals' help and guidance. Located in Saraye Azizi, this tea house is popular among Bazaar shopkeepers for its Omelettes and breakfast dishes.
Haj Ali Darvish Teahouse
The most miniature tea house in the whole of Iran! It is just 1 meter by 1! but it is one of the most original ones, and Haj Ali Darvish, who has inherited the store from his father, is a nice and interesting person to talk to. It is located at the main entrance of Tehran Bazaar. But to find its exact location, you need to ask around the locals.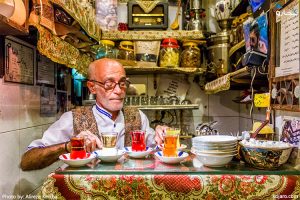 Tehran grand bazaar is a place so amazing that you could easily spend a week in and yet not be able to see it all through. The history and culture behind every step and every brick of this place are mind-blowing, no matter how many times you go there. There is always a new thing to make you entertained. Or fresh products for shopping in Iran.