Tehran museum of contemporary art is one of the most highly regarded of Iranian Art museums. It is located at the eastern side of Laleh Park, adjacent to the Iran Museum of Carpet. The Modern Art Collection of this museum is one of the top 10 museums outside of America and western Europe, with collections from Paul Gauguin, Vincent van Gogh, William Turnbull, Pablo Picasso and …
So, follow this article of Iran Travel Guide Center to learn more about this Iranian art museums:
Overlook of Tehran Museum of Contemporary Art
Accessibility: in order to get to The Tehran museum of contemporary art using public transport, you can take Azadi to Hafte-Tir busses and get off at Laleh park station.
Or, you can also take Shahid Chamran line BRT bus and get off at Baqer khan station. Then the museum would be a 10-minute walk away.
The closest Tehran Metro Station to here is Enghelab Square Stop.
Open days and hours: Tehran museum of contemporary art is open Sunday to Friday from 10 a.m. to 6 p.m.
Phone number: 021 8898 9374
Website: www.tmoca.com/home
Entrance fee: 150,000 RLS
Summary of Iranian Art Museums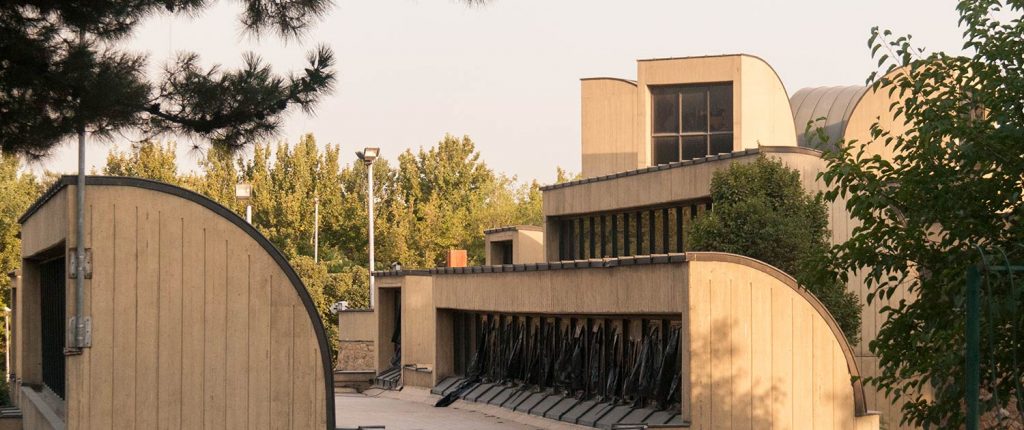 Museum of contemporary art is one the most iconic of Iranian Art museums. It was established half a century ago by the direct order of her majesty Empress Farah Pahlavi, and since then has been one of the top museums in the country. The design of the building is adopted from the Yazd City wind catcher towers.
The collections of the permanent exhibitions have been hand-picked by her majesty the Empress and purchased from the treasury of the national oil company.
There are 9 galleries available in here, 3 of them dedicated to permanent exhibits of domestic and foreign artists' productions, and 6 of them dedicated to holding temporary exhibitions. Most of the museum's area is located underground, with a circular walkway descending downwards with galleries branching outwards.
There is an exhibition of statues outside of the building in the surrounding yard. This open-air permanent exhibition is also visible from outside of the museum.
Some of the most famous collections in the Tehran museum of contemporary art are as follows:
Still Life with Head-Shaped Vase and Japanese Woodcut, by Paul Gauguin
Mural on Indian Red Ground, by Jackson Pollock
Gabrielle with Open Blouse, by Pierre-Auguste Renoir
Painter and Model, by Pablo Picasso
Two Figures Lying on a Bed with Attendants, by Francis Bacon
The Therapeutae, by René Magritte
Suicide (Purple Jumping Man), by Andy Warhol
Horse and Rider, by Marino Marini
Landing the Catch, by Henry Peach Robinson
Sanctified, by Parviz Tanavoli
It is believed that the overall worth of the Modern Art held in Tehran museum of contemporary art is more than £2.5 billion. Most of which are stored securely in the underground safe of the museum, and only available to visit during occasional exhibitions that take place.
Also, a section of the museum is dedicated to a library with thousands of art related books, available for the researchers to take advantage of. but this room is not open to the visitors.