The city of Isfahan is famous for its historical monuments, Zayandehroods, handicrafts, and delicious cuisine. As a beautiful city, Isfahan has always been very popular with both domestic and foreign tourists, and during the year, it hosts a large number of tourists from all over the country and world. One of Isfahan's most important and famous sights is Si O Se Pol Bridge. Various names have known this bridge throughout history, including Shah Abbasi Bridge, Allahverdi Khan Bridge, and Jolfa Bridge. The Si O Se Pol Bridge has long been admired by experts worldwide, so much so that Percy Sykes considers it one of the best bridges in the world, and Chardin calls it a masterpiece of architecture. Be with the Iran travel guide center to learn more about this Iran tourism attraction.
The introduction to The Si O Se Pol Bridge
As many of us know, Allahverdi Khan Bridge is one of the most famous sights of Isfahan. Si O Se Pol Bridge, a bridge over the Zayandeh River in Isfahan, is one of the city's main symbols. It has 33 spans, is 295 meters long, and is 14 meters wide. This bridge is a unique masterpiece from the reign of Shah Abbas I, it was built at the expense of and under the supervision of his famous commander Allah Verdi Khan, so it is also known as the Allah Verdi Khan Bridge. The bridge is a masterpiece of Iranian architecture and bridge construction. It links Chahar Bagh Kohneh Abbasi Street with Chahar Bagh Bala Street and Hezar Jarib and Abbas Abad Gardens. We recommend staying with us if you plan to travel to Isfahan city.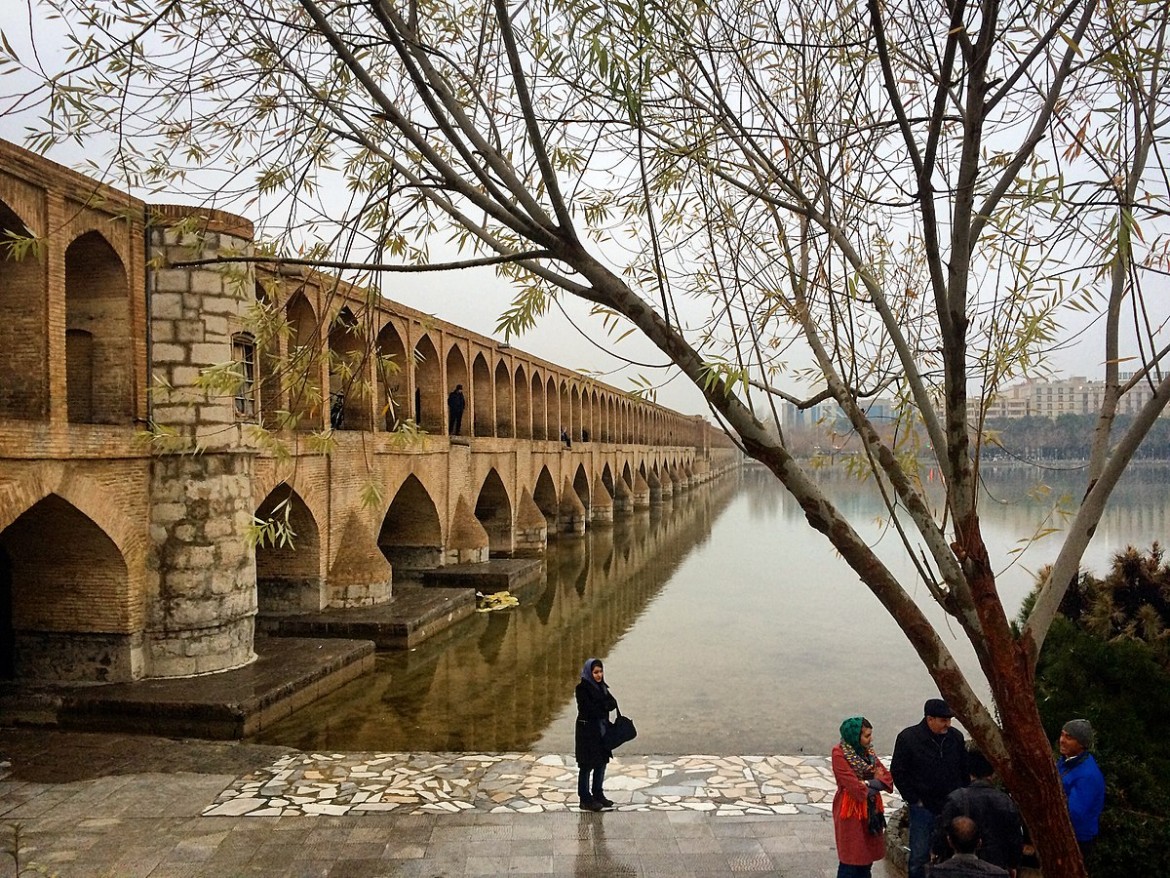 The bridge was done with yellow bricks and limestone, the typical materials for Safavid-era structures. These arches create great nooks for sitting, chatting, and admiring the views of the city. For a time, one of the arches housed a tea house, but later it closed. During 400 years of history of the bridge, the river dried up, but Si-o-Se-Pol found other purposes. It was a place for evening walks, public meetings, events, gatherings, and sports.
History of Allahverdi Khan Bridge in Isfahan
Si O Se Pol Bridge, or Al-Lahordi Khan Bridge,  dates back to the reign of Shah Abbas I Safavid,  under the supervision and expense of the famous Safavid commander, Al-Lahordi Khan, built on the Zayandeh River. The construction of thirty-three bridges was proposed in 1599 and 1602. In the twelfth year of the reign of Shah Abbas I, Allahvardi Khan Ondiladze of Georgia was commissioned to complete it. The architect of the thirty-three bridges was Master Hossein Bana Esfahani, whose son built masterpieces such as the Sheikh Lotfollah Mosque.
Some experts believe that most water structures and bridges symbolize Anahita, and the number one hundred and thirty-three is related to Anahita (goddess of water). The bridge originally had 40 spans, some of which were gradually abandoned due to tree planting and water diversion, and now has 33 spans.
The Si O Se Pol Bridge architecture
The Si O Se Pol Bridge is about 300 meters long and 14 meters wide. Materials such as stone, brick, mortar, and plaster have been used to build this bridge. According to geologists and cultural heritage experts, the foundation of this bridge is in a way that increases its moisture, durability, and strength. Therefore it has not been damaged in the long run. The bridge has covered arches on both sides, overlooking the river on one side and the middle of the bridge on the other side, creating a narrow passage on both sides. There were 99 niches with paintings in the pedestrian part, and none can be seen today.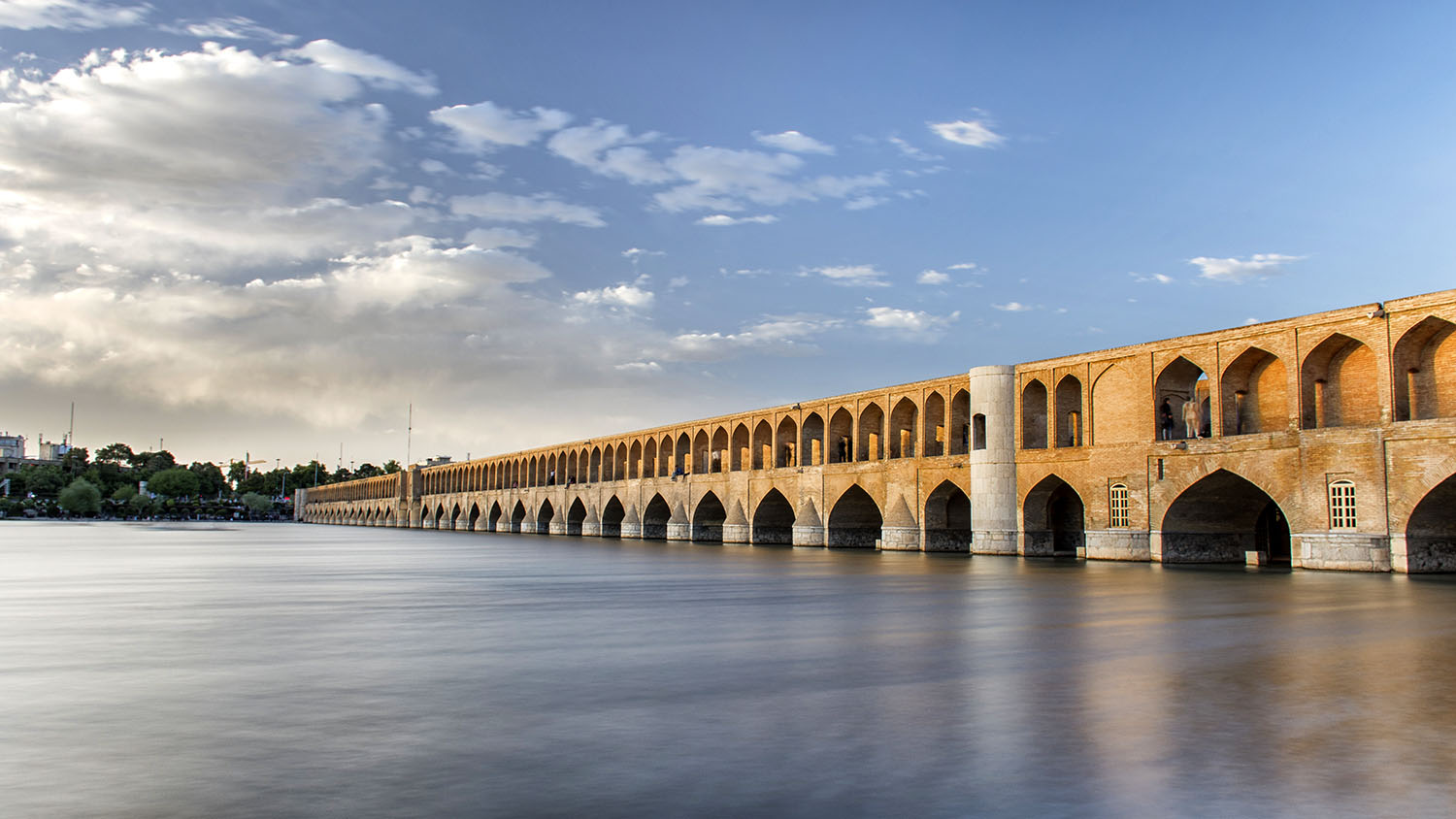 The best time to visit Si O Se Pol Bridge
The city of Isfahan is full of tourists in all seasons of the year, and Si O Se Pol Bridge has its beauties on all days of the year. Still, considering that the magnificence of Si O Se Pol Bridge is when the river is full of water. Zayandehrud reaches its peak; it is better to choose the spring season to travel with the Isfahan tour and visit this valuable structure.
It is possible to see more details during daylight hours, and at night, Si O Se Bridge has clean lighting. However, if you plan to take photos, you can take more diverse and better quality photos during the day.
Where do we go after seeing thirty-three bridges?
In this article, we had a short trip to the past of Allahverdi Khan Bridge in Isfahan city. If you go to Isfahan and see thirty-three bridges, you are probably now looking to find places of entertainment that are easily accessible from thirty-three bridges. Si O Se Pol Bridge is not the only Zayandehrood bridge, and two Khajoo and wooden bridges have made it more spectacular.