Iran is a country with its beauty in every season. With its beautiful beaches, lush mountains, fantastic climate, and ancient historical sites that show Iran's rich culture and civilisation, Iran is sure to attract tourists worldwide. In this article from the Iran Travel Guide Center, let us introduce you to 15 Must-Visit Natural Attractions in Iran.
Must-Visit Natural Attractions in Iran
Maharloo Lake
Shiraz's most strange tourist attraction is Maharloo Salt Lake. The pink colour of the lake is unique. In mid-summer, the lake turns red due to the high evaporation rate and salt concentration, which causes algae to grow, exposing you to a pink hue.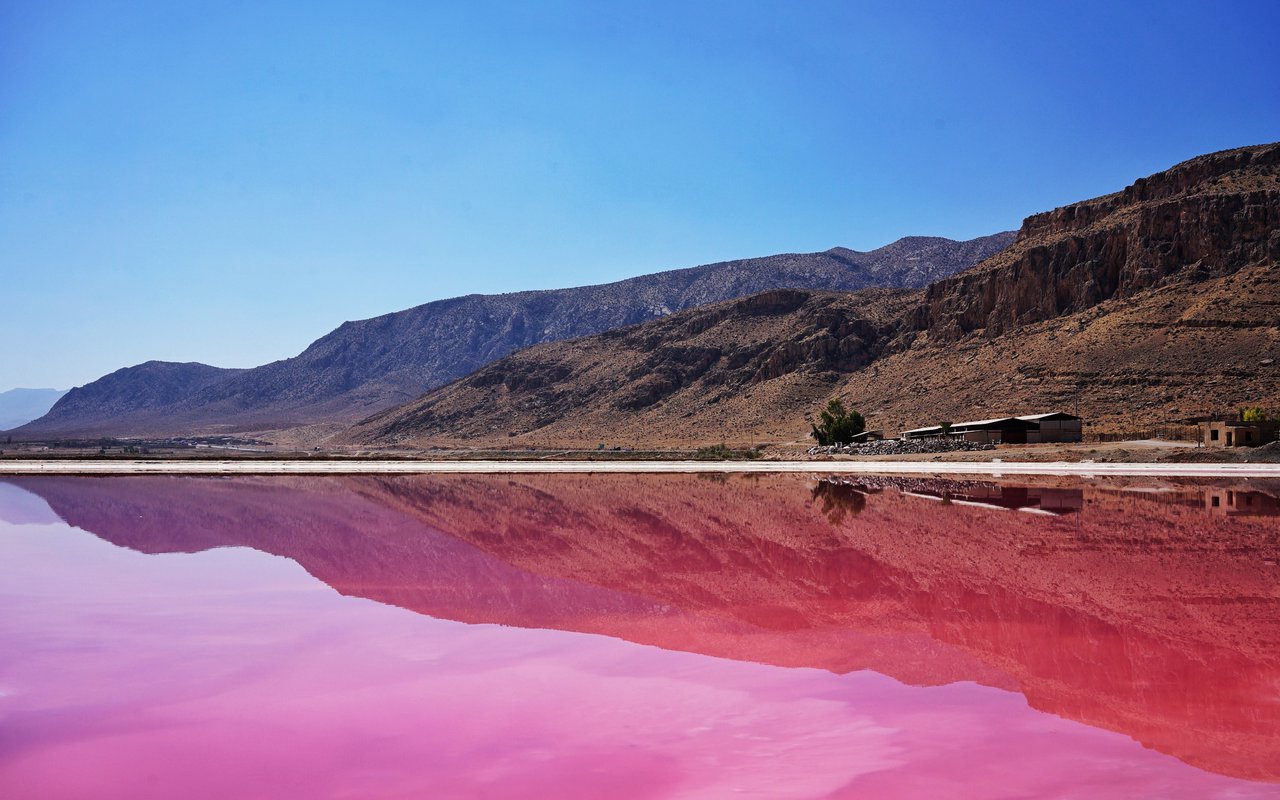 Maharloo Lake has located 57 km from Shiraz to Fasa along a road of the same name. The combination of white salt and the red lake has created a magical harmony for domestic and international tourists. In addition, the lake is a haven for birds, especially flamingos. In Maharloo village, you can see almond, fig, and pomegranate trees after visiting the lake. Mid-autumn to mid-May is the best time to visit this lake since the lake's water depth reaches 1 to 3 meters after rainfall.
Valley of the Stars
Qeshm has stunning scenery and is a place full of natural wonders. One of the top natural sights in Iran is Qeshm Star Valley. The Star Valley is one of the scenic areas of Qeshm. The rocks are made of sandstone and marl and, over time, have eroded into strange shapes that resemble things like animals, faces, hands, and more.
Hormuz Island
Despite its small size, Hormuz Island has a magical nature and a tranquil atmosphere. This island has a variety of red, yellow, and orange soil that contrasts spectacularly with the blue waters of the Persian Gulf. Animals such as deer can also be found here. Those interested in geology and nature will love this place. Hormuz Island is a Must-Visit Natural attraction in Iran.
Sabalan Mountain
Sabalan, located in Ardabil, is a volcanic peak with a height of 4811 meters and its slopes are one of the best places for nature tourism in Iran. Professional climbers can reach this peak and enjoy its beautiful scenery. It would be best if you also visited Sarein village, located around Mount Sabalan and famous for its valleys and springs. July and August are the best months to visit.
Mesr Desert
another Must-Visit Natural attraction in Iran that is very popular with tourists is walking in the sands of the Mesr Desert. Although hiking in the desert requires special skills, it is an experience you will never forget. One of the best deserts in Iran is the Mesr Desert, which boasts beautiful dunes and is a must-see natural attraction. During October, you can camp under the starry skies of this area without getting too cold. In addition to riding camels, you can also walk in the sand during the day.
Shahdad Kalut
In the heart of the desert, the Kerman province has sandy heights and volumes called Kalut, and with its tranquillity, it has become one of the top natural sights in Iran and the most visited tourist spot in Iran for foreigners. Those who travel to Kerman during the cooler months will not want to miss the beauty of Kalut Kerman at sunrise or sunset. Kalut Shahdad Camp is a popular destination for tourists who spend the night listening to each other's stories or enjoying the beautiful night sky.
Dasht-e Lut
The Lut plain is one of the two largest deserts in Iran, covering an area of 50,000 square kilometres in the east and central regions. The region is not a place to picnic or have fun. The world's hottest temperature recorded was 70.7 degrees in the Lut plain of Iran. Visiting the Dasht-e Lut, one of the most beautiful natural attractions in Iran, will make you feel as if you have stepped onto the surface of Mars. There is no other place in Iran with such a beautiful sky for overnight stays and camping. A great pleasure of the Lut plain is watching the sunrise and sunset. Tourist guides take nature lovers from the historical city of Kerman to the tables. Make sure you visit the giant Kalut while visiting the Lut Desert.
Turkmen Sahra
Turkmen Sahra plains are located near the Iranian-Turkmenistani border, near the Caspian Sea in the eastern part of Iran. One of the most significant features in this region is the Khalid Nabi cemetery and surrounding green hills. As well as being one of Iran's natural attractions, Khalid Nabi is also an ancient historical site. It is filled with headstones that resemble male and female sex organs. We recommend you visit Turkmen Sahra in May.
Many of the tombstones in the cemetery bear a strong resemblance to male and female genitals. Some are cylindrical and capped; others are paired and rounded. In addition, the cemetery contains more than 600 Graves.
The village of Subatan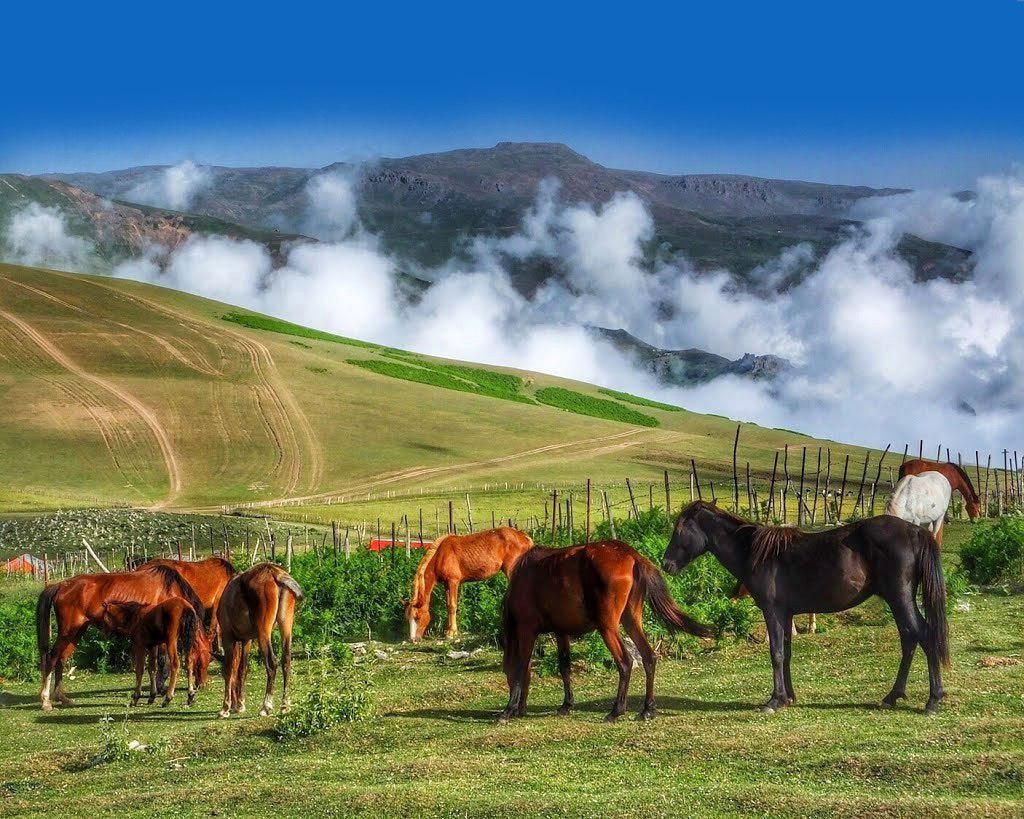 The village of Subatan is Must-Visit Natural Attractions in Iran. As a result of the complicated access routes, Subatan Villages is one of Iran's most beautiful natural areas that is less known to the public but well-known to adventure travellers. Subatan is at the peak of Talesh. Visitors generally begin their hike to this unique village from the mountain's southwest side (from Lake Neur). June is the best time to visit Subatan because it is full of fresh blossoms and fragrant flowers.
Badab Soort springs
For those interested in the world of geology, the fantastic rock formations of Badab Soort will be a spectacular attraction and one of the top natural sights in Iran. Badab Surat springs are located in Mazandaran province, about 100 kilometres south of Sari city. Badab Surt is stepped springs that are golden, yellow, orange, and red. According to legend, two of these springs are drinkable and have healing properties. This is one of the top natural sights in Iran that attract photographers. Unfortunately, the Badab Surat springs are being destroyed for various reasons, such as non-compliance with the tolerance capacity of tourists, negligence of officials, and inadequate protection. Hopefully, the authorities will dedicate a little more effort to restoring these geological features, which are extremely rare.
Qeshm Island
An extensive collection of natural landscapes and wonders can be found on the island of Qeshm. The island is located in the Persian Gulf, south of Bandar Abbas, and is greatly known for its diverse natural and geological features. For example, salt caves on the island are known as the longest salt caves in the world. The island of Qeshm is also known to be the largest in the Persian Gulf. The Star Valley and Chahkuh Strait are also Must-Visit Natural Attractions in Iran that should not be missed.
Asalem-Khalkhal Road
Asalem-Khalkhal Road is another top natural sight in Iran. This road connects the beautiful and green province of Ardabil with Gilan. As you drive along this 70km road, you will find pristine nature, waterfalls, lakes, vast plains of flowers, and rare plants. The forest makes up half of this area, while the plains and mountains are the other half.
Khalkhal has a well-known hot spring called Kiwi, which is not very prominent. Here, you can swim without worrying about parking or crowds!
Village Uraman
Kurdish village Uraman (Hawraman) in Kurdistan is one of Iran's most popular tourist destinations and the top natural sights in Iran. Uraman is the name of a mountainous region near the Iran-Iraq border. Beautiful valleys with lush rivers and exquisite landscapes, along with stair-stepped architecture in Uraman village, are among the attractions in this region. If you visit Uraman, don't forget to try the local bread and visit Marivan and Lake Zarivar.
Lawton Falls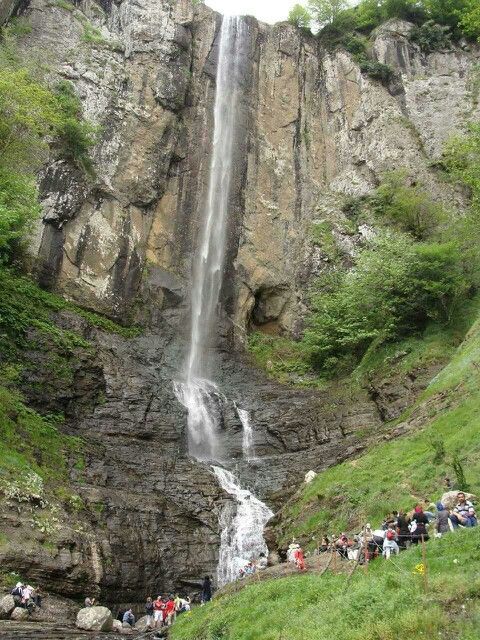 Lawton Falls is one of Iran's most unique natural attractions. First, you must visit Astara city in Gilan province to see Iran's highest waterfall. A waterfall with a height of 105 meters flows through the beautiful forest mountains of this region. You can enjoy a picnic or even spend the night in the quiet atmosphere around the waterfall. It's possible to experience an exciting descent from Iran's highest waterfall if you're adventurous. Swimming and playing with water are also popular activities here. Spring is the best time to visit this region.
Masal, Gilan
another top natural sight in Iran is Masal, Gilan. In Gilan province, you can see the unique forest landscapes of the country, along with the cloud ocean phenomenon. Bring warm clothing even in summer if you plan to travel to Masal. A combination of high mountains and dense forests can be seen here, along with foggy weather. Visit Masal summers in late spring or midsummer. The most famous area of Masal is Ulusbelangah, but we also recommend a visit to the unknown village of Bilgadol.