Traveling is all about seeing and touching the differences. An important part of today's Iranian culture is the dress code, and especially Iran female dress code.
Although at first, it might seem a bit confusing or even restricting but don't worry! Here, we tell you all about Iran women's clothing and how to enjoy and even look good in it.
So follow this article from Iran travel guide to learn more about Iran women's clothing:
Iran female dress code
Iran female dress code follows the Islamic laws of Hijab, but on a lesser degree.
Basically, Iran women's clothing is supposed to cover all the body except for the face, hands, and feet.
Your head and hair need to be covered. you don't have to do this rigidly, just having a scarf of your head can make up for it. If you have short hair, even a cab or hoodie might do it.
Your upper body needs to be covered from neck to the wrist. If it's winter, it's just like the way you dress at home with a jacket or a raincoat. The most common upper body item of clothing among Iran female dress code, is the Iranian manteau. Iranian manteau comes in different styles, colors, sizes, and designs. Even a long sleeved shirt, a tunic or a sweater can do the job. Whether you choose Iranian manteau or any other kind of Item of clothing, you just have to make sure it covers your whole body and is loose enough that it won't show your body curves.
As for the legs, any kind of pants, trousers, sweatpants or jeans are acceptable.
There are no restrictions concerning your face, your hands or your feet. You can wear boots, sandals or any other item of clothing there.
There's a wide range of choices for you to take when it comes to Iran women's clothing items. Don't be shy to choose colorful items. A good suggestion is to pack only one outfit, so you can buy the rest of your clothes when you arrive in Iran and you can browse the locals clothing items and get inspired by them.
Iran women's clothing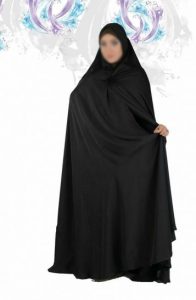 The only other Iran women's clothing item, which is optional is "Chador" which is basically a long cloth like the Indian Saris, which covers all the other clothes your wearing.
When you want to enter the religious places such as mosques or shrines, you are required to wear these. But don't worry, it will be handed to you at the entrance. So you don't have to buy one.
Merging with the Persian culture
The traditional Iran women's clothing items consist of colorful items which are pretty, original and really comfortable.
When you travel to Iran, everywhere in the country that you go, you can see the locals in these traditional clothing belonging to that region;
From Kurdish dress in Sanandaj city and the Turkish wearing in Tabriz city, to the colorful Chadors of Qeshm Island feel free to try them while you are there, or even choosing them as your everyday outfit.
What will happen if you do not follow the Iran female dress code?
In any case, if say you have an inappropriate Iranian manteau which doesn't meet the required limits, the only penalty you are going to receive is to receive a verbal request (and it usually happens in a polite manner) to fix the flaw in your dress.
No charges will be set against any traveler due to inappropriate clothing. The Iran female dress code is not observed restrictively especially for tourists.