Kerman city is one of the top 5 historical cities in Iran. Currently, it is the most important city in the southeastern quarter of the country. Kerman is the greatest rug and Pistachio nuts producer in the country.
City's tourism benefits from unbelievably natural sights, where you can get from the lifeless Kerman desert with burning temperature and sand dunes to a ski resort with just a 2-hour drive!
Aside from that Kerman tourism is full of historical and unique sights, from green Persian garden right in the middle of Kerman desert, to Castles and citadels from the middle ages.
Kerman city climate changes more than 20 degrees throughout the day and night. The weather during the summer is hot and dry, and during the winter very cold. The best time to visit Kerman city is during late winter, spring and autumn.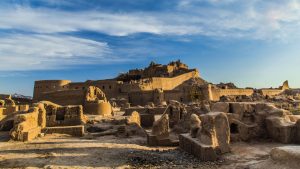 So, follow Iran Travel Guide Center article to find out more about Kerman Tourism attractions:
How Can Travel to Kerman city
Airplane: Kerman city International Airport is located at the western end of the city. Daily flights to Tehran City, Yazd City, Isfahan city, Mashhad city, Tabriz city, Ahvaz city, and Shiraz city take place from here. To get to here using public transport, you can take city buses to Parvaz Square stop.
Train: Kerman city Train station is located south of the city close to Kerman city Bus Terminal. Daily trains depart from here to Tehran City and Zahedan City.
Bus: The bus terminal is located close to the Train station. There are buses available to most of the major cities in the country.
Kerman City hotels and hostels
One of the cheapest options available with low-quality service only recommended to solo travelers or backpackers.
Address: Qods blv. old Terminal street.
Phone number: +9834 3251 5065
A mid-range option in Kerman city, with acceptable service quality.
Address: Sodooghi street
Phone number: +98341 2441411
Getting around in the Kerman city
The only public transport options in Kerman city are city buses and shared cabs. No subway or Bus Rapid Transit network in Iran (BRT) is available. Also, the taxi hailing app, Snapp, is accessible here.
Kerman Tourism Attractions
Historically, Kerman is one of the top 5 cities in Iran. It was the capital during the Safavid Dynasty with many structures, buildings, and Castles remaining from that period.
Ganjalikhan Complex is the heart of the Kerman tourism attractions with a Museum in the old Bathhouse and a Grand Mosque.
Sa'nati museum, Holy defense museum and Zoroastrian museum are also worth mentioning here.
Kerman city is the land of brick structures. Some of the largest brick structures in the world are located here.
Moayedi ice reservoir, Dokhtar Castle and Ardeshir Castle are a number of them, the two last ones being more than 1800 years old.
Zoroastrian Fire temple and Gonbad Jabaliyeh are two places where you can get in contact with this religious community in Kerman city.
Bazaar and Jameh mosque are other historical sites available inside the city.
The cities around Kerman city are also worth paying a visit. Cities such as Bam, where the largest brick made castle in the world used to exist, before a catastrophic earthquake brought it down in the 2003!
In Sirjan, the amazing stone garden is awaiting you. This garden is made of large pieces of stones hung from dead trees, as a manifest of protest to the Anti-feudalism regulations a century ago.
In Mahan, just 35 km south to Kerman you can see the Great Mahan Garden, an unbelievable green garden built at the middle of Kerman desert.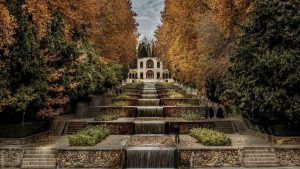 Speaking of Kerman Desert, it is an extraordinary sight which you must pay a visit. Shahdad Kalut, is a place in Kerman Desert different from any other place in Kerman desert and in Iran, with high sand dunes and deep canyons, one of the top Kerman tourism attractions.
Believe it or not, you can ski in the freezing environment of Sirch (سیرچ) ski resort, just 2 hours away from Kerman Desert and its mortal heat.
And last but not least, is the Salt Lake of Mokhrage (دریاچه نمک مخرگه) close to Babak City. This amazing lake which is 25 km in diameter, is only a couple of centimeters deep!
The amazing reflection of the horizon in the lake has made locals call it "the natural mirror of Kerman Desert".
The water of this lake comes from the sudden Rain showers that happen during the rainy seasons; so, you shouldn't expect to be able to see this lake during the dry seasons.
Edible Kerman Tourism Attractions
Kerman tourism attractions continue to amaze you with the Fantastic local sweets and dishes.
Zire polo, various Types of local Ash and Mojar Kadu (only homemade) are the most famous Iranian Cuisine dishes available exclusively in Kerman city.
In Kerman, there's a special type of Faludeh available, which is completely different from the Shirazi Faludeh.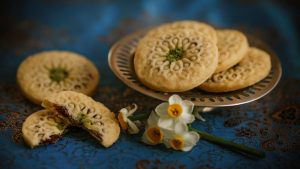 Komach, Kolompeh, and Qutab are other Local Iranian sweets and Deserts from here. most of the high-quality sweets are made and sold in the Grand Bazaar of Kerman.
Kerman City Souvenirs
Pete cloth is the most famous handmade good from Kerman city. Also, the best Pistachio nuts and Cumin produced in the country are from Kerman city and the surroundings.